'Nobody is Above the Law': Nancy Pelosi Says William Barr Lied to Congress
Speaker of the House Nancy Pelosi didn't mince her words Thursday about the attorney general of the United States. "He lied to Congress. He lied to Congress," she said of William Barr. "If anybody else did that, it would be considered a crime."
The speaker's blunt words about the nation's top law enforcement official came as Democrats have ratcheted up their fight with Barr, calling for his resignation and even threatening to hold him in contempt of Congress for failing to adhere to a subpoena from the House Judiciary Committee to provide the full, unredacted Mueller report and its underlying evidence.
In a newly released letter this week from Robert Mueller to Barr, it was revealed that the special counsel was concerned in the days following his completion of the 448-page report that Barr's four-page summary of Mueller's conclusions were misleading. Mueller urged Barr twice to release the executive summaries and redacted report that Mueller and his team prepared for Barr. Instead, Barr released the executive summaries and redacted report about three weeks later, after holding a press conference where he defended the president's frustration with the 22-month-long probe.
In the March 27 letter, Mueller told Barr the four-page summary "did not fully capture the context, nature, and substance of this Office's work and conclusions."
Newsweek subscription offers >
"There is now public confusion about critical aspects of the results of our investigation," Mueller wrote. "This threatens to undermine a central purpose for which the Department appointed the Special Counsel: to assure full public confidence in the outcome of the investigations."
But testifying to Congress in April, the attorney general painted a much different picture of the special counsel's feelings toward his summary of the report's conclusion. Barr claimed he did "not know whether Bob Mueller supported my conclusions," weeks after Mueller first outlined his concerns in a letter.
"Nobody is above the law," Pelosi said. "Not the president of United States and not the attorney general. Being attorney general does not give you a pass to go say whatever you want."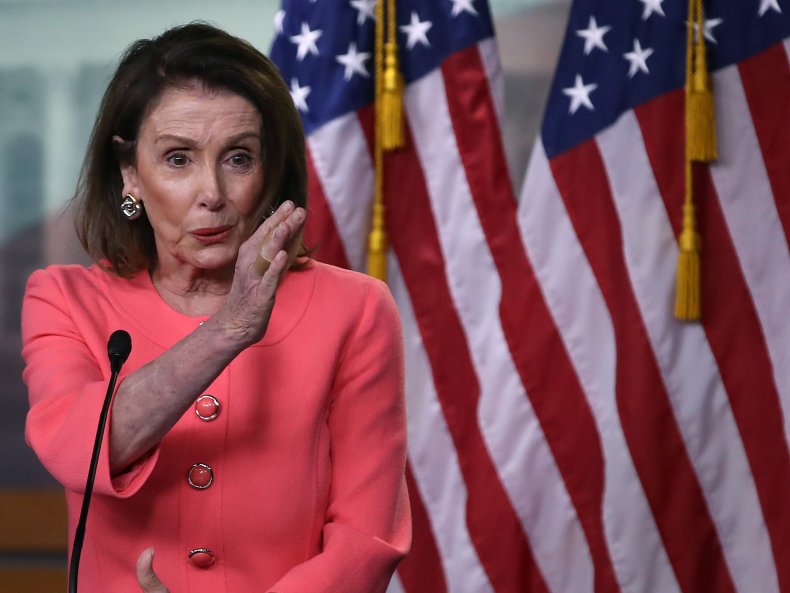 Newsweek subscription offers >
Asked whether Barr should go to jail for lying to Congress, the speaker hesitated before saying, "There's a process involved here. And as I said, I'll say it again, the [House Judiciary Committee] will act upon how we will proceed."
Barr testified to the Senate Judiciary Committee Wednesday, where he defended his previous remarks to Congress by arguing that the original question posed to him was whether "members of the special counsel's team"—not Mueller—were concerned. He also claimed, contrary to Mueller's letter, that in a phone call with Mueller that later took place, the special counsel was more concerned about the media coverage and less about the accuracy of Barr's four-page summary.
Barr was scheduled to testify to the House Judiciary Committee Thursday morning, but he declined to show Wednesday evening due to the plan to have the committee's staff attorneys ask questions, in addition to lawmakers.
Committee Chairman Jerrold Nadler, a Democrat, warned Barr he will only have "a day or two…maybe by Monday" to provide the Mueller report that his committee subpoenaed. Otherwise, Nadler will move forward with contempt of Congress proceedings, punishable by fines and jail time.
"We will make one more good faith attempt to negotiate and to get the access to the report that we need, and if we don't get that, we will proceed to hold the attorney general in contempt," Nadler said.
'Nobody is Above the Law': Nancy Pelosi Says William Barr Lied to Congress | U.S.