As Senator Dianne Feinstein faces a barrage of calls to step down amid reports of poor health, colleagues say a resignation would prove even more damaging to Democrats looking to retain a majority on the Senate Judiciary Committee.
Challenging the chorus of critics, Feinstein's allies argue the oldest sitting member of Congress is still capable of carrying out the remaining 19 months of her term at 89 years old, and, in fact, would prove heroic in doing so.
"The only way that the Judiciary Committee gets to assert the majority control that the American people gave us in the election is for her to stay and serve," Senator Sheldon Whitehouse, 67, a Rhode Island Democrat who sits next to Feinstein at Judiciary Committee hearings, told Newsweek. "When she does that, I think she is engaged in an act of very considerable bravery."
And yet, reports of cognitive issues and a 10-week absence due to complications from shingles has riled progressives, especially as her medical leave prevented the advancement of party-line nominees for federal judgeships in the 11-10 divided committee.
This has forced Democrats deeper into uncomfortable conversations about the ages of their leaders as they prepare to enter the 2024 election cycle rallied behind the oldest president in U.S. history, who, at 80, has lived roughly four years past the average national lifespan.
However, Whitehouse said coverage of Feinstein's situation has "completely missed" a key story, a scenario in which Republicans refuse to fill Feinstein's committee seat should she resign. The GOP already declined to offer the votes needed to overcome the 60-vote filibuster threshold to fill her seat temporarily.
If Feinstein resigned, the GOP could also prevent Democrats from filling an open seat on the Supreme Court, should one vacate. Thus, liberals find themselves in a situation similar to that which surrounded the late Justice Ruth Bader Ginsburg—reliant on a historic yet aging leader who some progressives felt served too far past her physical prime.
Unlike Ginsburg, however, Feinstein does not have a known terminal illness.
Still, as Feinstein has reached the twilight of her career, her standing as a titan on national issues has diminished. Instead, as she noted in her retirement announcement, her focus has shifted to addressing state issues. She emphasized this when asked about her policy focuses during a brief interview on Capitol Hill:
"I represent a huge state," she told Newsweek. "So, there are all kinds of things that come up, planning decisions that people don't like as well as material things, so we just do the best we can, check everything out, and try to make the best decision for the state."
Reached for further comment, Feinstein defended her record.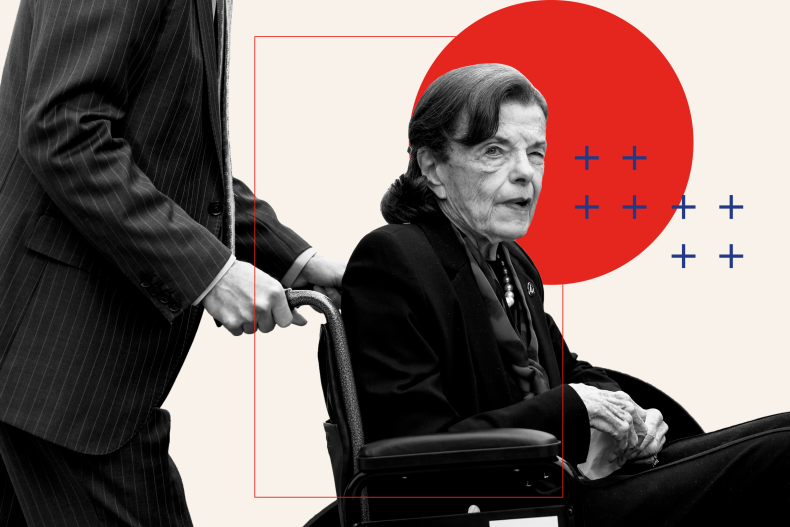 "When I announced that I was not running for re-election, I said that I intended to serve out the remainder of my term because there was work I wanted to finish," Feinstein dictated in a statement sent by her press secretary. "I still feel that I'm in a unique position to address many of the issues facing California, particularly when it comes to wildfire and water. My main focus is using my position on Appropriations Committee to prepare California for these challenges and the many other threats our state is facing from climate change."
"Recovering from shingles has been difficult. I have been working throughout my recovery and my health continues to improve," she added. "Now that I'm back in Washington and voting, my focus is still on helping California. I know how the Senate works, and I know how to get things done here, so I believe I can still be an effective voice for our state."
New York Democratic Senator Kirsten Gillibrand, 56, who serves with Feinstein on the Intelligence Committee, trusts her capabilities.
"I've heard her ask extremely precise and insightful questions on that Committee," Gillibrand said. "She's been serving on that committee for decades. She knows just about as much as anybody, and she's extremely helpful on that committee. So, I think she can continue to serve, and she and she alone should make the decision if she wants to retire early for medical reasons."
Gillibrand acknowledges that male senators have received extended medical leaves of absence. The late Republican Senator John McCain, who did not vote during the remaining eight months of his career before passing away in office at 81, is one example.
New Jersey's Democratic Senator Cory Booker, 54, who serves on the Judiciary Committee, said he's seen "no diminution" from Feinstein, adding that she was cracking "really funny jokes" during an elevator ride last month.
"She still has one of the best operations, and she's still one of the most respected voices in Washington," Booker told Newsweek. "I've had engagement with her. She clearly has had some health challenges, but she is still somebody that carries stature and respect."
Feinstein's fitness has been a subject of conversation on Capitol Hill going back to a 2020 New Yorker article. Conversations intensified after the San Francisco Chronicle published a report on April 14, 2022, citing four unnamed U.S. senators who described Feinstein as having a "rapidly deteriorating memory" that affected her ability to recognize people she's known for years and understand her Senate duties.
Two weeks later, New York magazine published a cover story raising similar issues. The Los Angeles Times published a piece one week after her return in which the senator was asked about the reception to her absence, and she responded saying she'd been working, which inflamed criticism over her perceived lack of awareness.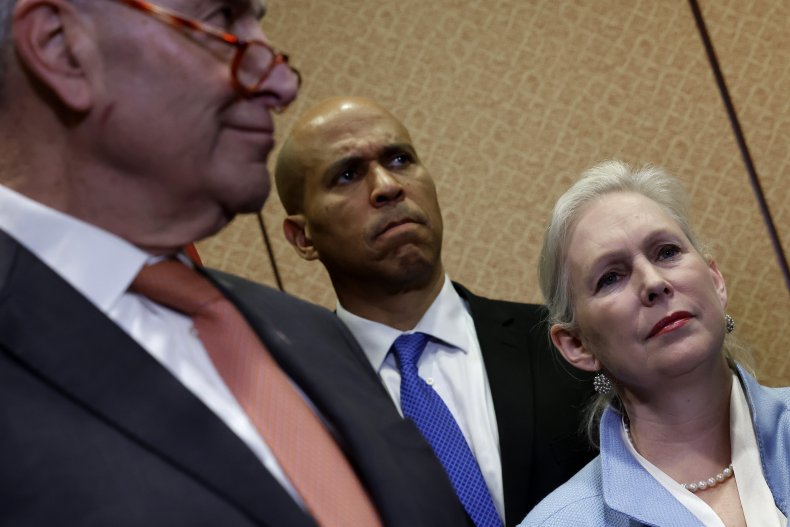 Calls for Feinstein's resignation began about seven weeks into her medical absence. Progressive Silicon Valley Congressman Ro Khanna, 46, urged the longtime senator to resign on April 12, saying it was "obvious she can no longer fulfill her duties." Later that day, Minnesota Congressman Dean Phillips, 54, a centrist Democrat, called her absence a "dereliction of duty."
Progressive Democratic Representatives Alexandria Ocasio-Cortez, 33, of New York, and Michigan's Rashida Tlaib, 46, also called for Feinstein's resignation after Republicans made it clear they would not allow her to be temporarily replaced on the Judiciary Committee.
Though the three federal judges were confirmed two days after Feinstein's return, stories raising concerns continued to appear.
Optics may have played a role in the continued media attention.
The New York Times reported that Feinstein's shingles complications included encephalitis, swelling of the brain that her office said "resolved itself" in March, and Ramsay Hunt Syndrome, inflammation of a facial nerve. Images taken the day of her arrival showed her exiting a car into a wheelchair due to balance issues associated with Ramsay Hunt. She was noticeably thinner, and the left side of her face appeared paralyzed, a lingering effect from the Syndrome.
"Most Californians don't pay a lot of attention to the day-to-day operations of the Senate, but the photos and video of her struggling so severely may have raised public consciousness," Dan Schnur, a veteran of California politics and political science lecturer at U.C. Berkeley told Newsweek. "Up until last week, Feinstein's illness was an abstraction to most voters, but those visuals made it much more tangible."
However, while to some lawmakers Feinstein may no longer look fit for the job and according to the New York Times relies "heavily on staff," those vouching for her abilities argue that any senator's performance is highly dependent upon staff.
Congressman John Garamendi, 78, a California Democrat, has known Feinstein for 40 years, and said she remains effective. He noted that last December, as chair of the Appropriations Subcommittee on Energy and Water, Feinstein secured billions of dollars for renewable energy, wildfire response and water infrastructure. During her medical leave, Garamendi said Feinstein continued to work on these issues, saying his staff worked alongside hers.
"In recent communications I've had with her, she's on top of her game," Garamendi told Newsweek. "In my conversations with her, she knows what she's doing. She's responsive. She knows the issues. The conversations have been good—clear and cognitive."
He's not the only California lawmaker who attested to Feinstein's effectiveness.
"I am glad to have Senator Feinstein back in the Senate," California Democratic Senator Alex Padilla, 50, told Newsweek. "She has been active since her return, voting to advance qualified judicial nominees in committee, to prevent a default on our national debt, and continuing the important work on behalf of Californians."
If legitimate health issues do exist, Feinstein could be supported, according to Laura Mauldin, a sociology professor specializing in disability studies at the University of Connecticut.
"I think it's important that no matter the level of one's impairment, we should be encouraging and respectful of their decision-making," Mauldin told Newsweek. "There are systems for providing what we call 'supported decision-making,' so that a disabled person can participate in decision-making. It can be shared; it can be supported. We don't have to make decisions for them even if there is an impairment present."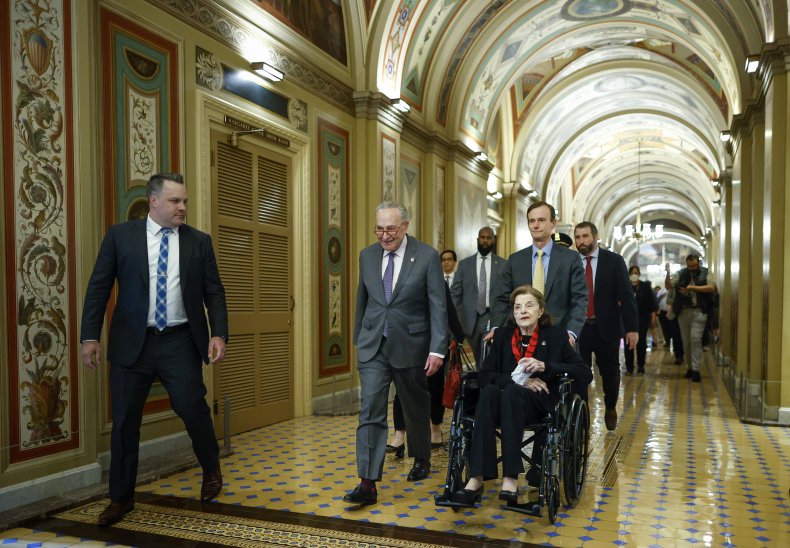 While Mauldin acknowledges the validity of concerns surrounding Feinstein, she emphasized that ultimately "we don't know" the status of her mental or physical state.
Echoing Schnur, however, she acknowledges that recent images of Feinstein "make it a lot easier for people to respond negatively because they can very easily associate what one's body looks like with their mental capacity."
Dr. John W. Rowe, an expert on age with Columbia University, noted "that there's tremendous variability with advancing age." Rowe would not recommend someone Feinstein's age serve as an airline pilot for example—he's provided testimony speaking on behalf of age restrictions for said profession—but said Congress can benefit from the perspective of seniors, who studies have found are better at finding "win-win" situations.
However, this perceived strength may have lost favor. Feinstein has drawn the ire progressives for years, and that relationship worsened following her performance as the top Democrat overseeing the 2020 confirmation hearing of then-Supreme Court nominee Amy Coney Barrett to replace Ginsburg.
With Feinstein's popularity approval among Democrats dropping from 55 percent in February to 43 percent as of May, Schnur said that, while "risky," it's possible that creating distance from Feinstein may be one way a candidate could boost their progressive bona fides.
Also looming over the 2024 race for Feinstein's seat is California Governor Gavin Newsom's pledge to appoint a Black woman should the 89-year-old resign. So far, only one top candidate fits the description—Congresswoman Barbara Lee, 76, whose campaign is co-chaired by Khanna. Lee trails Representatives Katie Porter, 49, and Adam Schiff, 62. Schnur said it would be "immensely valuable" to her campaign if she were appointed. In 2022, 94 percent of incumbents won reelection, according to Ballotpedia.
Republican Senator John Neely Kennedy of Louisiana, 71, serves as the top Republican on the Energy and Water Development Subcommittee. He's seen Feinstein lead her staff and says committee work has gone "smoothly." Kennedy believes the calls for Feinstein's resignation are politically motivated.
"There are people in this town who will unplug your life support to charge their cellphone if it's in their political interest," Kennedy told Newsweek. "Dianne and I don't agree on a lot of things, but she has served long, and she has served well, and she deserves better than this."
Republican Senator Josh Hawley, the 43-year-old representative for Missouri, who led the Judiciary Committee's Constitution Subcommittee with Feinstein last Congress, agrees.
"I think that the Democrats don't like how she has been awfully civil and pleasant to Republicans," he told Newsweek. "Though we disagree on most things, I have great respect for her personally and professionally. She's really a legend. I don't think she's been treated very well, and that's not just like in the last couple of months."
While Feinstein's health will remain subject to debate throughout the rest of her tenure, Schnur said this factor will likely not have long-lasting impacts on California, but her resignation could.
"Feinstein's decision [to stay in the Senate], one way or another, is relevant for the next 19 months," he told Newsweek. "The selection of a replacement could be relevant for years, for many years, if not decades."