Democrats on the House Judiciary Committee took what they viewed as a significant step forward Thursday in formally outlining the procedures for their future investigations into President Donald Trump, a move that Chairman Jerrold Nadler (D-NY) said they will use to "determine whether to recommend articles of impeachment."
The move has confused rank-and-file members and caused mixed messages between Democrats on the Judiciary panel and in House leadership about whether this escalation in oversight of the administration should be classified as an impeachment investigation/inquiry, begging the question of whether their efforts in recent months have resonated with voters back home.
Although the results vary, polls this year have shown that the change in opinion on whether voters think Trump should be impeached has remained largely stagnant, despite the idea becoming more popular among House Democrats. Surveys generally revealed that impeachment favorability percentages fluctuated from the mid-30s to 40s.
SSRS polls conducted for CNN from March through May showed impeachment favorability increasing slightly from 36 to 41 percent. The Mueller report was released in March. The former special counsel himself testified before Congress in July, but a Politico/Morning Consult poll showed little change, with 37 percent support for an impeachment inquiry. A Monmouth University poll last month found that 59 percent of people opposed having him impeached.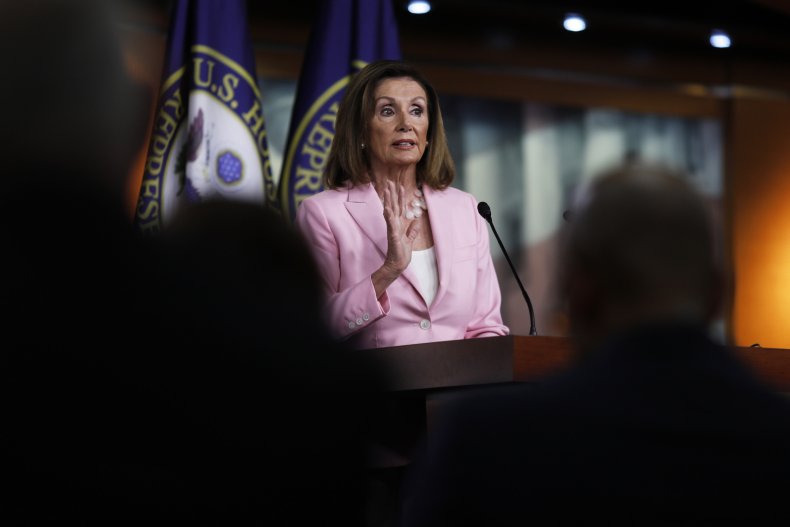 Members of Congress, however, say the opinions of people they've come face-to-face with back home have been anything but stagnant. Coming off a 6-week summer recess this week where lawmakers had ample opportunity to hold town halls and personally hear from constituents, pro-inquiry members have offered testaments of how their congressional probes have pushed more of the public — and their Democratic colleagues — to back their inquiry into whether the president should be forced from office.
"The exact opposite is true. Those polls don't hold for my district at all," Rep. Madeleine Dean (D-PA), a Judiciary member, told Newsweek. "More and more people are coming up to me and saying you must do something; you must address the unconstitutional behavior of this president."
The Judiciary Committee's resolution on Thursday was largely a procedural one, establishing parameters for operating new probes in a timelier fashion that will focus on potential constitutional violations by Trump for blurring the lines between government and his businesses, allegations of hush-money payments to women during his campaign and interviewing more former Trump officials to identify any abuses of power or obstruction of justice.
But because House Democrats have never formally initiated an impeachment inquiry by way of vote, either through the Judiciary Committee or the chamber floor, Republicans say it's fraudulent to claim the party is officially conducting an inquiry. It's also caused mixed messaging among Democrats. Nadler tried to lay both of those ideas to rest.
"We have been explicit about our intentions. This committee is engaged in an investigation that will allow us to determine whether to recommend articles of impeachment with respect to President Trump," the New York Democrat stated. "Some call this process an impeachment inquiry. Some call it an impeachment investigation. There is no legal difference between these terms, and I no longer care to argue about the nomenclature."
He declined after the hearing to answer reporters' questions.
At a press conference soon thereafter, House Speaker Nancy Pelosi refused to label the Judiciary Committee's investigations as an impeachment inquiry or investigation when asked if she conceded that is what the party is essentially doing. At some moments, she appeared irritated.
"Do I concede now? Have you not paid attention to what we've been talking about?" Pelosi responded. "For months, we've been saying we're doing three things... we're legislating, we're investigating and we're litigating... We're still on our same path."
Pelosi denied the notion there was confusion about what to label the committee's efforts, despite the No. 2 Democrat in the House, Majority Leader Steny Hoyer (D-MD), walking back his remarks on Wednesday, in which he said the panel was not engaged in impeachment investigations.
"I have said what I'm going to say on the subject. We are legislating, focusing on the work that we are here to do for the American people, and part of our responsibility is to honor our oath of office: protect and defend the constitution o the United States," Pelosi said. "And in doing so, we are seeking the facts."