The House Judiciary Committee took its first formal step with a party-line vote Thursday to outline the parameters for future "impeachment hearings," as Democrats have labeled them, resulting in frustration and fury from their Republican colleagues.
Democrats are creating a political stunt by holding a special meeting to pass new rules without having officially declared the opening of an impeachment inquiry, Republicans claimed, resulting in the usage of social media and TV analogies to accuse members of denigrating the panel's role.
"The Judiciary Committee has become a giant Instagram filter, to make it appear that something is happening that's not," said Rep. Doug Collins (R-GA), the top GOP member of the panel. "You're not in an impeachment inquiry!"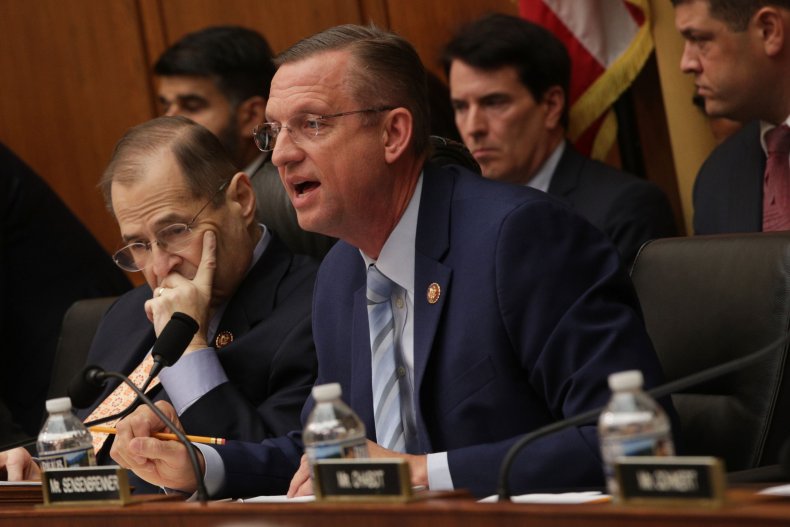 Rep. Matt Gaetz (R-FL) described Democrats' investigations into Trump as "impeachment in drag" and "low-T impeachment." Responding to Democrats' grumbles, he said, "moan and groan all you want."
"It's like a Seinfeld episode," Gaetz continued. "It's a hearing about nothing. This is more about defining our pen pal strategy [with the White House] than defining a legitimate investigation."
For months, via court filings and in statements, Chairman Jerrold Nadler (D-NY) has said otherwise, insisting their investigations are "to determine whether to recommend articles of impeachment with respect to President Donald Trump." Judiciary Democrats viewed Thursday's vote as a significant step in forwarding their impeachment investigation, which will now include hearings with former Trump officials, like former Trump campaign manager Corey Lewandowski, and on matters involving potential violations of the constitution, abuse of power and obstruction of justice.
House Democrats have continued to offer mixed messages on how to characterize their probes into the Trump administration. Leadership in recent days has declined to label their members' oversight efforts as an impeachment investigation or inquiry while Nadler says it no longer matters what the public, media or lawmakers call it. He attempted to lay the matter to rest during Thursday's committee proceeding.
"We have been explicit about our intentions. This committee is engaged in an investigation that will allow us to determine whether to recommend articles of impeachment with respect to President Trump," Nadler said. "Some call this process an impeachment inquiry. Some call it an impeachment investigation. There is no legal difference between these terms, and I no longer care to argue about the nomenclature."
The new parameters passed will attempt to speed up the committee's investigations by allowing subcommittee's to assume some of the work and conduct hearings, staff attorneys for the majority and minority members will be allowed to question witnesses, information obtained from subpoenas, witnesses and documents shall be kept private at Nadler's discretion and White House attorneys will be granted due process and be given the opportunity to respond in writing to information obtained through the panel's probes.
Collins generalized the move as a stunt because the new rules "could've been done at any hearing we do," did not require a special meeting and were not necessarily new, suggesting the new parameters were already permitted under committee rules.
Rep. Jim Jordan (R-OH) accused Democrats of "changing the rules in the middle of the game" because previous hearings—including that of former special counsel Robert Mueller's—have been a "flop."
Other GOP members pushed their colleagues on the other side of aisle to go on the record and take a House vote to authorize their impeachment inquiry. In July, Democrats quashed an attempt to force a floor vote on whether to impeach Trump.
"That's exactly what I want to know — what are we doing here?" Rep. Debbie Lesko (R-AZ) said. "This resolution is yet another example of the majority utilizing this taxpayer-funded committee to influence the 2020 presidential election. That's all it is. It's a show."
"I double dog dare you to do it," said Rep. Tom McClintock (R-CA). "Take full House vote."