Democrats Outraged About Right-Wing Violence Largely Silent as Portland DNC HQ Vandalized
Top Democrats who have been outspoken about far-right violence were silent when leftist extremists vandalized the Portland, Oregon headquarters of the Democratic Party on Wednesday.
Vocal members from the Democratic Party—including Congresswomen Cori Bush, Ayanna Pressley and Alexandria Ocasio-Cortez, President Joe Biden, House Speaker Nancy Pelosi and Senate Majority Leader Chuck Schumer—have not publicly condemned the vandalism to their party's Portland headquarters. Democratic Portland Mayor Ted Wheeler has also remained silent. They, among other Democrats, previously condemned far-right extremists activities, especially the riot at the U.S. Capitol Building on Jan. 6.
"There are a number of examples over the past several years of Nancy Pelosi and Joe Biden condemning antifa actions and anarchist actions. The fact they didn't speak about what happened on Inauguration Day says to me they're just trying to focus on Inauguration Day," Mark Bray, lecturer of history at Rutgers University and author of Antifa: The Anti-Fascist Handbook, told Newsweek.
Bray added that Democrats may have wanted to prioritize the positive messaging surrounding Inauguration Day, rather than fuel an image of a Democratic Party fractured by extremism. "There is the Republican talking point that antifa is the para-military wing of the Democratic Party, but that's ludicrous. For the most part, antifa and anarchist politics are very critical of the Democratic Party."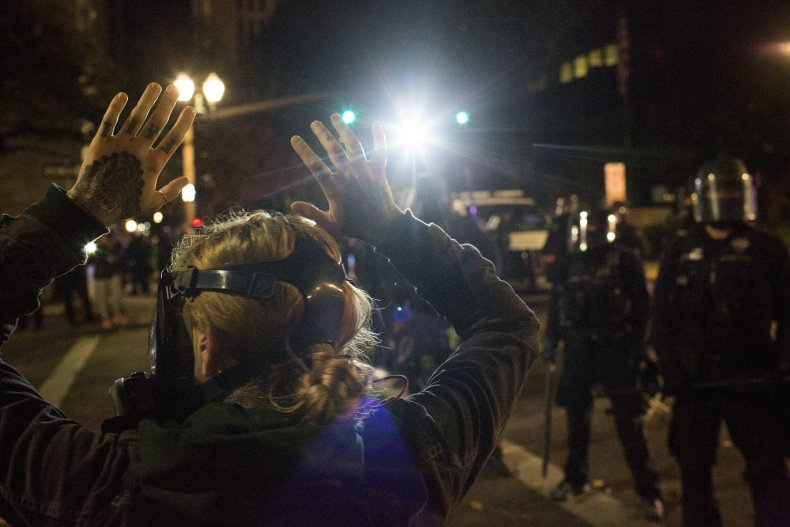 The vandalism by protesters occurred following President Joe Biden's inauguration. More than 100 far-left, anti-police demonstrators gathered at Portland's Revolution Hall and clashed with police officers on bikes. Shortly after, the crowd moved to the local Democratic Party building where they shattered windows, moved dumpsters and lit them on fire, according to NPR. Members of the crowd demanded for "revenge" in response to police brutality and "imperialist wars."
Later Wednesday evening, a smaller group chanted "Abolish ICE" and marched to Portland's Immigration and Customs Enforcement building, The Oregonian reported. "Reunite families now" was spray painted on the walls of the building. Eight people were arrested, according to the Portland Police Bureau.
In the hours following the demonstrations, Democrats took to social media to praise Biden's swift approval of a number of executive orders addressing issues such as climate change, immigration and COVID-19 relief measures. There were no official statements from Democrats that deemed the demonstrations to be acts of terrorism.
"It's possible that some leading Democratic politicians don't want to talk about or acknowledge radical left actions because they don't want to give it attention and they don't want it to become associated with the Democratic Party," Bray said. "[Democrats recognizing antifa] is central to the right-wing media strategy vis-a-vis the radical left...to make an argument that in way or another the radical left is affiliated with or represents the Democratic Party."
So far, the only official response to the incident came from the Democratic Party of Oregon.
"We're frustrated and disappointed about the damage," said the group in a statement. "President Biden is already starting the work to build back better, with more than a dozen critical Executive Orders on climate, pandemic response, immigration, racial equality, and more. We at the Democratic Party of Oregon are resolute and determined to do everything in our power to support the Biden/Harris administration, and to help Oregon and America recover from the pandemic stronger than before."
Bray said it's "no surprise" anarchists would engage in demonstrations against Biden, given they they "don't like any politicians." He also said that the Democratic Party is a spectrum, with many Democrats having supported Biden for the sole reason to get Donald Trump out of office, and that categorizing groups as "red" versus "blue" dismisses that complexity.
The Democratic Party of Oregon told Newsweek it had no additional comment at the time of publication.