Democrats have vowed to continue fighting for an election reform bill after a move to debate it was rejected by every Republican senator.
The upper house vote on the For the People Act on Tuesday was split 50-50 along party lines, failing to get the 60 votes needed to overcome a GOP filibuster and dealing a blow to a top priority for Democrats.
The legislation, also known as HR1, had followed weeks of disputes between the parties over implementing nationwide voting rules in the wake of the 2020 presidential election, which was beset by unfounded claims of fraud from former President Donald Trump.
The Democrats' bill aims to expand early voting in elections for president and Congress, to make it easier to vote by mail and to ensure that certain campaign contributions are more transparent.
Republicans have argued that HR1 infringes on the rights of states to set voting policy.
Addressing the Senate floor after the vote, Majority Leader Chuck Schumer (D-NY) called the GOP opposition to the bill "indefensible."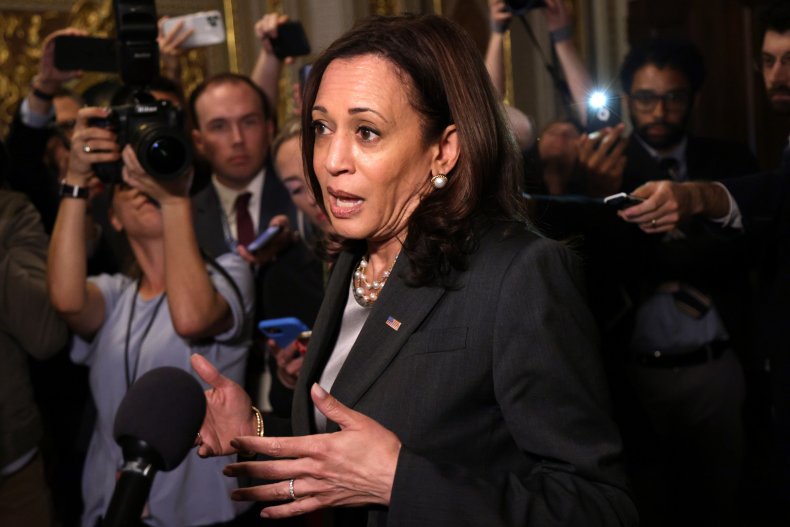 He said: "Once again, Senate Republicans have signed their names in the ledger of history alongside Donald Trump, the big lie and voter suppression—to enduring disgrace," ABC News reported.
Schumer added that there were still "several serious options" to consider to advance the legislation and that "we are going to explore every last one of our options."
"We will not let it die. This voter suppression cannot stand and we are going to work tirelessly to see that it does not stand," he said.
Vice President Kamala Harris, who announced the 50-50 final vote in her capacity as president of the Senate, told reporters afterwards that the legislation "is about the American people's right to vote, unfettered" and "their access to the right to vote in a meaningful way."
She added: "The president and I are very clear. We support S.1, we support the John Lewis Voting Rights Act, and the fight is not over."
In a statement, President Joe Biden referred to the refrain "We shall overcome," which was a "longtime mainstay of the Civil Rights movement."
"This fight is far from over," Biden said. "We are going to be ramping up our efforts to overcome again—for the people, for our very democracy."
Rep. Alexandria Ocasio-Cortez of New York was one of the Democratic lawmakers to express anger at the GOP vote. "Call me radical, but I do not believe a minority of Senators should be able to block voting rights for millions of people," she tweeted.
"But I guess I'm just from that far-left school of thought that legislation should pass when a majority of legislators vote for it," she added.
Other prominent Democrats also suggested the quest for the legislation would continue.
West Virginia Senator Joe Manchin, a centrist who had wavered on whether he would support the voting rights bill, went with his party after he negotiated some changes to the 800-page legislation. He told ABC News after the vote: "We have just got to keep working, that's what we are here for."
Senator Amy Klobuchar (D-MN) said: "Our democracy desperately needs the proposals in this bill—and guess what, the American people agree. Yeah, this bill is bipartisan except right here in this place."
Newsweek has contacted the White House for further comment.