Democrats Poised for Double Defeat on Voting Rights and Filibuster
Senate Democrats appear poised for two major defeats on Wednesday as they attempt to pass landmark voting rights legislation and potentially change the filibuster.
Republicans in the chamber are opposed to passing two bills approved by the House of Representatives—the Freedom to Vote Act and the John Lewis Voting Rights Advancement Act—and it seems likely Democrats will fall short of the 50 votes needed to change the rules and carve out an exception to the filibuster.
The two bills have been brought before the Senate as consolidated legislation but 60 votes are needed in order to end debate and proceed to a final vote. A rules change would require all Democrats to support the measure.
CNN chief congressional correspondent Manu Raju reported on Tuesday that the Senate will vote to break the GOP filibuster on the voting rights legislation 6.30 pm E.T.
"After that fails, Schumer may move to gut the Senate filibuster, and would need 50 votes to change the rules, something he does not have," Raju said.
Senate Majority Leader Chuck Schumer (D-NY) indicated on Tuesday that Democrats would not give up voting rights legislation.
"But I want to be clear: When this chamber confronts a question this important—one so vital to our country, so vital to our ideals, so vital to the future of our democracy—you don't slide it off the table and say 'never mind,'" he said.
"And if Republicans choose to continue their filibuster of voting rights legislation, we must consider—and vote on—the rule changes that are appropriate and necessary to restore the Senate and make voting rights legislation possible," Schumer added.
Schumer told reporters on Tuesday that he would propose a change to the Senate's rules to allow for a so-called "talking filibuster" on the voting rights legislation. This would allow the legislation to progress with a simple majority and not the usual 60 votes needed to end debate.
"Once members of the minority party have exhausted all of their speaking rights and defended their position on the Senate floor, the debate will have run its course and the Senate will move to vote on final passage at a majority threshold, which has always been the threshold for final passage," Schumer explained.
The graphic below, provided by Statista, shows the share of the public who said they trusted their government in selected nations in 2021.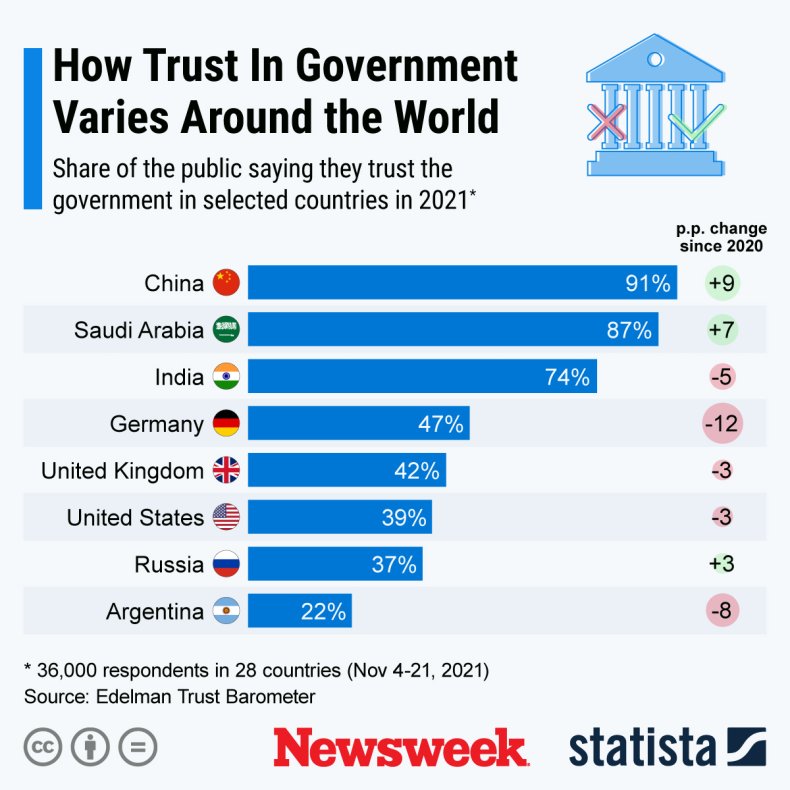 However, this change to the rules is unlikely to succeed. The Senate is divided between 50 Republicans, 48 Democrats and two independents who caucus with the Democrats.
The key sticking point is Senators Joe Manchin (D-WV) and Kyrsten Sinema (D-AZ), who are widely expected to oppose a change to the filibuster.
Before Schumer's announcement on Tuesday, Manchin told reporters that he was not in favor of changing the filibuster and allowing debate to proceed with a simple majority.
"That's never happened in the history of our country," Manchin said. "You know, basically, there's never been a simple majority vote to basically get off a debate. I don't know how you break a rule to make a rule."
Democrats look set for a pair of defeats on both voting rights and the filibuster on Wednesday unless Manchin and Sinema can be convinced to change course.
UPDATE 01/19/21 08.10a.m. E.T: This article was updated to include a graphic.