Joe Manchin Shrugs Off Elizabeth Warren's Primary Threat, Digs In on Filibuster
Senator Joe Manchin (D-W.Va.) stood his ground Tuesday after the threat of a potential primary challenge came from Senator Elizabeth Warren (D-Mass.).
Manchin added that he would stick to his guns regarding the filibuster, which requires a 60-40 vote in the Senate to overcome. He shot down Democratic initiatives to try to stop its use ahead of a vote on the Freedom to Vote Act.
Manchin told reporters on Capitol Hill that he would not change his mind.
"The majority of my colleagues in the Democratic caucus have changed their minds. I respect that. They have a right to change their minds," Manchin stated. "I haven't. I hope they respect that too. I've never changed my mind on the filibuster."
Amid ongoing criticism on the filibuster from their party, Manchin and Senator Kyrsten Sinema of Arizona appear to be among the only two Democrats who oppose filibuster reform. This is despite all 50 Democrats in the Senate supporting the Freedom to Vote Act.
As Manchin continues to frustrate his colleagues, Warren hinted that she would support primary candidates to go against Manchin and Sinema.
"We'll address that when we get past this week," Warren said when asked about a primary challenge on CBS Mornings. She also alluded to possibly supporting a primary candidate during an appearance Monday night on The Late Show With Stephen Colbert.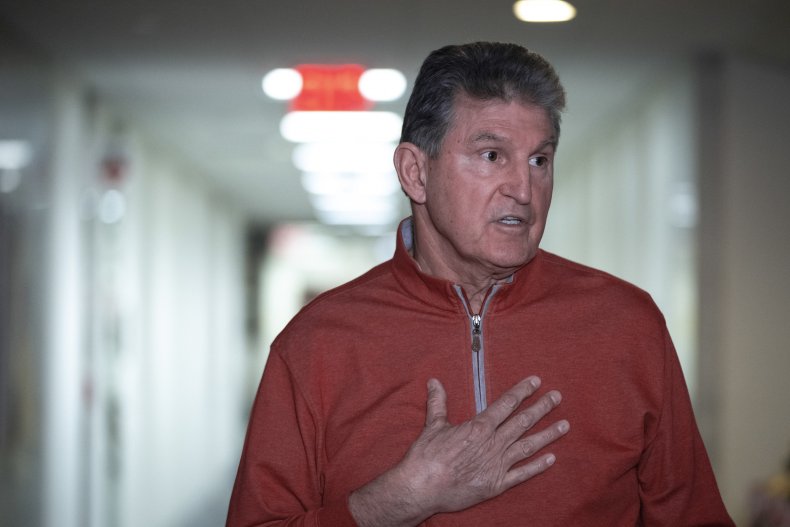 Another individual who hinted at a similar sentiment was Vermont Senator Bernie Sanders (I-Vt.), who has ramped up criticism on both Manchin and Sinema in recent months, and said Tuesday "there is a very good chance" that both of them would see primary challenges.
When reporters asked Sanders if he would support these potential primary challengers, the senator reportedly said, "well, yeah."
While both Manchin and Sinema are not up for re-election until 2024, the pressure from liberal colleagues could bring challengers out of the woodwork ahead of the midterms.
Despite this, though, Manchin appeared mostly unconcerned about the potential for a primary in his home state. This comes even as prominent figures from his state, including the West Virginia-born Alabama head football coach Nick Saban, urge him to help pass the voting rights package.
"I've been primaried my entire life. That would not be anything new for me," Manchin added. "I've never run an election I wasn't primaried. This is West Virginia, it's rough and tumble. We're used to that. So bring it on."
Even as Democrats across the country continue to express anger with Manchin, the senior senator continues to see significant support among people in his own state, which leans heavily conservative.
The conservative America First Policy Institute published a poll in early January showing that Manchin still had 59 percent support in West Virginia. Additionally, the U.S. Chamber of Commerce released a November 2021 poll that found 57 percent of West Virginians agreed with the following statement: "Joe Manchin has represented West Virginia well in the U.S. Senate and deserves reelection."
Only 34 percent of those polled stated that they "strongly disagreed" with that statement.
However, despite the strong support that he currently has, Manchin only won re-election in 2018 by a 3 percent margin.