Democrats Proposed Changes to Obamacare Do Not Address High Health Care Costs
Democrats' proposed Obamacare expansions do not include changes for high medical treatment prices.
The House Ways and Means Committee announced its members will begin to review potential expansions to the Affordable Care Act (also known as Obamacare) on Wednesday. The legislation would be included in President Joe Biden's robust $1.9 trillion COVID-19 relief package. Democrats in both chambers voted on Friday to move the bill forward through budget reconciliation.
"[The] committee will take a crucial step to confront this challenge and show the country that help is on the way," Chairman Richard Neal said in a statement. "From increasing direct assistance to those who need it most to expanding tax credits for low- and middle-income workers, we deliver substantial solutions in this package."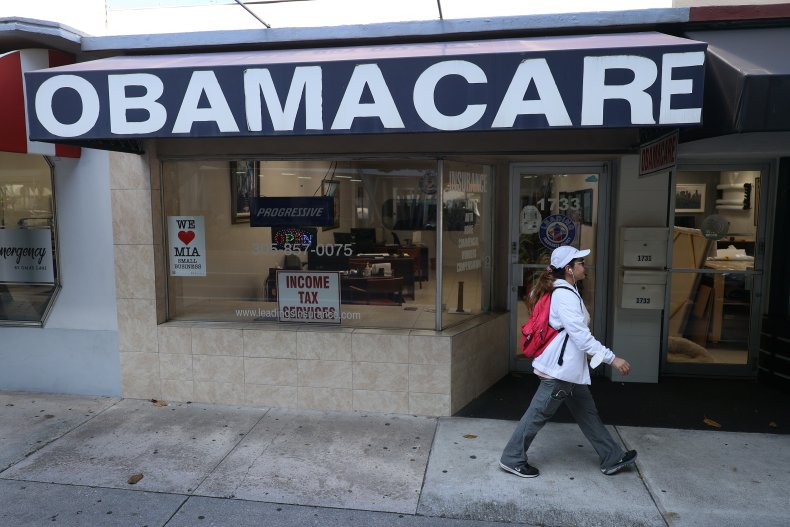 The committee will consider nine legislative proposals this week that would help people who lost employer-provided health care during the pandemic access affordable insurance.
Under the proposal, Obamacare subsidies would be increased so enrolled people would pay a maximum of 8.5 percent of their income for coverage—less than the 10 percent of their income ACA members currently could pay. The committee is also considering expanding coverage qualifications for middle-class families who aren't currently eligible.
Unemployed workers would also benefit. One recent study by the Henry J. Kaiser Family Foundation (KFF) estimated that about 2 million to 3 million people lost employer-based coverage between March and September of last year. The proposed expansion would provide coverage of 85 percent of the cost of COBRA continuation insurance through September 31, 2021 for workers who lost employment-based coverage.
"[The COVID-19 relief bill] is directing more federal resources to individuals to try to increase insurance take-up and improve affordability of insurance," Cynthia Cox, vice president at KFF and director for the program on the ACA, said to Newsweek. "It's not getting at the underlying drivers of health costs…which is how much doctors and hospitals and prescription drug companies are paid."
Cox added that Americans who haven't experienced significant changes in their employment during the pandemic won't be seeing a difference in their medical costs as a result of this Obamacare expansion—the proposals are directly targeted at individuals who have lost their jobs or insurance due to the pandemic.
"They are proposing legislation that will immediately lower families' health care costs through their health insurance premiums," Frederick Isasi, executive director of Families USA said to Newsweek. He added that rising input costs from hospitals or pharmaceutical companies are the main catalyst for increased health insurance premiums for Americans: "The current proposals are not addressing those underlying increases in prices."
The U.S. spends twice as much on health care compared with other wealthy countries. According to the Centers for Medicare and Medicaid Services, U.S. health care spending increased 4.6 percent in 2019 to $11,582 per person. Analysis by KFF found that in 2016, the average cost of a doctor's office visit was about $100, and health care prices also grew by about 22 percent from 2007 through 2018. These costs add up when 54 percent of U.S. adults with employment-sponsored insurance have at least one chronic health condition.
"These changes are meant to make purchasing insurance more affordable, but they don't address the underlying problem that makes insurance unaffordable in the first place, which is high health care prices," Karen Joynt Maddox, assistant professor at the Washington University School of Medicine, wrote in an email to Newsweek. "It's super important to get people covered, because we know coverage leads to better access and better health outcomes, but it's only a short-term solution."
Isasi said Congress' immediate relief to families is a good thing, but the Biden administration should be setting up for a broader battle on health care prices.
"Democrats, Republicans…Americans across this country...their number-one issue with health care is it's too expensive," Isasi said. "We urge Congress and the president to really think about solving the health care price problem."
He added that the main issue with pricing is the "abusive" health care systems with large market shares—these networks charge high rates "baked" into premiums. He also cited inflated drug prices from "monopolized" pharmaceutical companies.
"We have the health care industry unified in opposition to anything that's going to bring them to a reasonable price," Isasi said. "It's going to be a pitched political battle."
As a viable solution to the pricing problem, Isasi said that Biden and Congress should pursue legislation like HR3, a bill passed last year that allows the U.S. health department to negotiate prices it will pay for some drugs. He added that another avenue would be a public option, which would allow the government to compete with private insurers and negotiate for better rates. If not part of the American Rescue Plan, Isasi said further measures to address pricing issues could be part of a next reconciliation bill.
Amid the pandemic, more Americans are delaying medical treatments—and Cox said cost is one of many factors keeping people away from the doctor's office. The Centers for Disease Control and Prevention reported that 41 percent of U.S. adults had pushed back routine or emergency medical care by June 2020. According to a report by KFF, the more patients have delayed procedures, the more profit major insurers have seen in the short term.
Cox said her main concern is that if Americans are using less health care due to financial strain, there could be "pressure to consolidate" among providers. Doctors could sell their practices and join larger health care systems, for example.
"When we see consolidation…that is what can lead to higher prices being charged," Cox said. "[Consolidation] gives hospitals more leverage relative to insurance companies and then insurance companies will pay that higher hospital price because they'll pass it along to consumers in the form of higher premiums and deductibles."
"Health care prices are a much bigger problem—the result of consolidation, lack of regulation in key areas, the tax structure around health insurance…we desperately need policies that will start to address them," Maddox wrote. "The kind of policy that might do so will require bipartisan cooperation and a lot of political capital—something much better done through legislation than through a quick move like the COVID relief plans."
Newsweek has reached out to the House Ways and Means Committee for comment.
Newsweek, in partnership with NewsGuard, is dedicated to providing accurate and verifiable vaccine and health information. With NewsGuard's HealthGuard browser extension, users can verify if a website is a trustworthy source of health information. Visit the Newsweek VaxFacts website to learn more and to download the HealthGuard browser extension.