New York City Mayor Eric Adams has recently found himself in political hot water, but there are no signs that his fellow Democrats have any plans to pull him out.
Without disparaging Adams directly, Democrats at both the federal and local levels have left the mayor to fend for himself on both the migrant crisis his city is facing and his ties to a sweeping bribery scheme.
On Tuesday, several senior Biden administration officials pushed back on Adams' claims that the White House was not doing enough to assist New York City with the more than 100,000 migrants who have come through the city in the last year, shifting the blame onto Adams' office, who they say has "no exit strategy" for migrants to move out of the city's shelter system.
"It's not an operationally sound effort," a Department of Homeland Security official told NBC News. The comments came just days after Adams told a town hall, "We're getting no support on this national crisis."
Adams has publicly pressured President Joe Biden to do more to stem the influx of migrants who have crossed into the United States from Mexico in recent months, asking for more funding and pleading for work permits to be expedited.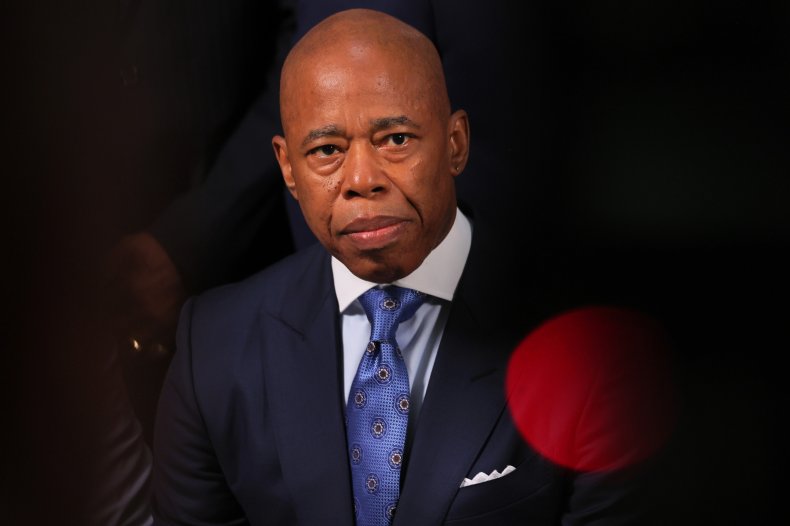 But a Biden official countered his claims this week, telling reporters on Tuesday, "There is a critical mass of people in New York City—I don't have a specific number—but there's a critical mass that we are confident are eligible to apply for work authorization immediately."
Newsweek reached out to Adams via email for comment.
Adams has received some support from New York Democrats like Representative Ritchie Torres, who told CNN, "The mayor has every right to be aggrieved."
"It is fundamentally unfair for the failure of the immigration system to fall disproportionately on the shoulders of a single city. It's hardly in the president's interest to stand by while the migrant crisis rages on and Republicans weaponize it," Torres said.
Adams and Manhattan District Attorney Alvin Bragg have maintained a cordial relationship and avoided any direct confrontation, but that hasn't stopped Bragg from going after those in Adams' circle.
On Wednesday, Bragg unveiled the five indictments from his wide-ranging investigation into a bribery scheme involving a one-time confidant of Adams, former New York City Department of Buildings commissioner Eric Ulrich. Ulrich was charged with accepting money and gifts for access to and favors from high-ranking Adams administration employees.
Although Adams nor any current city employee were not accused of any wrongdoing in the indictments, the evidence released by Bragg's office showed that Adams sat down with three of the people named in the indictment and each of the men donated $2,000 each to Adams' mayoral campaign.
When asked if he knew two of the individuals at a press conference last month, Adams said, "Being the mayor, particularly a mayor that does not live in a bubble, I am constantly having people around me all day every day. So those who hosted events, I don't know all the names, I don't know all the faces. I have a fundraising team and they are handling that."