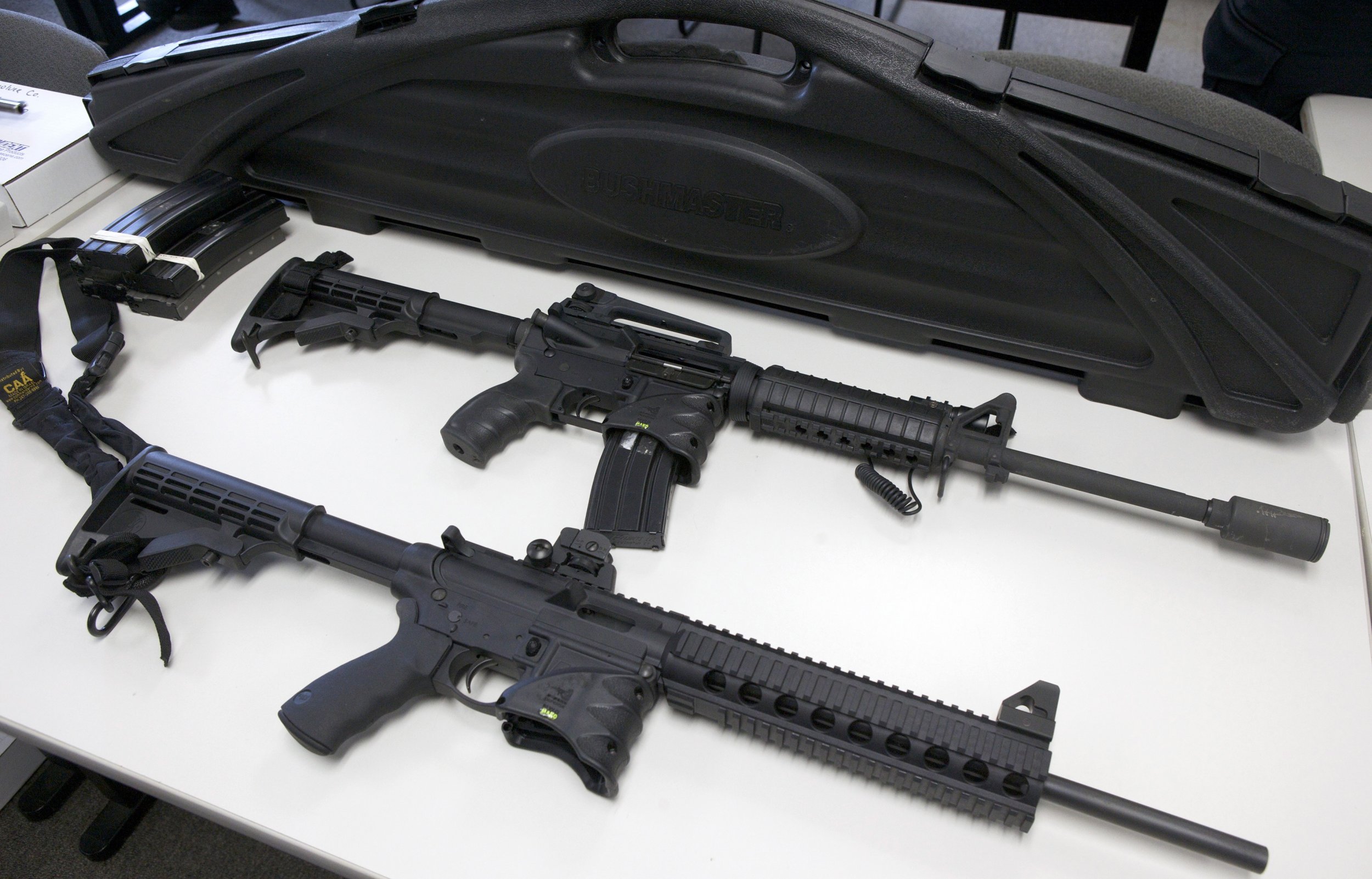 Congressional Democrats introduced legislation Wednesday to allow gun violence victims to sue weapons manufacturers and dealers who sell products to criminals.
U.S. Representative Adam Schiff and Senators Richard Blumenthal and Chris Murphy from Connecticut, along with the Brady Campaign to Prevent Gun Violence, hope to end special legal protections for the gun industry with the Equal Access to Justice for Victims of Gun Violence Act.
The new measure would repeal the 2005 federal shield law, called the Protection of Lawful Commerce in Arms Act (PLCAA), that prevents legal action against firearms distributors whose weapons are used in crimes and fatal shootings. PLCAA, backed by the National Rifle Association (NRA), has provided the gun industry with broad legal immunity in federal and state courts for more than a decade. When then-President George W. Bush signed the bill into law, the NRA called it the "most significant piece of pro-gun legislation in 20 years."
The new measure would expand gun companies' exposure to lawsuits and provide opportunities of relief to gun victims and their families. Supporters of the new measure argue that victims can hold liable sellers in other industries for making a dangerous product or for not providing adequate instructions. They view the current protections as unfairly allowing gun makers to ignore downstream impacts of their business practices, including gun trafficking and transfers to felons or domestic abusers.
"This bill is a golden opportunity for politicians in Congress to show some backbone and put the rights of the American people before the profits and interests of the gun lobby," Brady Campaign President Dan Gross said, asking all congressional members to co-sponsor the bill and immediately schedule a vote to pass it.
The NRA did not respond to Newsweek's request for comment. But opponents argue the measure could bring trivial lawsuits against manufacturers.
PCLAA provides general protection for gun companies from lawsuits, but it also provides for six exemptions, including one for "negligent entrustment." Families affected by the December 2012 mass shooting in Newtown, Connecticut, are suing the manufacturer, distributor and seller of the AR-15 rifle used by the gunman at Sandy Hook Elementary School. In their lawsuit, which was filed in 2014, they allege negligence and wrongful death in the killing of 20 first-graders and six educators at the school.
In the pending lawsuit, the families said that Bushmaster, the manufacturer of the rifle, knew—or should have known—about the high risks posed by the product, including the ability for a shooter to use it to inflict maximum casualties and generate multiple deaths and serious injury. They say the rifle should not have been entrusted to the general public because it is a military-style assault weapon that is unsuited for civilian use. A potential first hearing in the case is scheduled for February 22.
The introduction of the bill came amid growing concern about mass shootings across the country, most recently on December 3 in San Bernardino, California. Earlier this month, President Obama bypassed Congress by initiating executive actions to strengthen existing gun laws, specifically to streamline the federal background checks system. In the wake of Newtown, he unsuccessfully had pushed Congress to pass tighter laws, and federal lawmakers remain in gridlock over the issue.
Gun violence has emerged as a topic on the campaign trail. The Republican candidates have threatened to repeal Obama's executive actions on their first day in office. While Democratic front-runner Hillary Clinton has expressed support for gun control and has outlined her ideas, she also continues to attack her closest challenger, Vermont Senator Bernie Sanders, from the left by highlighting his gun voting record.
She says Sanders, who is neck and neck with her in the polls ahead of the Iowa caucuses on Monday, is out of step with progressives because as a member of the House of Representatives he previously backed PLCAA and voted five times against the Brady Bill, which requires federally licensed dealers to conduct background checks before making gun purchases. As a New York senator in 2005, Clinton voted against PLCAA.
Sanders's position on the issue isn't immediately clear. Before the most recent Democratic debate earlier this month, he announced he would support the bill to strip manufacturers' immunity from legal action. He also has suggested a provision to the law to monitor its impact. But he also defends his previous vote for PLCAA by saying he is from a rural state and long ago voted for the measure to protect mom-and-pop gun shops from legal responsibility. He repeatedly calls PLCAA a complicated piece of legislation. He argues his D- rating from the NRA shows he isn't a friend of the gun lobby.
Still, Clinton widely is viewed as a stronger supporter of gun control and has earned the endorsement of former U.S. Representative Gabrielle Giffords, a victim of gun violence and public advocate of stronger firearms laws.
Previous attempts to dispute PLCAA proved unsuccessful. The measure introduced Wednesday likely will be difficult to pass in a Republican-controlled Congress.