Obama: Gun Law Position Is 'Consistently Mischaracterized'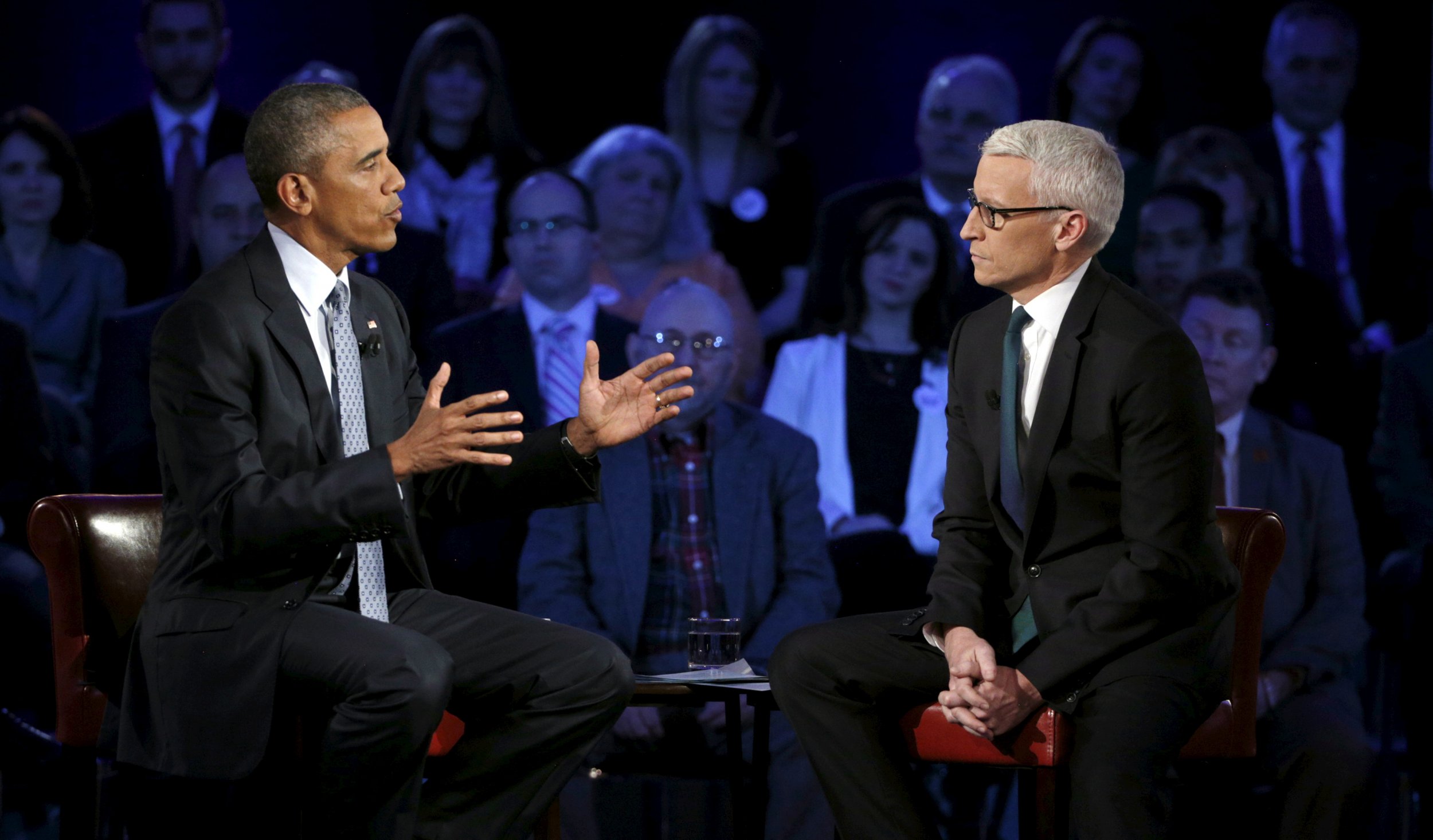 Updated | Taking his case before an audience of gun owners and gun control supporters, President Barack Obama insisted his new executive actions aren't "particularly radical," during a live CNN town hall on Thursday.
"We put out a proposal that is commonsense, modest, does not claim to solve every problem, is respectful of the Second Amendment. And the way it is described is that we're trying to take away everybody's guns," he said. "Our position is consistently mischaracterized."
The one-hour event was a rare interactive forum for the president, who has made gun control a main issue in his last calendar year in office. Two days earlier, he officially announced a set of executive actions on guns, including expanding the background checks system to more carefully define which sellers must be licensed by the government and thus conduct background checks.
"We're not writing a new law, only Congress can do that. This is about enforcing existing laws," he told the live studio audience, which was made up of gun owners and victims of gun violence, including former U.S. Representative Gabrielle Giffords, who was in attendance with her husband, astronaut Mark Kelly. The town hall came a day before the fifth anniversary of the 2011 mass shooting in Tucson, Arizona, that left six dead and 13 wounded, including Giffords, who was shot in the head. She did not speak at the town hall.
Obama tried to address gun owners' concerns about his new plans, at once becoming angry at the notion that he is conspiring to confiscate guns, including snapping at the town hall's anchor, Anderson Cooper, whom the president addressed by his last name.
"Part of the challenge in this is that the gun debate gets wrapped up in broader debates about whether the federal government is oppressive, and there are conspiracy theories floating around the Internet these days all the time," Obama said,
The National Rifle Association (NRA), the country's largest and most influential gun organization, declined to send official representatives to attend the event, calling it "a public relations spectacle orchestrated by the White House," according to CNN. The event took place at George Mason University in Fairfax, Virginia, about 3 miles from the NRA's headquarters. Instead, the NRA live-tweeted the event using the hashtag #GunsInAmerica.
Early on in the event, Obama said, "There's a reason why the NRA is not here." He mentioned that his administration has invited the group to the White House "repeatedly" during his presidency without show.
"I'm happy to talk to them, but the conversation has to be based on facts and truth and what we're actually proposing, not some imaginary fiction in which Obama's trying to take away your guns," he said.
As he did on Tuesday during his remarks from the White House, Obama argued there isn't a product or aspect of life that Americans don't try to make safer when possible, such as medicine, traffic laws and safety belts. He expressed frustration that gun manufacturers who have sought electronic safety measures, such as limiting who can shoot a gun, were met by attacks from the NRA.
The president acknowledged the issue is difficult because "people occupy different realities." On one hand, there are law-abiding citizens who grew up hunting or going to the shooting range. Then there are residents in other parts of the country where it is easier for a teenager to purchase a gun than to buy a book.
"But all of us can agree that it makes sense to do everything we can to keep guns out of the hands of people who would try to do others harm or do themselves harm," he said.
The president once again called on Congress to establish an efficient system that doesn't inconvenience the lawful seller or purchaser, but rather ensures authorities are conducting the best background checks possible.
Following the deadly December 2012 shooting in Newtown, Connecticut, Obama made a large public relations push for stronger gun laws. The Senate ultimately didn't vote to expand background checks on all gun purchases. In a New York Times op-ed published earlier Thursday, Obama said he won't "campaign for, vote for or support any candidate, even in my own party, who does not support commonsense gun reform."
Cooper began the event by asking Obama personal questions—whether he ever has owned a gun and what he could say to Americans who believe he wants to take away their weapons. Obama admitted having little knowledge about guns, stemming from his childhood in Hawaii.
The audience was comprised of about 100 guests invited by CNN, including Andy Parker, the father of slain TV reporter Alison Parker, and Taya Kyle, the widow of Chris Kyle, the U.S. Navy SEAL who was portrayed in American Sniper.
Eight members of the audience, who ranged from gun owners to a sheriff to a man whose brother was killed by gun violence, asked Obama their questions.
"There really is nothing that we are proposing that prevents you or makes it harder for you to purchase a firearm if you need one," he told Kimberly Corban, a participant who questioned the president's plans to impose restrictions on guns.
Arizona Sheriff Paul Babeu asked how the government would get criminals and those with mental illnesses to follow stronger gun laws.
"Crime is always going to be with us, so I think it's really important for us not to suggest that if we can't solve every crime we shouldn't solve any crimes," Obama said to applause from the crowd.
A CNN/ORC poll released before the town hall found that a majority of Americans support the measures that Obama announced earlier this week. But less than half of the public said they think the actions will work.
During his address to the country on Tuesday, Obama shed tears as he spoke about the massacre at Sandy Hook Elementary School and other shootings. He was criticized for crying over gun deaths rather than for police officers or soldiers who die in the line of duty.
"There's a lot of heartache out there. And I don't suggest that this is the only kind of heartache we should be working on," he said.
"The goal here is just to make progress," he added later. "We've got to stop exaggerating or miscategorizing the issues of the other sides and just come up with some sensible areas that everyone agrees with."
This story has been updated to include information from the town hall.