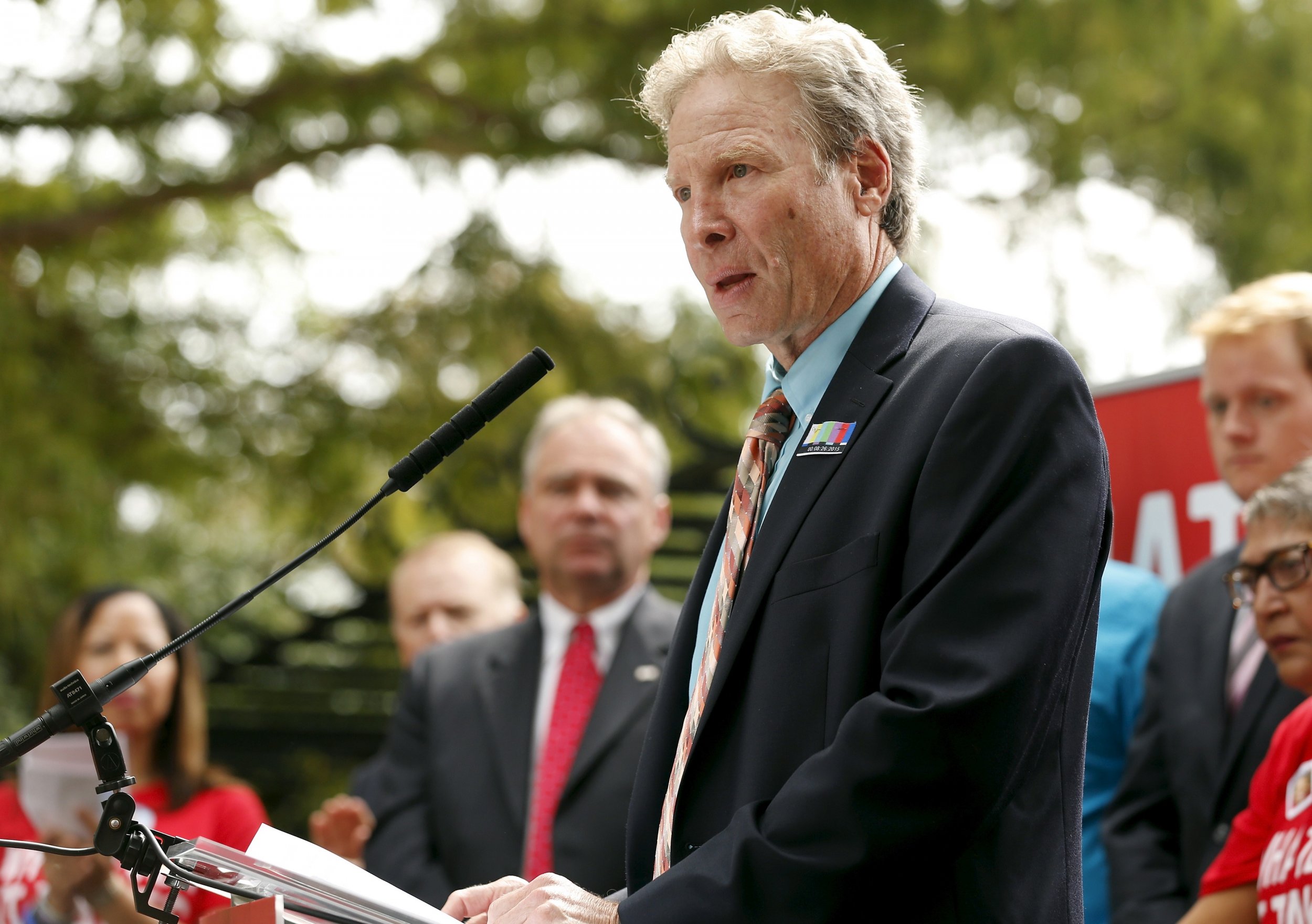 Two months after his daughter's fatal shooting on live television in Virginia shocked the world, Andy Parker called on his fellow Americans to participate in elections to remove from office officials who don't support passing gun laws to reduce violence.
"I don't know about you, but I'm tired of these lame condolences from politicians," he said Tuesday during his keynote address to the Brady Campaign to Prevent Gun Violence and American Public Health Association National Summit in Washington, D.C. "We have reached a tipping point I believe, but it's up to us to encourage young voters, young people, disenfranchised voters, who think, 'You know, we can't make a difference,' to get out and vote."
Alison Parker, a 24-year-old reporter, and her colleague at WDBJ7, 27-year-old photojournalist Adam Ward, were conducting a live TV interview on August 26 at Bridgewater Plaza in Moneta, Virginia, when an armed man fired several shots and killed them. The two were interviewing Vicki Gardner, executive director of the Smith Mountain Lake Regional Chamber of Commerce in Moneta, for a story about the 50th anniversary of the lake. She was the third victim in the attack and sustained non-life-threatening injuries. The suspect, later identified as a former employee at the broadcast news station, fatally shot himself later that day.
Shortly after his daughter's death, Andy Parker pledged to do "whatever it takes" to reduce gun violence in the United States, including helping to get leaders who will support gun legislation elected. At the summit on Tuesday, Parker told the audience that he recently met with House Judiciary Committee Chairman Bob Goodlatte, who is the gatekeeper for gun legislation because his role was designed to protect the Constitution.
"He told me that he wouldn't hold the hearing on gun legislation because it would be a 'circus,' and he felt that only bills that had a chance of passage would be worthy of a hearing," Parker said.
"There's no mystery, and there is no misunderstanding: To hide in the gun lobby's pockets like these guys are doing as elected officials...is to do their bidding and put profits of the gun lobby ahead of the safety of the people," he added. "Frankly, I find it borderline craziness."
An estimated 37 percent of eligible voters in Virginia went to the polls in off-year elections in 2013, according to The Washington Post. With decreasing numbers of voters showing up to cast their ballots, Parker said, it's critical to recruit and elect candidates who support reducing gun violence.
"This isn't just about the economy. It's not just about education," he said. "It's about life and death, that is the truth."
Background checks are not conducted for 40 percent of guns sold in the U.S., according to a 2014 report by the Brady Campaign, which works to extend checks at the national level to all sales of firearms, including transactions at gun shows and on the Internet. Since the Brady Law took effect in 1994, background checks have stopped more than 2 million gun purchases by people who may pose a risk to public safety, such as felons and domestic abusers, according to the Brady Campaign.
This week, leaders gathered at the three-day summit to discuss a public health approach to gun-violence prevention.
In the summer months before the Virginia tragedy in August, Americans died in high-profile shootings in Charleston, South Carolina, in Chattanooga, Tennessee and in Lafayette, Louisiana. Earlier this month, nine individuals died in a shooting at Umpqua Community College in Roseburg, Oregon.
"All of us are engaged in a complicity of silence," Kathy Richardson, a Brady Campaign chapter leader from Rochester, New York, tells Newsweek. Every aspect of life, including where people play, pray, learn and work, she said, is threatened by gun violence.
Hours after the October 1 shooting at the community college in Oregon, President Barack Obama said Americans "collectively are answerable to those families who lose their loved ones because of our inaction."
Connecticut Governor Dannel Malloy called the increase in mass shootings a "public health tragedy," to a standing ovation from the crowd. "You can be for the Constitution and for public safety at the same time." Malloy is credited with strengthening his state's gun laws in the wake of the shooting at Sandy Hook Elementary School in Newtown, Connecticut, where 26 people died on December 14, 2012.
Alfonso Lopez, who serves in the Virginia House of Delegates, urged attendees at the summit to talk about reducing gun violence all the time, not just when tragedy happens.
Earlier this year, Oregon became the sixth state in the wake of the Newtown shooting to apply background checks to all gun sales. A similar measure passed in Washington state during the November 2014 midterm elections, qualified in Nevada for the 2016 ballot and also could be an issue to vote on in Maine in next year's presidential election.
"The tide is turning and we have moved the needle," Parker said. "So let's go get them."