Again, the President Addresses Nation After Mass Shooting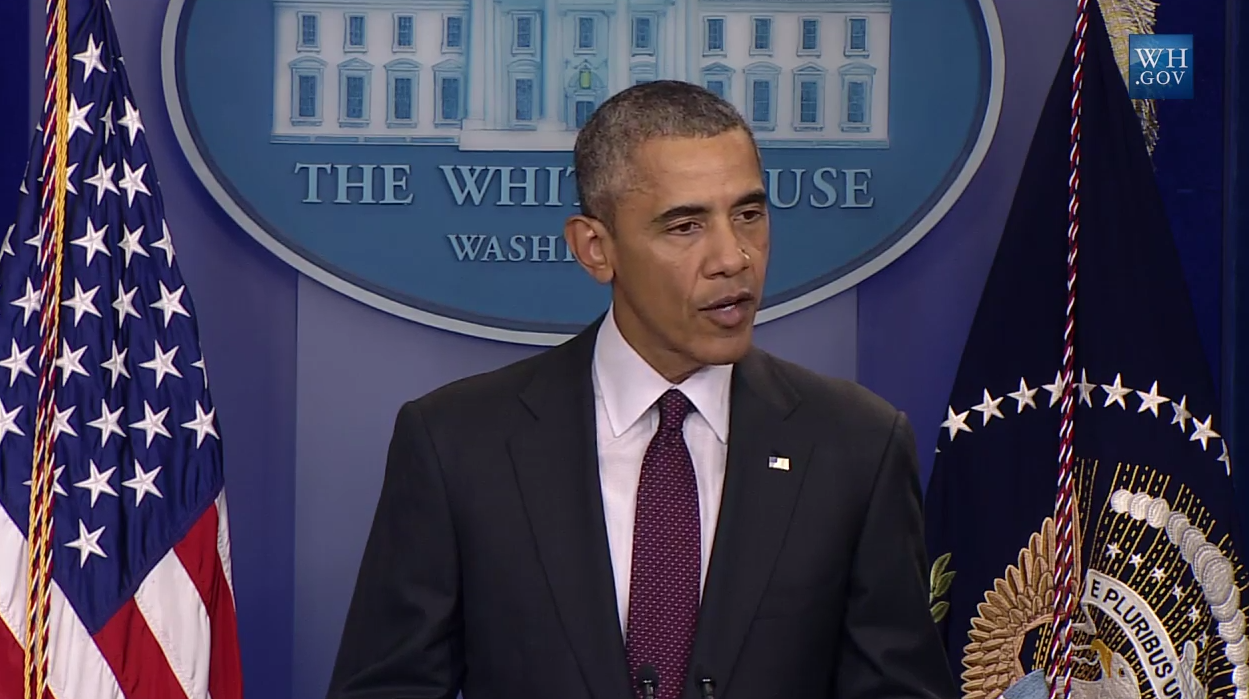 In an emotional yet exhausted plea to the country, President Obama told Americans there were steps the country could take to prevent mass gun violence, in the wake of a fatal mass shooting at Umpqua Community College in Oregon. It was his 15th appearance addressing the country after a shooting during his administration, according to a White House Press Pool statement.
"Each time this happens, I'm going to say that we can actually do something about it. But we are going to have to change our laws. This is not something I can do by myself," he said Thursday night from the White House. He demanded help from congressional leaders, state legislators and governors who are willing to work with him toward change.
[Related: At Least 10 Dead Reported in Shooting at Umpqua Community College in Oregon, Shooter Dead]
A gunman opened fire on the campus in Roseburg around 10:30 a.m. local time on Thursday. Initial reports say the shooter killed 13 people and wounded several others. Authorities fatally shot the suspect and said he was a 20-year-old man.
The scene of Obama speaking from the White House was a familiar sight to many Americans.
"This has become routine," he said. "The reporting is routine. My response here at this podium ends up being routine. The conversation and the aftermath of it, we've become numb to this."
"It cannot be this easy for someone who wants to inflict harm on other people to get his or her hands on a gun," he added.
The president challenged news organizations to tally the number of dead Americans from gun deaths, and compare them to the number killed by terrorism.
Obama said the country on Friday will wrap the grieving families with prayers and love. But, he added, "our thoughts and prayers are not enough. It does not capture the heartache and grief and anger that we should feel."
The president urged residents in each state who think guns are a problem to expect their elected officials to reflect their views. He also asked gun owners, who use firearms properly to hunt for sport and to protect their families, to think about whether their views are properly being represented by "the organization that suggested speaking for you," alluding to the National Rifle Association.
[Related: Another: The 45th Mass Shooting in America in 2015]
"We are not the only country on Earth that has people with mental illnesses or want to do harm to other people. We are the only advanced country on Earth that sees these kinds of mass shootings every few months," he said.
Lawmakers, he said, fix roads when they are broken and implement other measures to keep Americans safe. But since nothing has changed in regard to the gun issue, he said, "we collectively are answerable to those families who lose their loved ones because of our inaction."
"I hope and pray that I don't have to come out again during my tenure as president to offer my condolences to families in these circumstances," he said. "But based on my experience as president, I can't guarantee that. And that's terrible to say. And it can change."