How do Democrats Shift Messaging from Impeachment to Legislation? Initiate Impeachment, Democrat Says
Robert Mueller has finally spoken to Congress, members have left Washington for August recess, and a record number of congressional Democrats now support initiating an impeachment inquiry into the president of the United States.
House Democrats hold press conferences with appealing signs, pivot to their agenda and surge forward with legislation, trying to shout their message for constituents to hear above cries for impeachment.
"We promised to lower health care costs and have sent ten bills to the Senate to reduce prescription drug prices, protect pre-existing conditions and reverse the GOP sabotage of health care," Speaker of the House Nancy Pelosi said Thursday on the steps of the U.S. Capitol flanked by her fellow Democrats, a moment meant to celebrate the party's first 200 days in the majority and to tout some of their legislative achievements.
She also sought to stress that the lengthy recess, which stretches through the first week of September, would not be a vacation. "In the month of August, our members will accelerate a drumbeat across the nation," Pelosi claimed. "We will own August for the people and make it too hot to handle for the Senate not to take up our bills."
Still, House Democrats face a dilemma, as they have for some time.
The divide within the caucus between those who are for an impeachment inquiry versus those who oppose one has been consuming too much oxygen in the room, stifling much of the public recognition Democrats have sought for legislative achievements since regaining the majority in the 2018 midterms with a record number of women and minority members.
The Democrat in charge of handling the party's policy and messaging strategy, Representative David Cicilline, concedes his party is facing a challenge, but says he has the solution to shifting attention away from the spectacle of launching impeachment proceedings and refocusing it back to legislation: Launch impeachment proceedings.
"In addition to it substantively being the right thing to do, I think it also has a communications advantage," says Cicilline, the chair of the House Democratic Policy and Communications Committee (DPCC). "The challenge we face from a communications perspective is, I would say, 90 percent of the coverage is about investigations and oversight and impeachment."
An impeachment inquiry would provide shelter for reluctant rank-and-file Democrats by containing the issue within the House Judiciary Committee, Cicilline argues. The move, he told Newsweek in a recent interview, would also create an opportunity for the party to pivot its message away from its oversight investigations into potential obstruction of justice committed by Trump and more toward policy achievements that have gone largely unnoticed due to the congressional probes that have received most of the public's attention.
"In the midst of an active investigation by the special counsel, when they were asked lots of questions about where they are, they'd say, 'I'm waiting for the outcome of the Mueller report.' It gave them an easy way to pivot to the work they were really doing that mattered in people's lives," he explains. "I think opening an impeachment inquiry is going to provide the same opportunity for members who don't want to talk about this. It will be easy for people to say, 'The Judiciary Committee is the committee of jurisdiction, they've opened an inquiry, I'm going to await the conclusion of that committee's work.'"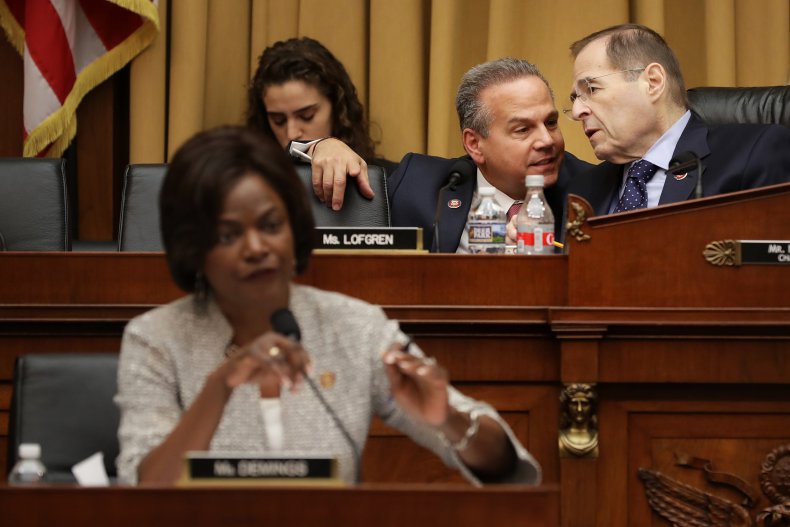 One significant problem remains with this plan: The party's top leaders, including Pelosi, aren't buying it. Cicilline, a Judiciary Committee member himself, has supported initiating an inquiry since May, when the White House directed former White House counsel Don McGahn to defy a congressional subpoena for testimony. Over the past few months, Cicilline has had multiple conversations with Pelosi about impeachment proceedings, but the Speaker has maintained her position that their legal battles over subpoenas, documents and testimonies must play out before they can move forward.
"We will proceed when we have what we need to proceed. Not one day sooner," Pelosi said at a press conference Friday. "Everybody has the liberty and luxury to espouse their own position and to criticize me for trying to go down the path in the most determined, positive way."
Just minutes later while standing behind the same lectern, members of the Judiciary Committee, including Chairman Jerrold Nadler, effectively conceded they were already in the midst of an impeachment inquiry. Nadler said they have already been "in effect" conducting an inquiry, while several others, including Representative Jamie Raskin, said more explicitly, "We're in an impeachment investigation."
Cicilline was not part of that press conference, but he did pen an op-ed with several other committee members about why they're vowing to move forward with impeachment proceedings.
Pro-impeachment inquiry House members had hoped the testimony of Mueller before two congressional committees on Wednesday would result in a large wave of support for officially starting the inquiry, while Democratic leadership and those opposed to an impeachment inquiry fretted Mueller's public testimony could open the flood gates. Yet, as of Saturday, the Mueller hearings had only succeeded in swaying fewer than half a dozen on-the-fence Democrats to lean toward impeachment.
"There's a lot of concern that people will not understand it, and they will equate impeachment with opening an impeachment inquiry," Cicilline admits. "There's some risk, in that if we don't do a good job in telling people the difference. That's a fair concern."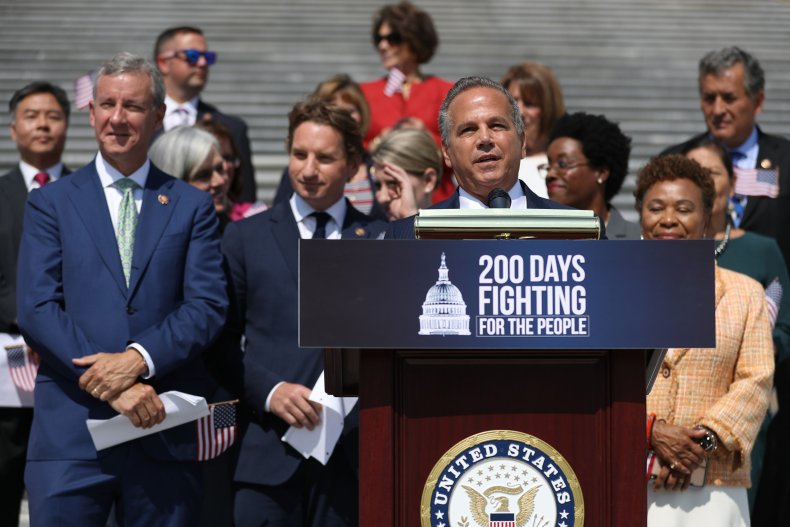 The public's general understanding of the impeachment process is also a concern that Pelosi has echoed time and again in recent months.
"They think you get impeached, you're gone," the California Democrat said at a June 26 press conference. "And that is completely not true. When you get impeached, it's an indictment."
A successful impeachment in the House would still require a hearing in the GOP-controlled Senate, where a two-thirds majority (67 votes) would be needed to remove a sitting president from office. For example, President Bill Clinton was impeached by the House in 1998, but his presidency survived a 1999 trial in the Senate.
With the August recess having commenced for the House, Democrats will have six weeks away from Washington, D.C., and the national media, perhaps offering them an opportunity to temporarily lay off the impeachment inquiry fervor and instead highlight legislation that the Democratic-led chamber has passed only to go on and die in the Senate. There is also the possibility that the time away from the Capitol could result in Democrats losing impeachment momentum.
However, Cicilline predicts the impeachment inquiry support, which consists of a little more than 40 percent of the caucus—or nearly 100 members—will only "intensify" over break as lawmakers speak with constituents. Pro-inquiry Democrats had hoped they could secure more members before the August hiatus, as time is running out politically for them to initiate impeachment before the 2020 election campaigns begin in earnest.
Cicilline, along with other Democrats, say they'll use the long break to strategically communicate within their districts about the legislative progress they've accomplished. In a letter to her Democratic House colleagues on Friday, Pelosi said the DPCC, which is run by Cicilline, would be dividing up the weeks of August to focus on holding events that highlight the three main pillars of what they call their "for the people" agenda.
• August 5th: lowering health care and prescription drug costs
• August 12th: increasing paychecks by rebuilding America
• August 19th: cleaning up corruption in Washington
Pelosi added that the party would engage in a "series of Caucus conference calls throughout the work period to discuss what Members are hearing from their districts."
"The thing that most of us are looking forward to do is trying to talk back home to reporters about what we've done for the last seven months," Representative Mark Pocan, co-chair of the Congressional Progressive Caucus, said to reporters Wednesday. "Unfortunately, I think talk about impeachment took a bit away from the things we've actually passed. We've done a lot of things. Apparently, Mitch McConnell's taken [the bills] all to Kentucky and buried them in some guy's backyard."
McConnell, the Senate's majority leader and a Kentucky Republican, has taken pride in referring to himself as the "Grim Reaper" for Democratic policies sent up from the lower chamber. His refusal to consider most House-passed bills has infuriated Democrats, who have taken to referring to the Senate as McConnell's "legislative graveyard" every chance they can.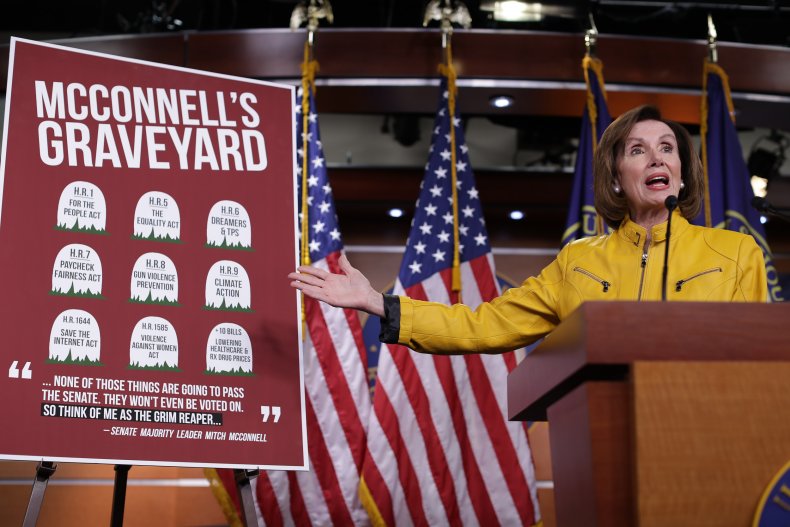 House Democrats have passed more than a dozen major pieces of legislation in their first seven months in the majority, including measures that, if passed by the Senate and signed by Trump, would seek to address gun violence, raise the minimum wage, reduce climate change, lower the cost of health care and prescription drugs, eliminate gender pay gaps, strengthen LGBTQ protections and protect DREAMers. There is also the wide-ranging For the People Act that would bolster voting rights, tackle campaign finance regulations and, Democrats say, combat corruption in Washington politics.
The House has passed more than 350 pieces of legislation, but only 55 bills have been approved by both chambers and a mere 33 have been signed into law.
"It has been very difficult to communicate the amount of work that we've gotten done on the priorities of the American people, in part because of the president's conduct and oversight and investigations," Cicilline says. "We're going to try to use [August recess] in a really strategic way to communicate. We have events happening and communications happening all across the country in congressional districts over those four weeks, really using it as an opportunity to report back to the constituents on the first 200 days of Democratic majority in the House."
And while Cicilline didn't use what has become House Democrats' new favorite term to say to reporters when describing the balance of investigating versus legislating (i.e., "We can walk and chew gum at the same time."), he said the party has so far struck a good balance and needs to continue doing so.
"My view of it is that we have to do both things, that we have got to continue to stay laser focused on getting things done that matter in people's lives and making sure people know we're doing it," Cicilline says. "And we also have to provide serious oversight and really provide the check on this administration."