Top Democrat Needs to Sue for Trump's Taxes Now, Liberal Group Demands As It Steps Up Pressure Campaign
A liberal advocacy group is stepping up its efforts to compel a top House Democrat to file a lawsuit in an attempt to obtain President Donald Trump's tax returns.
Stand Up America, a progressive grassroots organization with roughly 2.4 million members that's sought to push Democrats into supporting a Trump impeachment inquiry, will launch a new advocacy campaign Tuesday morning that will target the constituents of Democrats on the House Ways and Means Committee.
The move is an attempt to ramp up the pressure on Representative Richard Neal, the Democratic chairman of the committee, into filing a long-promised lawsuit for six years' worth of the president's personal and business tax returns. Repeated requests and a subpoena issued by Neal for Trump's financial records under an IRS provision have been repeatedly denied by Treasury Secretary Steven Mnuchin, who said such demands lack "a legitimate legislative purpose."
Last month, Stand Up America began a targeted campaign aimed at Neal's constituents that it hoped would persuade the Massachusetts Democrat to take immediate legal action. However, Neal has yet to do so, and he's not publicly elaborated on a timeline.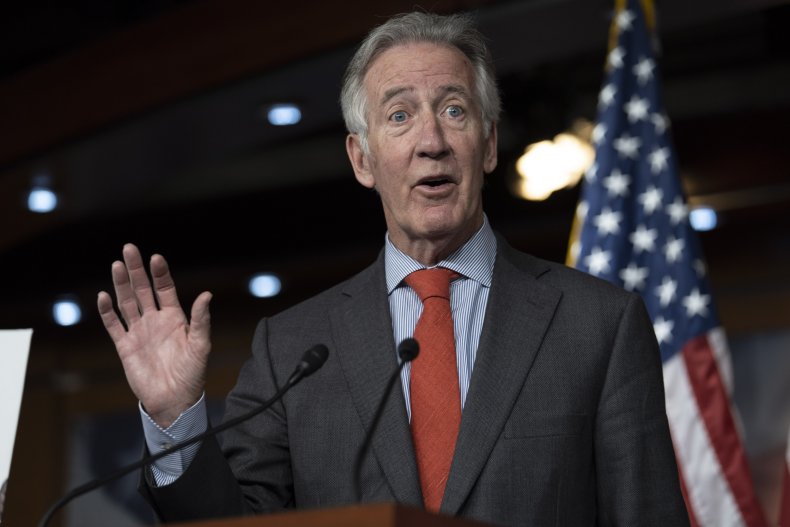 Stand Up America accused Neal of implementing a "go-slow strategy," citing the 45 days that have gone by since Mnuchin's refusal of Neal's subpoena. Nearly three months have passed since Neal first requested the financial documents in a series of formal letters.
"The House of Representatives handed Chairman Neal the power to take Secretary Mnuchin to court to get Trump's taxes weeks ago—but he continues to needlessly delay the process," Stand Up America spokesperson Ryan Thomas said in a statement. "We implore Neal to move forward with this lawsuit immediately."
Spokespersons for the Ways and Means Committee did not respond to Newsweek's request for comment and questions regarding when the lawsuit may take place.
Prompted about when he planned to file, Neal told Newsweek June 21 that "we're getting there." Pressed repeatedly for a more specific timeline, Neal would only say, "It's close."
In a break from modern precedent, Trump has refused both as a candidate and as president to voluntarily release any of his financial information. Democrats have long alleged the reason could be to conceal incriminating activity or conflicts of interests with foreign governments, while Trump has said it's due to an ongoing IRS audit.
The provision of the IRS tax code by which Democrats demanded Trump's taxes was Title 26, Section 6103, which states the Treasury Department "shall furnish such committee with any [tax] return or return information specified in such request."