Nancy Pelosi Says She's 'Not Feeling Any Pressure' on Impeachment. This Liberal Group Wants to Change That
Impeachment.
It's the dreaded I-word that House Democratic leadership has found itself struggling to contain within its party, as roughly 60 members now support opening an impeachment inquiry into President Donald Trump over accusations of obstruction of justice and abuse of power.
Pressure? House Speaker Nancy Pelosi says she knows nothing about it.
"No, I'm not feeling any pressure," she said Wednesday.
But that could soon change. A liberal activist group that's already launched a nationwide campaign to push House Democrats to support an impeachment inquiry is ramping up its efforts, including targeting key members of a panel that holds the power to begin impeachment proceedings: The Judiciary Committee, where nearly half of its Democratic members already support moving forward with an impeachment inquiry.
Stand Up America, a grassroots organization comprised of nearly 2.4 million progressive members, has issued digital advertisements and coalesced constituents to make 25,000 phone calls to House Democrats in each district across the country since the effort first began last week, the group told Newsweek. Now, they will shift more of their focus to House Judiciary Committee members and deploy new advertisements that not only seek to sway the minds of Democratic lawmakers, but also members of the public.
"If lawmakers in Congress aren't feeling the pressure to start an impeachment inquiry, they aren't listening," Ryan Thomas, a Stand Up America spokesperson, told Newsweek.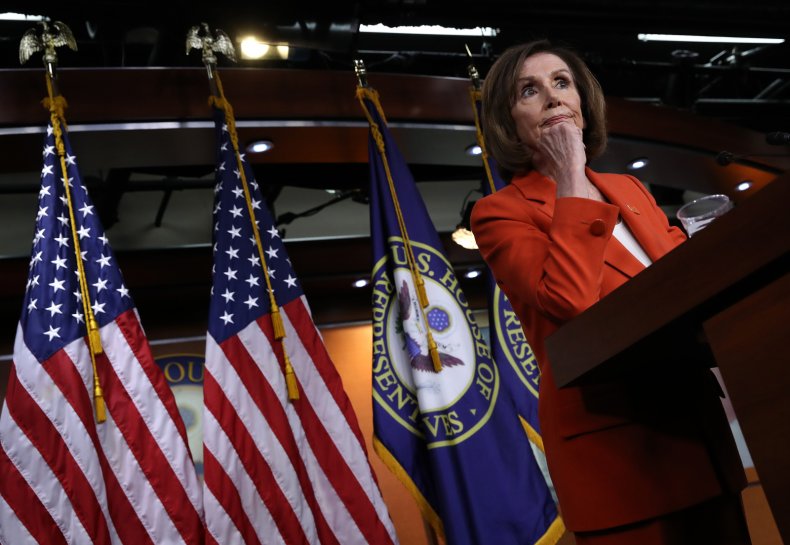 The group points to evidence laid out in the Mueller report, which detailed 10 instances of potential obstruction of justice, including more than one attempt by Trump to thwart or hinder the Russia probe by removing Mueller as special counsel.
"It's time for every lawmaker in Congress to go on the record about whether they believe Trump's criminal conduct is acceptable—and we're ensuring that representatives hear from their constituents in every single district," said Sean Eldridge, Stand Up America's founder and president.
Similar like-minded organizations, like MoveOn and Need to Impeach, have also pushed House Democrats on impeachment.
Democrats who've yet to support impeachment proceedings point to a lack of support within their caucus, the public and the GOP-controlled Senate, where articles of impeachment—should they arise from an inquiry—would go to die.
"The majority of the American people are not in favor of impeachment," Representative Hank Johnson, a Judiciary Committee Democrat currently opposed to an impeachment inquiry, told Newsweek earlier this week. "Three-quarters of the House Democrats are not in favor of proceeding with impeachment at this time. Why proceed with it if it just simply plays into Trump's hands, giving him a platform to claim victimhood and then setting him up for an exoneration by the Senate?"
The chairman of the committee, Democrat Jerrold Nadler of New York, has said repeatedly that it may become necessary to proceed with impeachment. But not yet.
"It may very well come to a formal impeachment inquiry. We will see," he told CNN's Wolf Blitzer Wednesday evening. "Right now, there doesn't appear to be support for it."
He paused when asked whether he was on the same page as Pelosi, who for months has tamped down impeachment calls within her caucus and publicly stated that Trump is "not worth it."
"As I said, we are launching an inquiry, and whether we'll launch an impeachment inquiry—it may come to that," he reiterated. "When that decision has to be made, it'll be made not by any one individual. It'll be made by the caucus as a whole, certainly Nancy will have the largest single voice in it."
Pelosi and Nadler clashed privately earlier this week, where the chairman advocated to initiate impeachment proceedings. Rather than see him impeached, the speaker advocated for Trump to be defeated in 2020 and then prosecuted.
"I want to see him in prison," Pelosi said, according to Politico.
Despite the apparent divisions that flourished between House leadership, Nadler and rank-and-file members, Pelosi—quite literally—slapped away the notion that she's felt any pressure thus far.
"No, I'm not feeling any pressure. Make no mistake," the California Democrat told reporters during her weekly press conference as she slapped her palm on the lectern to accentuate her point, "we know exactly what path we're on. We know exactly what actions we need to take."
She also stressed, as many other House Democrats both for and against impeachment proceedings have, that the American public does not fully understand how impeachment proceedings operate.
"Do you know that most people think impeachment means you're out of office? They think that you get impeached, you're gone. And that is completely not true," Pelosi said. "And I may have thought that myself 50 years ago. But you get impeached, and it's an indictment. So, when you're impeaching somebody, you want to make sure you have the strongest possible indictment."
The argument made by Democrats for an impeachment inquiry is that it would give them more legal leverage with the courts as they seek to force the Trump administration's compliance with subpoenas for documents and witness testimonies. The House will vote on Tuesday to hold Attorney General William Barr and former White House counsel Don McGahn in contempt for refusing to comply with congressional subpoenas.
But leadership—and some weary rank-and-file Democrats—point to House Democrats' recent court victories for why the party should refrain from proceeding with impeachment.
Despite being a more liberal member of his party and serving as vice chair of the House Progressive Caucus, Democratic Representative Mark Takano is not currently for an impeachment inquiry.
"It's not clear to me that an impeachment inquiry gives us anything more than moving forward with vigorously enforcing our subpoenas," Takano told reporters this week. "I think we're just as likely to gain as much with our subpoena power as we're able to gather through the various strings of Congress."