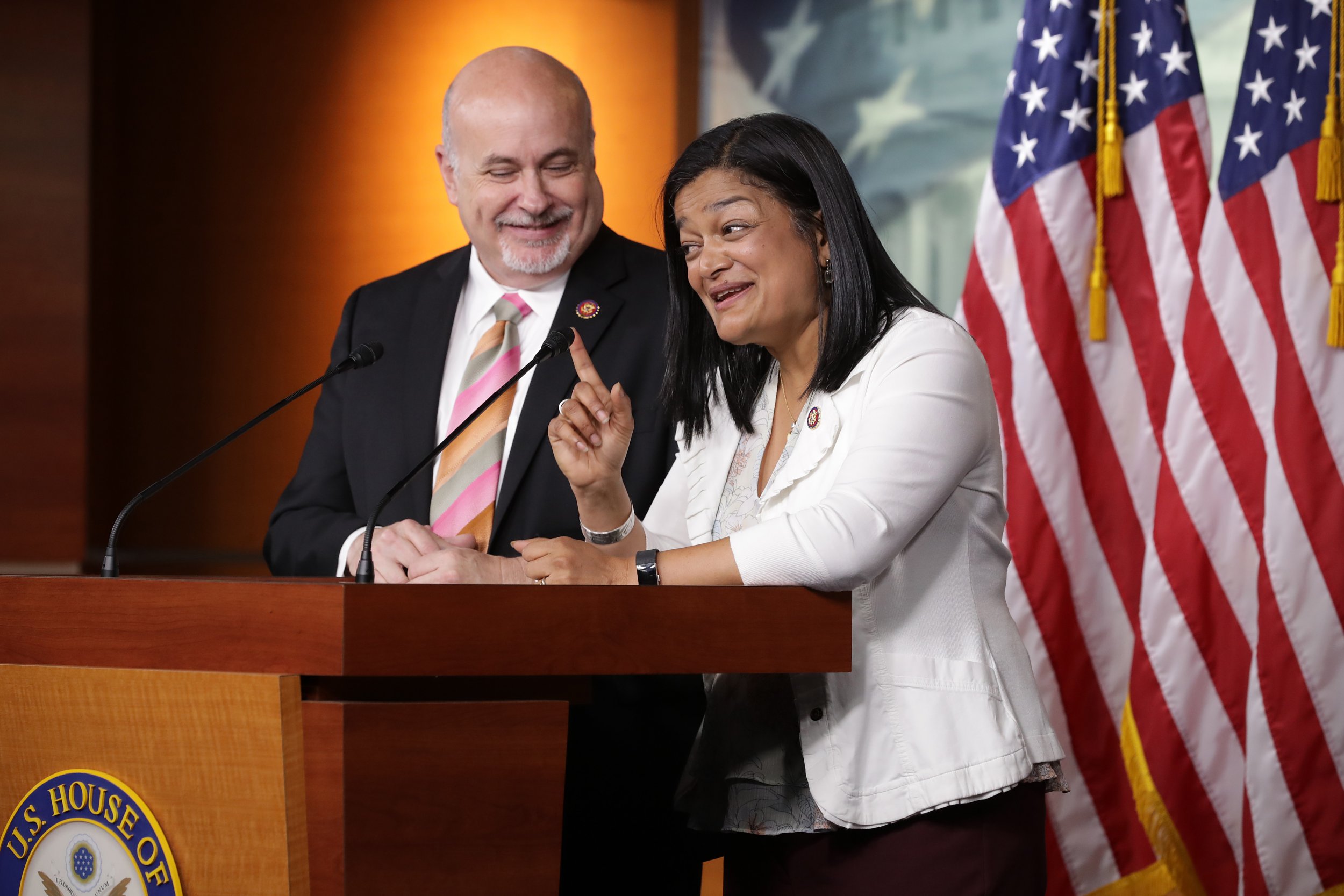 Despite House Democrats receiving their second favorable federal court ruling on Wednesday as part of their legal battle to obtain subpoenaed information from the White House, many remain steadfast in their belief that the party should surge forward with an impeachment inquiry.
They believe that relying solely on the court system to combat the White House's stonewalling would prove too arduous and time-consuming. It is Congress' ultimate duty, they argue, to enforce their oversight responsibilities, even if that means taking the drastic step of impeachment while certain matters play out in the courts.
"Maybe when I'm 60 years old, I'll get responses. The courts are not a very fast process," Representative Mark Pocan, a 54-year-old Democrat who's co-chair of the Progressive Caucus, told Newsweek. "I'm not going to let the president just run the clock out. That's what he's doing. He's trying to run the clock out right now."
House Speaker Nancy Pelosi touted the court victories, which seemed to bolster her position and undercut members' narrative that the party needed an impeachment inquiry to obtain the documents and witness testimonies sought for their obstruction and abuse of power investigations. The speaker has warned not to fall victim to the president's potential impeachment trap—despite acknowledging her belief that he had committed impeachable acts—and instead coaxed members to stay the route of using congressional investigations and the legal system.
"Congress' constitutional authority and responsibility to conduct oversight of the executive branch have been reaffirmed—again and again," Pelosi said in a statement. At a Center for American Politics conference earlier in the day, she accused Trump of "obstructing justice" and being "engaged in a cover-up. And that could be an impeachable offense."
The Wednesday court ruling by a federal judge in Manhattan barred Trump's efforts to keep Deutsche Bank and Capitol One from handing over his personal and business financial records to the House Intelligence and Financial Services Committees, rejecting Trump's lawsuit to block the subpoenas issued to the financial institutions. On Monday, a federal judge in Washington, D.C., ruled against Trump's effort to block another subpoena from the House Oversight Committee to obtain his tax returns and other financial records from accounting firm Mazars USA. And in another blow to Trump's stonewalling, the New York state legislature passed a bill on Wednesday that would allow Congress to obtain the president's state tax returns.
Democrats who support an impeachment inquiry reiterated that court matters could move forward simultaneously, and that it was an additional remedy to enforce their subpoenas.
"There's nothing that undercuts anything, if it's good for the Constitution and good for democracy. We need to have multiple strategies here," Representative Pramila Jayapal, a Judiciary Committee member and co-chair of the Progressive Caucus, told Newsweek. "The courts are one important piece of that. If the administration didn't appeal it, which they just did with the [Mazars] ruling, and we actually started to get information, that would be one thing. But the reality is, [Trump] is just trying to push the saddle as long as he can."
Such a stance will likely continue to divide the party, with party leaders tamping down impeachment talk as more members come out in support of it. Congress' last day in session before the Memorial Day recess will be Thursday, offering leadership a brief break and rank-and-file members the chance to spend time in their home districts.
A member of both the Financial Services and Judiciary Committees, Representative Madeleine Dean also supported proceeding with an impeachment inquiry, citing concerns about timing. "We should not be slowed down in our own work simply by a clock that goes through judicial processes," the Pennsylvania Democrat said.
Representative Brad Sherman, a Democrat who sits on the Financial Services Committee and first introduced articles of impeachment in July 2017, saw the ongoing lawsuits as virtually meaningless until they reach the highest court in the land—which could very likely happen—and its conservative majority rules in Democrats' favor.
"I'll believe it when I see it out of the U.S. Supreme Court," he told Newsweek, jokingly adding: "Well, as soon as [Supreme Court Justice Brett] Kavanaugh sends the tweet. Do they tweet?"
The tipping point for the majority of Democrats who now call for an impeachment inquiry came Tuesday, when former White House counsel Don McGahn defied a subpoena to testify before the Judiciary Committee after Trump directed him not to appear, citing immunity. It created an uproar from Democrats throughout the caucus, including those on the Judiciary panel, who hold the power to begin impeachment proceedings.
Representative Val Demings, a Democrat on Judiciary who called for impeachment last month, was a longtime police chief in Florida. She compared her reasoning for continuing with an impeachment inquiry—despite the court ruling—to her time as a law enforcement official.
"We don't stand in the street and say, 'Well, I'm not going to make this arrest because I'm not sure what the judge or jury will do.'" She told reporters. "I'm glad the courts are doing their job, but is the president setting up a situation where he is not only disregarding the lawful authority of the legislative branch, but now the judiciary, too? I guess we'll see. I think that only strengthens our position."
Trump had not weighed in on the Deutsche Bank ruling as of Wednesday evening, but he did abruptly scrap a $2 trillion infrastructure deal with Democrats earlier in the day, saying to reporters that he told Pelosi and Senate Minority Leader Chuck Schumer that he "can't do it under these circumstances… So, get these phony investigations over with."
"I think that [Mazars] ruling earlier this week probably set him off," said Budget Committee Chairman John Yarmuth. The Democrat pulled back slightly on his previous remarks from Tuesday, when he was one of several members who warned leadership that "an impeachment process is going to be inevitable. It's just a question of when, not if.
"As far as I'm concerned, it's time. But I don't disagree with what Nancy's doing. Either way," he continued. "I think we're doing exactly what we would do in an impeachment inquiry without calling it an impeachment inquiry."