Donald Trump's Taxes: Liberal Group Takes Aim at Democrat Who's Yet to File Lawsuit for President's Finances
A liberal activist group that has sought to pressure House Democrats to initiate impeachment proceedings is taking aim at another top member of the party over obtaining President Donald Trump's tax returns.
Stand Up America, a grassroots organization with roughly 2.4 million progressive activist members, told Newsweek Wednesday it will launch a new campaign in an attempt to make House Ways and Means Committee Chairman Richard Neal file a lawsuit to enforce a subpoena for the president's personal and business taxes.
Unlike his predecessors for decades before him, Trump has refused to release his tax returns over claims that he remains under audit.
The campaign will target Neal's home district, Massachusetts' 1st Congressional District, by having volunteers text the Democrat's constituents to explain "how Chairman Neal has slow-walked the process" and by contacting his congressional office to push for an immediate lawsuit.
Neal subpoenaed Treasury Secretary Steven Mnuchin and IRS Commissioner Charles Rettig in May for six years' worth of Trump's taxes under a provision of the IRS tax code. The Trump officials refused, and rather than proceed with the criminal or inherent contempt process to force their compliance, Neal has said he would seek to obtain the president's financial records via a lawsuit. Last week, in response to the Trump administration's stonewall of Democrats' various document and witness requests, the House passed a resolution that allows committees to move forward with civil contempt proceedings in court against uncooperative officials.
"Every day that Neal delays this process further, the Trump administration is able to make a mockery of Congress and deprive the American people of the transparency they deserve," Stand Up America spokesperson Ryan Thomas said in a statement. "We hope Neal sees this campaign for what it is: an attempt to get him to do his job."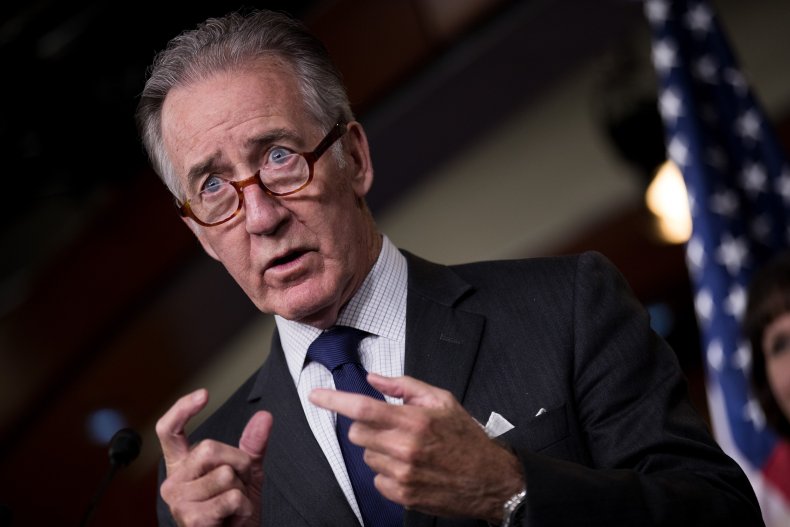 Spokespersons for the Ways and Means Committee did not respond to Newsweek's request for comment.
Neal first made a request for Trump's taxes April 3, citing Title 26, Section 6103 of the IRS Code, which states Treasury "shall furnish such committee with any [tax] return or return information specified in such request." Repeated refusals by Mnuchin, who said Democrats lack "a legitimate legislative purpose," caused Neal to issue a subpoena.
Following a private meeting with several Democratic committee chairmen Wednesday evening who are investigating the president, Representative Elijah Cummings, chairman of the Oversight Committee, suggested that those frustrated with the party's pace of obtaining information should instead focus their energy on Republicans.
"They need to get on the phone and call their Republicans and tell them to work with us to make sure that we save our democracy," the Maryland Democrat told reporters.
Stand Up America launched a similar advocacy campaign against members of the House Judiciary Committee last month, seeking to nudge more of the key Democrats toward supporting an impeachment inquiry into Trump.