Do Democrats Still Support Israel? Poll Shows Near Equal Support for Palestinians, Many More Not Sure
Democrats have become more supportive of the Palestinian cause in the past two years, but nearly half were still undecided whether or not they back them or Israel in the decades-long Middle East conflict, according to a new poll.
Quinnipiac University published the results of a survey exploring support for Palestinians and Israelis by political affiliation in the United States on Tuesday. It found that "Democrats are divided on the Mideast situation as 27 percent say their sympathies lie more with the Israelis and 26 percent say their sympathies lie more with the Palestinians, with 46 percent undecided."
A similar poll conducted in January 2017, just days before President Donald Trump's inauguration, saw 42 percent of Democrats backing Israelis, as opposed to 23 percent preferring the Palestinian side and 35 percent unsure.
While the U.S. overall remained mostly supportive of Israelis over Palestinians at 47-16 percent, this too had dropped from 54-14 percent two years ago. Republicans, who overwhelmingly approved of Israelis vs. Palestinians at 80-5 percent in the lead-up to Trump taking office, grew slightly—yet equally—unsure of both sides, showing up 78-3 percent in favor of Israel on Tuesday.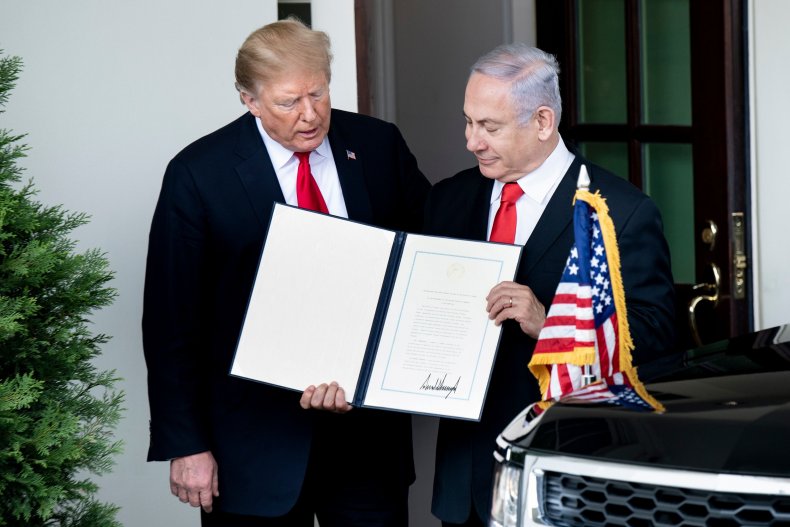 President Donald Trump declared Monday "the unbreakable alliance between the United States and Israel has never been stronger" than under his administration, during a press conference alongside Israeli Prime Minister Benjamin Netanyahu. The Republican leader made the remarks as he reversed prior U.S. policy by recognizing Israel's 1967 seizure and 1981 annexation of the Golan Heights, considered part of Syria by the United Nations.
The move was met largely with international condemnation, as was Trump's previous decision in December 2017 to recognize Jerusalem as the capital of Israel, dismissing competing Palestinian claims to the holy city. The U.S. and Israel have portrayed the U.N. as biased against Israel, leading the Trump administration to pull out of organizations such as the Human Rights Council and the United Nations Educational, Scientific and Cultural Organization (UNESCO).
The White House has especially portrayed itself as aligned with Netanyahu as his right-wing Likud party prepared for elections next month. The Israeli leader has ordered military action in response to militias suspected of being under Iranian command in Syria and rockets fired from the Palestinian-controlled Gaza Strip, while facing persistent charges of bribery and corruption.
"President Donald Trump embraces embattled Israeli Prime Minister Bibi Netanyahu, while overall sympathy for the Israelis slips a bit among voters," Tim Malloy, assistant director of the Quinnipiac University Poll, commented on results as they pertained to current events.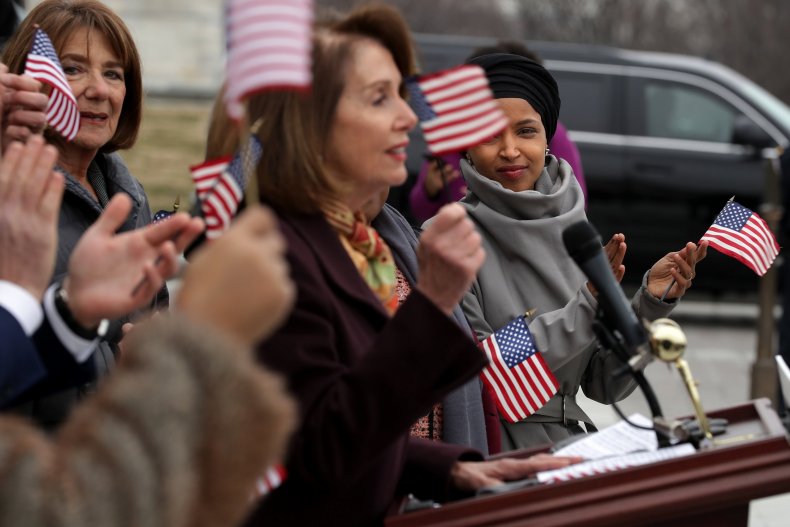 Support for Israel has proven to be a sensitive subject in U.S. politics, with politicians on both sides equating overt criticism of the world's only majority-Jewish state to veiled anti-Semitism. Trump called on Democratic Representative Ilhan Omar—one of the first two Muslim women to join Congress this year—to resign last month after some of her tweets were deemed controversial, including one in which she portrayed the U.S.-Israel relationship as being "all about the Benjamins"—a reference to both Netanyahu and the influential American Israel Political Action Committee (AIPAC).
"From this Benjamin, it's not about the Benjamins," Netanyahu himself told the AIPAC annual conference Monday in Washington via a live video feed. "The reason Americans love Israel is not because they want our money, it's because they share our values."
Omar responded on Twitter by pointing out how the Israeli leader focused on her comments rather than other various issues, such as growing far-right violence that targeted both Jews and Muslims, global armed conflict and human rights abuses around the world. Omar also responded to House Speaker Nancy Pelosi's condemnation of the pro-Palestinian Boycott, Divest, Sanctions (BDS) movement at AIPAC, telling Newsweek that her fellow Democrat's remarks were "beneath any leader."
In addition to Omar, all 15 prospective Democratic candidates for 2020 skipped the AIPAC conference in what may be a growing sign of the party's shifting stance on the lobby and its interests.