Denver Shooting Suspect Lyndon McLeod Glorified Guns and Misogyny: 'War is Coming'
The suspect in Monday's shooting spree in Denver, Colorado—which killed five people—left behind a Twitter feed boasting about his gun use and promoting misogyny, as well as lamenting the "suppression" of "male honor violence."
Authorities identified Lyndon James McLeod, 47, as the shooter who opened fire at several locations in Denver and nearby Lakewood on Monday afternoon. McLeod was killed in a police-involved shooting in Lakewood.
Speaking to reporters, Denver Chief of Police Paul Pazen said McLeod had been "on the radar of law enforcement." Two previous investigations—one in 2020 and the other in early 2021—did not result in state or criminal charges.
McLeod's own Twitter account—which has been inactive since June 2020 and was since taken down—provided a disturbing insight into the shooting suspect's extremist ideologies, from a glorification of "honor violence" to his fixation on female chastity.
"Yes I'm a jerk," McLeod tweeted in 2018, during a debate with another user.
"I have high testosterone and low patience. I've been in more steeet [sic] fights than you have teeth. I've been arrested on felony weapons charges. I've had 3 women in bed at once. I'm Aggro as [f***] dude."
These three "women," McLeod claimed in a separate tweet, were "teenaged girls."
In another post, McLeod called CNN host Don Lemon "racist but correct" on the same week as Lemon's statement that white men are "the biggest terror threat in this country" following a 2018 shooting in Kentucky.
"Aggro white males ARE violent & will be more violent as they are made irrelevant by a country that HATES them," he wrote. "Their limbic system is in revolt against the modern world.War is coming."
McLeod also complained of a "modern/liberal suppression" of "male honor violence," which, according to him, refers to men having the freedom to inflict physical assault as retaliation for perceived disrespect. One such tweet bore the hashtag #MakeAmericaRetributiveAgain.
"You can't treat the most aggressive men of your society like [s***] & expect to survive," he once wrote.
'Pain Demands A Response'
A catchphrase McLeod often used was "Pain demands a response," from his own book trilogy Sanction, which he wrote under the pen name Roman McClay. The books are still up for purchase on Amazon and garnered mostly positive feedback.
According to reviews, both positive and negative, the first book's contents include unapologetic violence, misogyny and racism.
"[T]his book is packed full of rants on diversity, women, and globalization," one reviewer wrote. "There are fantasies of killing people involved in the [Black Lives Matter] movement, and bizarre threats to Ben Shapiro/Sam Harris/and others."
One positive reviewer, who said the book features "racial slurs abound," wrote: "Taboo topics like incest, murder, racial inferiority, and genocide, are written in an almost casual tone. It puts language to what most people secretly think, and then suppress, in the deepest recesses of their hearts."
According to another review, McLeod gave his real name to the book's murderous protagonist.
"The plot, as revealed gradually through a non-chronological narrative, is about an intelligent and sensitive man named Lyndon McLeod," the review reads. "Fed up with the pettiness and slights and double-crosses of the people around him, Lyndon commits 46 murders."
In 2019, McLeod tweeted: "Nobody is scared of anyone any more. TheState [sic] has stopped 99 percent of alphas from engaging in retributive violence; they/we are too scared to lose all we have."
"THAT's why betas & females are scamming/disrespecting incessantly. Until real alphas risk jail nothing will change. #Sanction"
McLeod also obsessively debated other users about a perceived requirement for women to remain chaste before marriage, painting women's sexual freedom as the downfall of society.
A quote he promoted several times, from the book Why Honor Matters by Tamler Sommers, states, "Many Honor cultures impose strict codes of chastity and fidelity for their female members. Violating the code can lead to shame, ostracizing, physical punishment and even murder."
While he professed not being religious, McLeod once wrote, "I love religion. All religions place a massive sanction on female premarital sex! Religion DEMANDS virginity in women!"
McLeod additionally left a paper trail of his pro-gun stance. In response to a Twitter user's post about mass shootings, the Denver shooting suspect once claimed: "People with guns often save lives by brandishing weapons to deter criminal violence. I have personally done this with my side arm. My gun stopped violence."
In a tweet name-dropping his M4 assault rifle and 30 round magazines, McLeod complained that then-presidential candidate Andrew Yang was "alienating 30 million gun owners to virtue signal to the idiotic left" when rifles "kill less than 150 people a year."
"Gun owners ain't normal," he tweeted in response to another user. "And the most hardcore 1% WILL go to war over this when the sheriff comes to enforce it. Imagine the death toll"
"And for what? To save 150 people a year?"
In late 2018, McLeod tweeted about previously being found not guilty on felony weapon charges, claiming he "obeyed use-of-force laws to a T." He also mentioned his legal troubles in a separate tweet complaining about "illegals dealing heroin" purportedly evading prosecution in Denver.
"I had a $75,000 bond for a weapons charge," he wrote. "I didn't even shoot those cholo [motherf***ers.]"
'Killing Spree'
According to Denver and Lakewood authorities, Denver police first received a 911 call at around 5:25 p.m. on Monday, reporting a shooting that occured at a business on First Avenue and Broadway.
Officers found three victims: two adult women found dead inside the establishment, and a wounded adult male who fled and was found in the area. The man is being treated at a hospital in critical condition, but is expected to survive. The Denver Post reported the victims were Alicia Cardenas, 44, and Alyssa Gunn Maldonado. Maldonado's husband Jimmy Maldonado was the and injured in the shooting.
The suspect then broke into a residence in the 200 block of West Sixth Avenue, pursued the occupants and fired gunshots. No injuries were reported.
Police later received a report of a shooting at a residence in the 1200 block of Williams Street, where a man was found shot and killed inside.
Following an exchange of gunfire that resulted in a police car being disabled, the suspect fled to Lakewood. At 5:58 p.m., Lakewood police received a report of shots fired inside the Lucky 13 tattoo parlor. Danny Scofield, 38, was found dead at the scene.
Update 12/31/21 10:30 a.m. ET: This article has been updated to add that McLeod's Twitter account was taken down.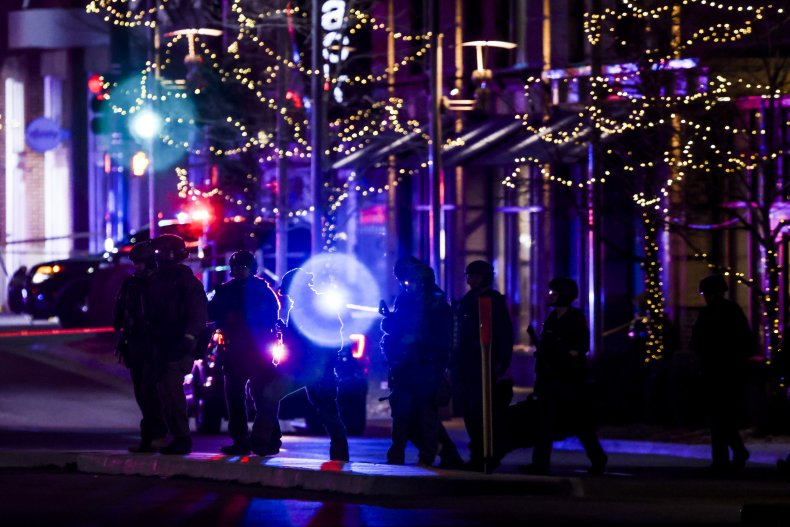 Another shoot-out ensued between police and the suspect after his van was found near a Wells Fargo Bank in the Belmar shopping district. The shooter managed to escape and reach the Hyatt House in Belmar, where he briefly spoke to 28-year-old front desk worker Sarah Steck, then shot her dead.
The suspect then encountered a lone police officer while continuing his spree on foot. The officer ordered him to drop his weapon, but the shooter approached her and opened fire, striking her once. The agent then shot and killed the suspect.
Police believe the suspect was targeting people who were "known to him," except in Steck's case, where the issue may have been "with the hotel."
"Based on what we know, it does appear that the offender was targeting specific people in this case, the victims were known to the offender," Matt Clark, commander of the Denver Police major crimes division, told reporters.
According to the Denver Post, McLeod previously owned a business named Flat Black Ink Corp. in the area of the second shooting. The business—which McLeod put down as his books' publisher — was listed as delinquent in 2017.