Ron DeSantis Accelerates Florida Vaccine Rollout, Bolstering 2024 Credentials
Florida Governor Ron DeSantis boosted the state's vaccine rollout on Friday morning as the widely-tipped 2024 hopeful said that he would sign an executive order lowering the age of locals eligible for a shot to those aged 50 and over.
The Republican state leader said the expansion would come into effect on Monday, March 22, and claimed "opening it up would be good" even at current vaccine supply levels.
Speaking at a press conference, DeSantis said: "The demand has been relatively modest, certainly much more modest than at the end of December when we were doing the 65 and plus, so we think that this makes sense.
"And I think, we'll see how it goes next, I think we will definitely be opening it up to everybody, certainly before May 1, and maybe much sooner than that."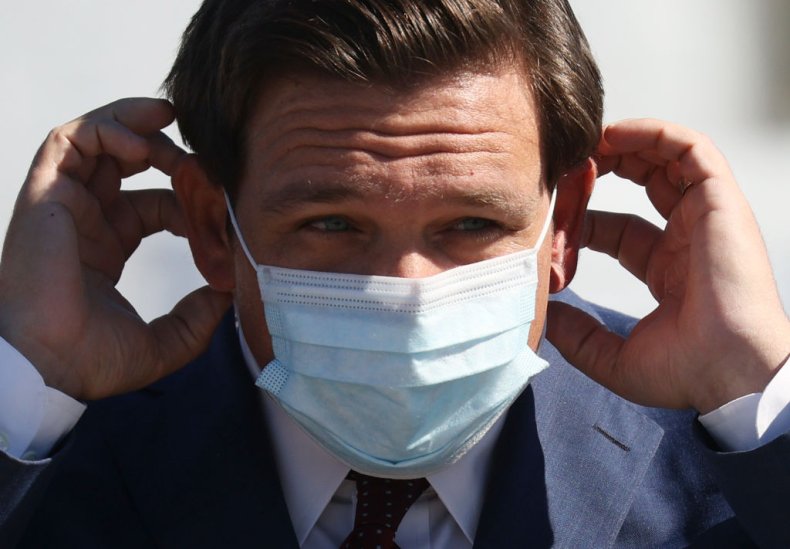 At the time of writing, more than 21 percent of Floridians have received at least one dose of a COVID-19 vaccine, while 12 percent have been fully vaccinated, according to The New York Times vaccine rollout tracker.
This puts the state roughly on par with other large states, such as California and Texas, which have given single shots to 23 percent and 20 percent of locals respectively. Newsweek has contacted DeSantis' office for further details on the executive order expanding Florida's vaccine rollout.
The Florida governor revealed his plans to accelerate the state's vaccine rollout on Friday as he enjoyed growing popularity among Republican voters searching for a possible 2024 presidential nominee.
In February, DeSantis' chances of winning the Republican presidential primary surged with bookmakers. One put his odds of winning the runoff at 9 percent, up from an implied probability for 3 percent earlier in the month.
Rep. Matt Gaetz also said the Republican state leader would be a "strong potential presidential candidate" a few days earlier, arguing that President Joe Biden's team was trying to "cast aspersions" on the possible primary entrant.
The New York Times reported that in a straw poll from the 2021 Conservative Political Action Conference DeSantis finished first in a field of potential 2024 candidates that did not include former President Donald Trump.
In the poll in which Trump was included, DeSantis was also the only GOP figure to reach double digits, winning an sizeable 21 percent support among CPAC attendees.
Another poll seen by The Hill earlier this month put the Florida governor and former Vice President Mike Pence roughly neck-and-neck among Republican primary votes, with the latter winning 19 percent support as DeSantis bagged 17 percent.