DeSantis: Doctors Should Be Sued Over Kids' Gender 'Disfigure' Operations
Florida Governor Ron DeSantis said on Wednesday that doctors in the state who "disfigure" children with gender dysphoria through operations should be sued; meanwhile, others are saying that gender-affirming care is necessary and beneficial.
During a press conference, DeSantis spoke about young children who receive "gender affirming care," and said, "they don't tell you what that is...they are actually giving very young girls double mastectomies, they want to castrate these young boys.
"That's wrong and so we've stood up and said both from the health and children well-being perspective, you don't disfigure 10-, 12-, 13-year-old kids based on gender dysphoria. Eighty percent of it resolves anyways by the time they get older...I think these doctors need to get sued for what's happening."
The remarks by DeSantis come as his administration continues to take aim at gender-transition medical procedures in the state for young children.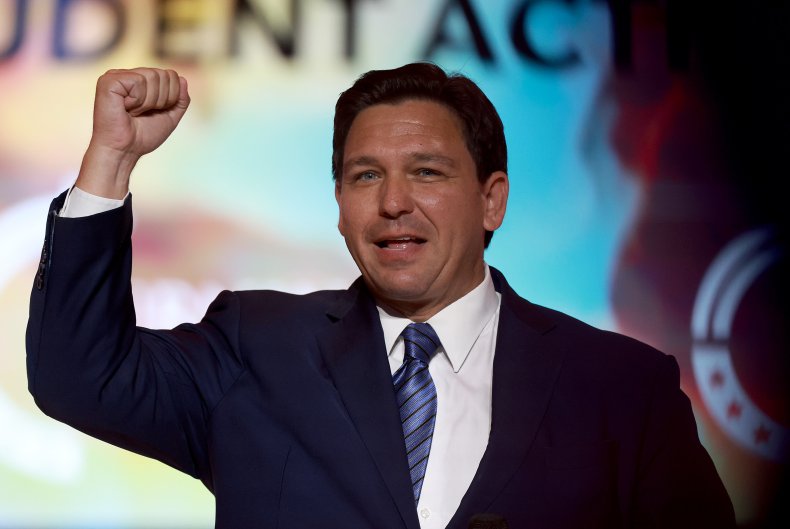 In June, DeSantis's administration penned a letter to the Florida Board of Medicine which encouraged doctors in the state to avoid certain medical procedures for children with gender dysphoria. The letter, which was obtained by NBC News and written by Florida Surgeon General Joseph Ladapo said, "Available medical literature provides insufficient evidence that sex reassignment through medical interventions is a safe and effective treatment for gender dysphoria," and added that the state "must do more to protect children from politics-based medicine.
"Otherwise, children and adolescents in our state will continue to face a substantial risk of long-term harm."
While speaking with the Association of American Medical Colleges, Dr. Katherine Imborek said that gender-affirming care "decreases depression, anxiety, and suicide attempts," while adding that it is "a medical necessity, like providing insulin to a person with diabetes."
The Health and Human Services Office of the Assistant Secretary for Health states that "A safe and affirming healthcare environment is critical in fostering better outcomes for transgender, nonbinary, and other gender expansive children and adolescents.
"Medical and psychosocial gender affirming healthcare practices have been demonstrated to yield lower rates of adverse mental health outcomes, build self-esteem, and improve overall quality of life for transgender and gender diverse youth."
Last month, DeSantis made similar comments while speaking about teachers in the state and said that they are "instructed" to inform students that they can change their assigned genders.
"This will be for elementary school kids where they are instructed to tell them, 'Well you may have been born a boy that may have what you said, but maybe you're really a girl.' That's wrong," the governor said. "That has no place in schools. So that is happening in our country, anyone that tells you it's not happening is lying to you."
DeSantis' comments last month came during a discussion about the state's "Don't Say Gay" bill, which received backlash and criticism when it was signed by the governor.
The bill prohibits "classroom instruction by school personnel or third parties on sexual orientation or gender identity," for students "in kindergarten through grade 3 or in a manner that is not age appropriate or developmentally appropriate for students in accordance with state standards."
Upon signing the bill, DeSantis said, "We will make sure that parents can send their kids to school to get an education, not an indoctrination."
In a statement sent to Newsweek, a spokesperson for DeSantis's office said, "As the governor has explained, the phrase 'gender affirming care' is a political talking point that does not accurately depict reality. The reality is that kids are rushed into decisions that could affect them for the rest of their lives, such as sterilizing hormone treatments and cutting off healthy body parts, none of which has been proven to result in better mental health outcomes for young people with gender dysphoria."
Update 8/4/2022, 9:12 a.m. ET: This story was updated to include comments from DeSantis' press office.