DeSantis Faces New Antisemitism Threat as Neo-Nazis Plan 'Day of Hate'
Florida Governor Ron DeSantis is facing a new headache as his state's Jewish community braces for a neo-Nazi "Day of Hate" following a series of antisemitic incidents in his state.
Neo-Nazi organizations, led by the hate group Goyim Defense League, are planning to target Jewish communities across the country on Saturday. The demonstrations of antisemitic hatred are expected to take place one week after league members flashed Nazi salutes, shouted slurs and harassed Jewish people outside the Chabad center in Orlando.
DeSantis has previously faced criticism, accused of acting slowly in condemning acts of antisemitic hatred in Florida, including neo-Nazi demonstrations and incidents across the state over the past year. The governor has not indicated whether he supports a state bill intended to target antisemitism by strengthening laws against hate speech.
Florida House Bill 269, which was introduced last month by Republican State Representatives Mike Caruso and Randy Fine, would make it a hate crime to, without consent, leave antisemitic flyers outside a person's home or project antisemitic messages onto buildings.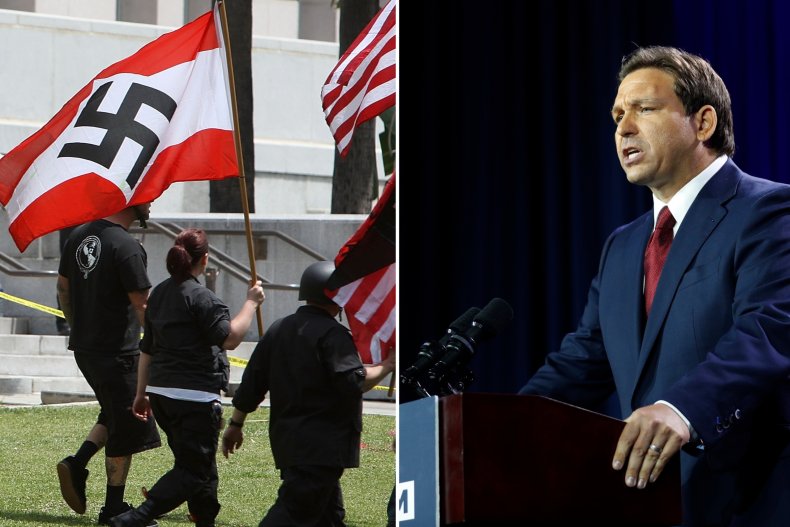 Antisemitic slurs and messages promoting conspiracy theories like "Jews did 9/11" have recently been repeatedly projected onto buildings in Florida. Antisemitism watchdog groups have linked the incidents to Goyim Defense League and fellow far-right hate group National Socialism Florida.
Goyim Defense League founder Jon Minadeo II led the antisemitic harassment on display in Orlando last week, according to multiple media reports. A video of Minadeo harassing Jewish people in passing cars was shared on Twitter this week, with DeSantis being tagged in the tweet.
"Leave our country, go back to Israel. You know, where you bomb Palestinian kids," Minadeo shouted through a megaphone to a Jewish person passing in a car. "You look like a Jewish horse. Look at the horse face on this Jew!"
The Florida Department of Law Enforcement (FDLE) is reportedly planning to add resources to local law enforcement agencies in anticipation of increased antisemitic incidents this weekend due to the "Day of Hate."
"Violence, threats of violence and physical intimidation will not be tolerated against the Jewish community in Florida and has no place in our state," FDLE Commissioner Mark Glass said in a statement to Miami CBS station WFOR.
"Such actions will be prosecuted to the fullest extent of the law. FDLE is partnering with local law enforcement agencies to enhance response capabilities and ensure that Florida's Jewish community is safe and well-supported," Glass added.
Michael Herzog, Israel's ambassador to the U.S., questioned the lack of an "uproar" over the planned hate event in a tweet on Friday, asking whether society had "learned nothing" from the Holocaust.
"How can it be that less than a century after the Holocaust, a Neo-Nazi group in the U.S. calls for a National Day of Hate against the Jews - and there's no uproar?" Herzog tweeted. "Have we learned nothing? Have we forgotten that words lead to actions? I pray for a peaceful Shabbat for everyone."
The Anti-Defamation League (ADL) said it is "not aware of any specific threats linked to the planned white supremacist campaign," although the hate groups are thought to be "hoping for increased antisemitic flyer distributions, protests and graffiti."
"It is completely unacceptable that the Jewish community—or any community—should be targeted by extremists spreading hate and alarm," ADL CEO Jonathan Greenblatt said in a statement. "The hate groups behind this effort hope that we will be afraid and isolated. Instead, we are coming together in resolve and solidarity."
Newsweek has reached out to the office of DeSantis for comment.