Ron DeSantis Accuses Democrats of 'Smearing' Him by Asking About Nazi Rally
Florida Governor Ron DeSantis accused Democrats of "smearing" him when a reporter asked him about a neo-Nazi rally in Orlando over the weekend.
After a video of the weekend rally went viral on social media, many prominent Florida officials of both parties condemned it. But DeSantis faced mounting criticism for remaining mum on the issue Monday.
During a press conference about restoration projects in the Everglades, a reporter asked the governor to respond to the protest.
"What I'm going to say is, these people—these Democrats—who are trying to use this as some type of political issue to try to smear me as if I had something to do with it, we're not playing their game," he said.
He dismissed the rally-goers as "some jacka**es doing this on the street" and said state law enforcement should "hold them accountable" for "doing stuff on the overpass" but did not comment on their ideology.
DeSantis went on to accuse Democrats of being antisemitic for "elevating anti-semites to the hall of Congress," including Minnesota Representative Ilhan Omar, who has faced allegations of antisemitism in the past. He also touted "the strongest relationship between Florida and Israel" and his administration's "tremendous support" for Orthodox Jewish communities.
"Why would [Democrats] want to elevate a half dozen malcontents and try to make this an issue for political game," he said. "Because they want to distract from the failure that we've seen with [President Joe] Biden."
He faced criticism for the remarks on social media.
"Instead of throwing blame you should just come out and say the people of Florida condemn this!" wrote @pamhaas.
"When you say 'they' you're talking to me. I am a Jewish citizen of Fl who is deeply offended by @christinapushaw & her response & history of comments. Your press sec is the reason you are getting blow back. You just made it worse," wrote Fred Guttenberg, a gun control advocate whose 14-year-old daughter Jaime was killed in the Parkland school shooting, wrote.
His comments come just hours after his spokesperson Christina Pushaw faced criticism for asking in a now-deleted tweet, "how do we even know they're Nazis?" Before speculating it could have been a "stunt like the 'white nationalists' who crashed the [Virginia Governor Glenn] Youngkin rally in Charlottesville and tuned out to be Dem Staffers?"
She was referring to members of the Lincoln Project—a group of anti-Trump Republicans—dressed as far-right extremists while carrying tiki torches at a rally for Youngkin last fall.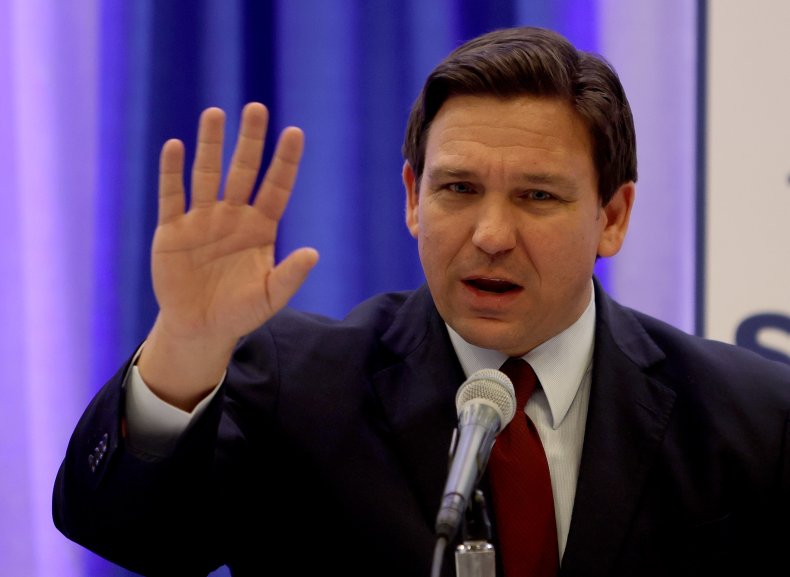 She later wrote: "Whether it's cosplay or 'real' neo-Nazis, as I believe it was here, the antisemitic rhetoric is disgusting & unacceptable either way."
Meanwhile, other leaders in Florida swiftly denounced the protests.
"The hateful & antisemitic demonstrations reported in Florida today have no place in our state," wrote Republican Senator Rick Scott. "We must always condemn it & continue to stand strongly with our Jewish communities."
Orlando Mayor Buddy Dyer wrote in a statement: "Antisemitism and hatred are not welcome in this community. Despite displays of hate in Central Florida this weekend, our collective commitment to building an inclusive, compassionate community for all is stronger than ever."
Newsweek reached out to DeSantis' office for comment.