Florida Governor Ron DeSantis does not want to see Democrat Stacey Abrams become the next governor of Georgia and stated that if it were to happen, it would not be good for Florida and Georgia.
DeSantis, while speaking at a press event centered around infrastructure improvements and economic developments Friday morning, indicated that Abrams winning the governorship in Georgia could bring about a Cold War between the two southern states. Abrams, who does not have an opponent in her upcoming Democratic primary in May, is seeking to unseat the current governor Republican Brian Kemp. This is her second run in the Georgia gubernatorial race.
"We got a little bit going on in Georgia this week with the Masters golf tournament, big deal. I just want you to know we really appreciate our Georgians. If Stacey Abrams is elected governor of Georgia, I just want to be honest, that will be a Cold War between Florida and Georgia at that point," DeSantis said.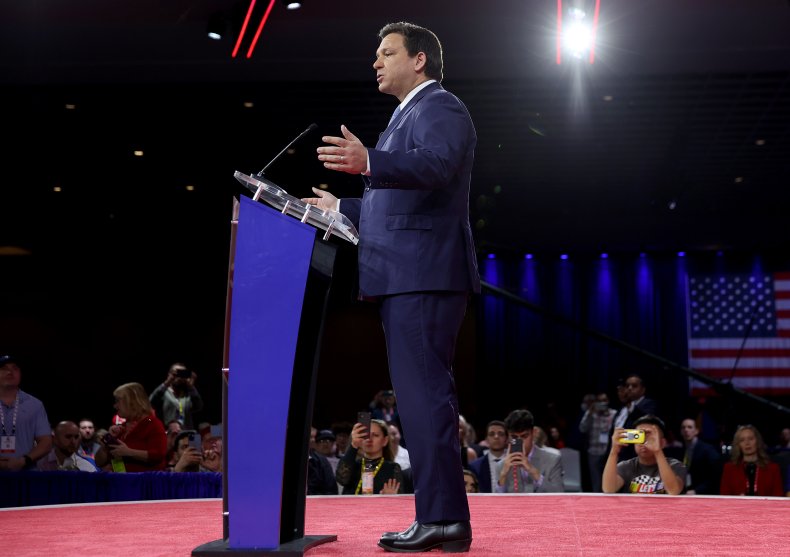 He went on to state that Abrams would be a step too far, especially given the current leadership in the country to Florida's south.
"I mean, I can't have Castro to my south and Abrams to my north. That'd be a disaster. So, I hope you guys take care of that and we end up in good shape," he said.
In response to Newsweek, a press secretary in the governor's office stated that the governor was trying to draw a line between the differences between how DeSantis governors the Sunshine State compared to how they believe Abrams is likely to govern Georgia if she were to win.
"The governor was simply making an analogy to the stark ideological differences that underpinned the Cold War.
"If Stacey Abrams wins the governorship of Georgia, we know that her approach to leadership will involve more heavy-handed government, taxes, and bureaucrat influence.
"In Florida, Governor DeSantis will continue to keep Florida free and put citizens first," the governor's office responded.
Also at the press event, DeSantis highlighted some of the infrastructure work and improvements happening around the state of Florida. He also touched upon the strength of Florida's economy and the state's expected budget surplus at the end of their fiscal year in June.
Last week, the DeSantis campaign released the song Sweet Florida, which praises DeSantis for his work while in office.
The song's lyrics state that DeSantis is "shootin' us straight" and "telling us the truth" and goes on to say that he stands "up for what he believes" as well as "we're doing alright in the Sunshine State."
Newsweek reached out to the DeSantis campaign and the Abrams campaign.