'Devil May Cry 5' Announced; Release Date Set For 2019
Capcom made a splash at the Xbox E3 2018 conference, announcing Devil May Cry 5 is coming in Spring 2019. Director, Hideaki Itsuno and his core team and reunited to bring fans of the series the high-octane, demon-killing action that Devil May Cry is known for.
Check out the Devil May Cry 5 announcement trailer above.
Nearly 10 years after Devil May Cry 4 , the next game will finally conclude the Sons of Sparda saga. Here's a synopsis of what fans can expect in Devil May Cry 5.
"Several years have passed in Devil May Cry 5 and the threat of demonic power, long since forgotten, has returned to menace the world once again. The demonic invasion begins with the seeds of a "demon tree" taking root in Red Grave City. This hellish incursion attracts the attention of the young demon hunter, Nero, an ally of Dante who now finds himself without his demonic arm, the source of much of his power. As Nero heads to Red Grave City in his motorhome named 'Devil May Cry' with his partner Nico, he ruminates on how everything started. The loss of his demonic arm, the demonic invasion, and Dante's unknown whereabouts. Things must be settled once and for all."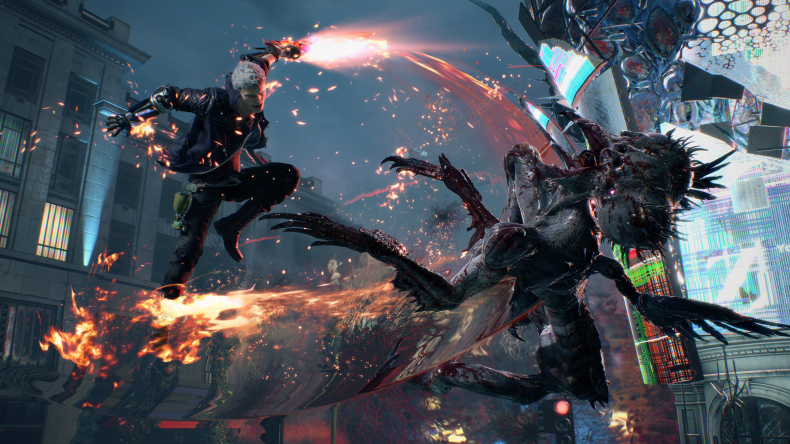 Just because Dante is missing his arm doesn't mean there is a shortage of action coming in Devil May Cry 5. The announce trailer showed off some of Dante's new moves, including some that utilize his new metallic appendage.
Devil May Cry 5 will offer players a choice of three characters to choose from, each offering a radically different combat play style. With the start of E3 2018, more information on Capcom's next big game will trickle in so stay tuned for updates.
Devil May Cry 5 will release Spring 2019 for PS4, Xbox One and PC.
What do you think of the return of Devil May Cry? Are you happy with what you've seen so far? Let us know in the comments section below.