Devin Nunes Now Remembers Talking to Giuliani Associate Lev Parnas After Previously Saying He Couldn't Recall His Name
Devin Nunes has said he now remembers a phone call he had with Rudy Giuliani and his indicted associate Lev Parnas, a month after the House Intelligence Committee released call logs involving the trio.
The California Rep. told Fox News on Wednesday night that he "just didn't know the name" when the data was first released, noting that his office was "dealing with people every day."
He also recalled going back to check where he was when the phone call took place, describing the conversation as "very odd" and "random."
When he appeared on Fox News after the House Intelligence Committee released his personal call logs in early December, Nunes said his team had "not been able to confirm" whether he spoke with Parnas.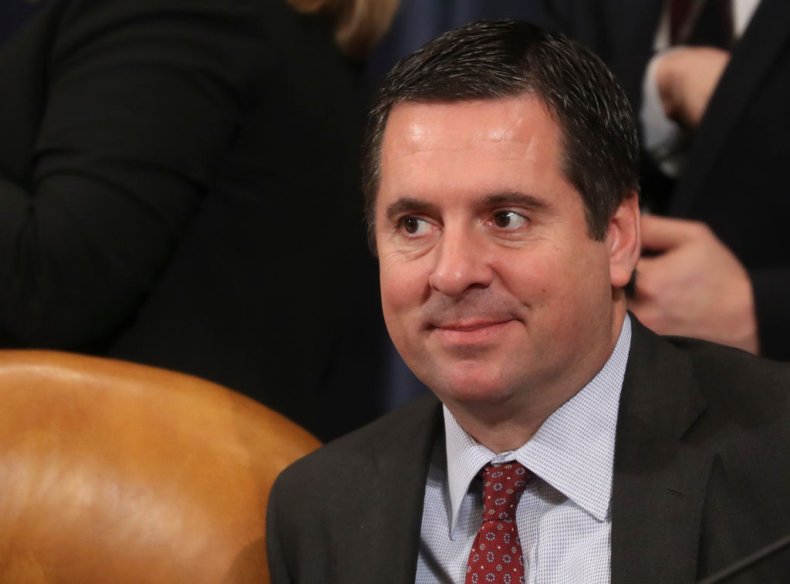 In an interview with MSNBC's Rachel Maddow last night, the indicted associate of Giuliani said he was "shocked" when he saw Nunes was involved in the impeachment inquiry hearings, alleging that the congressman and his aide Derek Harvey were "involved" in "getting all this stuff on Biden."
Speaking with Martha MacCallum on Fox News in the wake of the Parnas interview, Nunes said the businessman was "someone who doesn't tell the truth," and brought up his indictment on campaign finance charges.
Reminded that he previously said he didn't "recall" a phone call with the Giuliani associate, the GOP representative said: "If you recall, that was brand new when it came out, when I was on your show. I just didn't know the name. This name Parnas.
"What I always like to remind people is that we are dealing with people every day. We're an oversight committee, so we have incoming calls that come to my office, my cell phone etc, etc, and then you know now that he [Parnas] had called my cell phone."
The California Republican added that he "didn't know his name" at the time of the metadata release, but went back to check where he was at the time.
"It was very clear. I remember that call, which was very odd, random, talking about random things," Nunes said. "And I said great, just talk to my staff and boom, boom, boom. Which is normal, standard operating procedure."
Asked if there was any discussion about then-U.S. Ambassador to Ukraine Marie Yovanovitch and whether she should be removed from her post during the call, Nunes said the first time he remembered hearing her name was when the impeachment inquiry began.
Newsweek has contacted the office of Devin Nunes for further comment and will update this article with any response.
During his interview with Maddow, Parnas also alleged that President Donald Trump "knew exactly what was going on" with the alleged scheme to pressure Ukraine into opening an investigation into political rival Joe Biden and his son, Hunter Biden.
President Trump has repeatedly denied any misconduct, and has said he didn't know Parnas and fellow associate Igor Furman, despite them being pictured together.
Parnas' interview with MSNBC came a day after House Democrats released new evidence provided by Parnas, including voicemails, text message and photos purportedly relating to the alleged surveillance of former Ambassador Yovanovitch.