'Dexter' Spin-off 'New Blood': Release Date, Cast, Trailer, Plot
Dexter: New Blood sees Michael C. Hall's serial killer return, eight years after fans said goodbye to him in a widely hated finale.
The new series, released by Showtime in November, sees Hall joined by cast members new and old, in a plot that will reveal what happened to Dexter after disappearing in that hurricane in 2013.
In September, Showtime released a trailer for that series, that showed Dexter's new life – until a shock person returns from his past to shake everything up.
Read on to find out everything you need to know about New Blood, including when it is out, who is in it and what this new season will be about.
When is Dexter: New Blood out?
The new season of the show is coming to Showtime on Sunday, November 7, when the first episode will air at 9 p.m. ET on the channel.
The new season will have 10 episodes, airing weekly on the channel until January 9, 2022.
Viewers who want to rewatch some of the original Dexter in the lead-up to these new episodes can do so on the Showtime app and on Amazon Prime Video, both of which have all eight seasons.
Who is in the cast of Dexter: New Blood?
Of course, the eponymous Dexter is back, with Michael C. Hall back playing the serial killer he played across 93 episodes and seven years.
Joining him are only a few characters from the original show. Chief among them is Jennifer Carpenter as Debra Morgan, despite being dead in the series. Quite how she will return has not been announced, but Carpenter has said in interviews that she is not playing a ghost.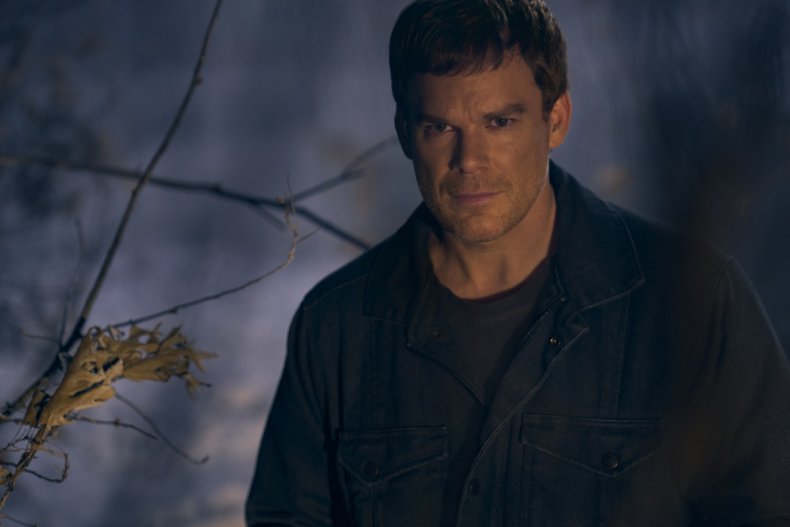 Speaking to Newsweek, Trinity Killer actor John Lithgow also confirmed he will be returning, saying, "it seems to be common knowledge so I will acknowledge that I do return as The Trinity Killer, but only fleetingly. When I do return, it has the impact of a hydrogen bomb going off."
Another character, meanwhile, has been recast. Across 25 episodes of the original show, Luke Andrew Kruntchev played Dexter's young son Harrison, in New Blood, this role will be taken by The Good Lord Bird actor Jack Alcott.
As the series sees Dexter living a new life, there are plenty of new characters joining the show:
Clancy Brown (The Shawshank Redemption) - Kurt Caldwell
Johnny Sequoyah (Believe) - Audrey Bishop
Alano Miller (Jane the Virgin) - Logan
Julia Jones (Goliath) - Angela Bishop
What is Dexter: New Blood about?
The official synopsis reads: "Set 10 years after Dexter went missing in the eye of Hurricane Laura, the series finds him living under an assumed name in the small town of Iron Lake, New York. Dexter may be embracing his new life, but in the wake of unexpected events in this close-knit community, his Dark Passenger beckons."
Is there a trailer for Dexter: New Blood?
The promo for the show was released in September 2021. In it we see Dexter heading to Iron Lake in the snow, and we learn that he is going under the name of James Lindsey. He also is seen kissing policewoman Angela, suggesting the pair have a romantic relationship.
The trailer also reveals that Logan is another member of the police, while Kurt is a local resident who is among the suspects for the killings.
Dexter's new life initially seems fairly idyllic, but this quiet is rocked after a series of young people in the area start going missing. Dexter's peace is also rocked by two people, by Debra, who seems to be acting as Dexter's conscience, and by Harrison, who has tracked his father down just in time for Christmas.