Dez Bryant Trolls Cowboys During Week 1 Loss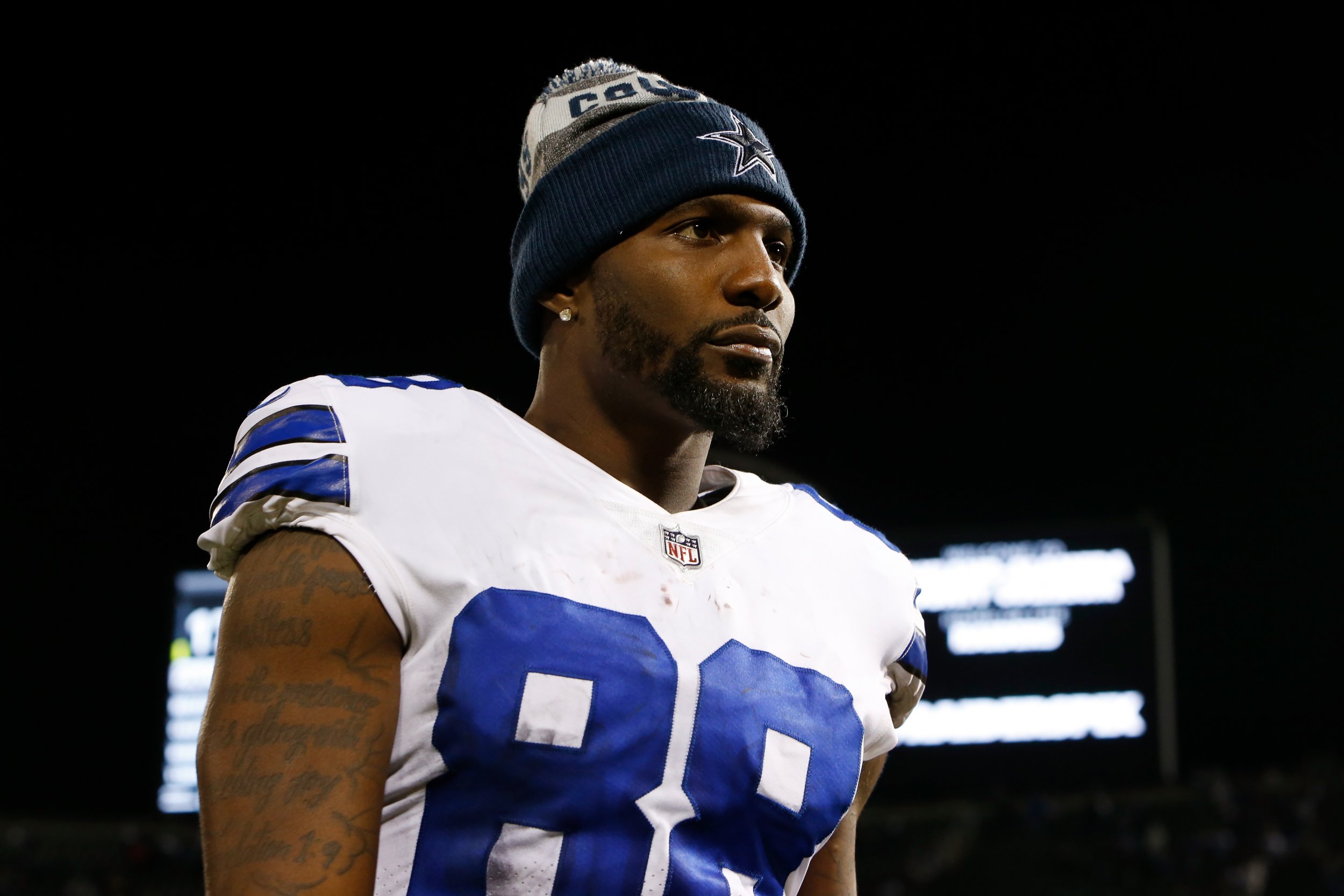 Dez Bryant might have spent the opening week of the NFL as a spectator, but he grabbed the headlines as much as his former colleagues on the field.
The wide receiver seemed to particularly enjoy the Dallas Cowboys' travails against the Carolina Panthers and spent a large part of his day launching thinly-veiled barbs in the direction of his former team.
Bryant was cut by the Cowboys in April and has been looking for a team ever since. As the Cowboys toiled against the Panthers, fans implored him to return to Texas, but Bryant made clear he had no such plans.
"I rather go somewhere I can show case my skills for real," he tweeted in response to a fan who begged him to bury the hatchet with the Cowboys.
"If I line up next to Gronk [Rob Gronkowski], [Chris] Hogan, [Julian] Edelman I'm for sure getting a 1 on 1 match up plus I won't be getting criticized controlled for expressing my love for the game..Washington is cool as well."
When someone pointed out that Bryant's tweet appeared to be designed at getting teams interested in him, he replied he wasn't begging anyone.
After being cut by Dallas, the 29-year-old stated he wanted to remain in the NFC East. That particular plan never got off the ground as the Redskins, Giants and Eagles had no interest in him and Bryant subsequently turned down a potential multi-year deal with the Ravens, hinting he would prefer a one-year contract instead.
He then spoke with the Browns during training camp, but the two parties could not reach a satisfactory agreement.
Play-calling was next on Bryant's agenda, as he stated he could predict which routes players were about to run based on the Cowboys' hand signals.
"It's kind of cool calling out all of the signals and knowing which route players are about run," he wrote.
Bryant then complained his comments were being misinterpreted and that he had only expressed his opinion as he deeply cared about the Cowboys.
"After today I'm done talking about the Cowboys if I try to say something good or a factual it always turned out to be negative plus I don't want it to seem that's where I'm focused I know the team well so it's hard not for me to speak [...] all I ever cared about was winning," he added.
The Cowboys went scoreless in the first three quarters until Ezekiel Elliott touched down in the final period. The performance clearly left Dallas offensive coordinator Scott Linehan disappointed, which appeared to be source of amusement for Bryant.
Dallas will look to bounce back from their opening day defeat when they take on the Giants at AT&T Stadium on Sunday. Keep an eye out for more social media wisdom from their former wide receiver.