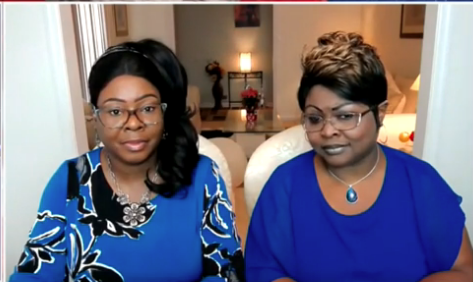 Two of President Donald Trump's most outspoken supporters, Diamond and Silk, took to Fox News and Twitter to rail against Democratic congressional members Maxine Waters and Kamala Harris for what they claim is support of "illegal aliens" instead of American citizens in their districts.
The duo of former Democrats from North Carolina, Lynnette Hardaway and Rochelle Richardson, joined Fox News' Jesse Watters to attack Congresswoman Maxine Waters for her calls to harass Trump supporters in public. Diamond and Silk claimed the California Democrat is "allowing the American children in your district to live worst [sic] than animals" while only fighting for "illegal aliens welfare." Diamond and Silk appeared on Fox's Watters' World Saturday night to promote their gonzo-style documentary Dummycrats, which shows them banging on the door of her Los Angeles offices under threats that the police will be called.
The two responded to a clip from liberal documentary filmmaker Michael Moore, and used several of their most common phrases to chastise him for "acting out" and forcing more people off the "Democrat plantation" and into the arms of Republicans. The two gained national political fame while appearing onstage with Trump as the "Stump for Trump Girls" during a December 2015 rally. A 2016 Newsweek profile of Diamond and Silk touted the two as Trump's "loud, proud and pissed-off female supporters." Diamond and Silk took to Twitter this week to repeatedly criticize Maxine Waters as well as Democratic Senator Kamala Harris as "hypocrites."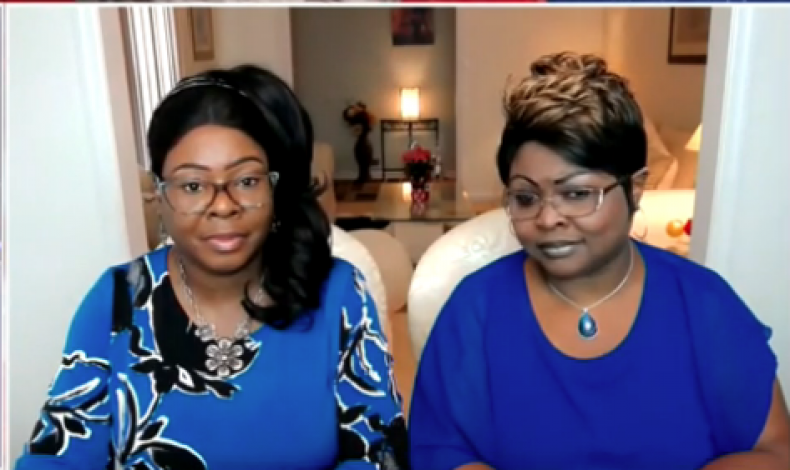 "Maxine Waters, we are sick and tired of you. Where is the protest against American citizens being killed by Illegal Aliens? Where's you and the Democrat crew when Americans are being slaughter by the MS-13 gang members? Will you & Kamala Harris let Illegals move into your homes?" the two tweeted from their popular, verified account Saturday.
"How dare you fight for Illegal Aliens welfare but not fight for the welfare of the children that's suffering daily in your own district. Charity starts at home. Advocate for better living conditions in the poverty stricken district you represent and refuse to live in. Hypocrite!" they continued.
Speaking with Watters Saturday night, Diamond and Silk compared the punishment of American citizens who break the law versus their perception of what happens when migrant children are separated from their parents at the border.
"When an American breaks the law, they're given three hots and a cot behind a locked cell block – period – and they are separated from their children," they told Watters.
Maxine Waters responded to conservative calls for "civility" during a congressional hearing last week. She detailed how such claims are hypocritical coming from Trump supporters. Speaking to the committee, she said Trump is the one who "has advocated violence, has been divisive," before listing off several of his anti-protester comments from the 2016 presidential campaign trail. One of the quotes marked that he would "pay for the legal fees" if his rally attendees would "knock the hell" out of any anti-Trump protester.
Diamond and Silk were name-dropped by Texas Senator Ted Cruz before a congressional committee who asked Facebook CEO Mark Zuckerberg if the social media company was "censoring" their account.