A toddler with a hilarious criminal streak has become an overnight social media star after his mom posted a video of his antics to TikTok.
On the face of it, Peyton appears like any young child his age: cute, cuddly and with a tendency to bump into things.
However, as his mom, Julie Keagy, has shown in a video viewed more than 11 million times online, beneath that adorable exterior, beats the heart of master thief.
In a clip captioned "He Wants It, He Steals It," Keagy shows fans how a seemingly ordinary diaper change can quickly turn into something of a treasure hunt for his mother, thanks to Peyton's exploits.
At the beginning of the clip, Peyton can be seen bouncing towards his mom in a onesie that looks a little on the full side.
It's only when Keagy goes to change him, however, that we quickly discover it's not his diaper that's full of you-know-what, but something different altogether.
In the space of a few dizzying seconds, Keagy pulls out an assortment of objects Peyton has somehow been able to secrete onto his body when mom wasn't looking.
Three plastic balls, some tampons, a watch, toilet paper and a plastic pig are all found nestled inside—but the best is yet to come.
Feeling inside the leg of Peyton's onesie, Keagy discovered an entire, uneaten banana resting inside her son's outfit.
A $100 bill is also found, almost as though Peyton left it in there for his mom by way of a tip for her services.
Through the search, Peyton maintains a look of angelic innocence, which only adds to the cuteness of his antics. The video can be watched here.
His impressive efforts have certainly struck a chord online with fans flocking to praise the precocious youngster. Maya Hernandez joked: "This kid is going places... Probably jail... but places," while Officialcooder brands Peyton a "baby kleptomaniac."
For users like its.abdelgadir, it was the "randomness of each object" that made it such hilarious viewing with Courtney Merritt writing: "The banana took me all the way out."
Jess Katz loved the way Peyton maintained a look that said: "Wait how did this get here? I didn't do anything" during the search. Elsewhere Epgy£l88 joked: "I'm his lawyer. He was framed and is innocent!"
Keagy told Newsweek she originally filmed the clip to show her family what Peyton gets up to around the house. "He only started doing this about a month ago," she said. "It started with his own toys, then the dog's toys and treats, then his dad's wallet and keys and then stuff like food, the TV remote and watches. Anything he likes he wants to keep with him."
Keagy acknowledges "it's not every day you see a toddler hoarder" and ranks Peyton's recent smuggling of an entire banana as one of her favorite finds while changing him. "That was a first! He's taken a kiwi before," she said. "He also loves to take my makeup sponges, hair brushes, his dads cash and credit cards out of his wallet, keys. Anything he can get his hands on that he finds interesting will go straight to his onesie."
According to psychotherapist and author Amy Morin, it's "common for preschoolers to take other people's belongings."
"At this age, they lack a clear understanding of how stealing affects others and how it can be harmful," she told VeryWell Family. She says it's important to teach children from an early age "about empathy and why stealing is wrong so they can learn to respect other people's property."
Morin recommends having "regular conversations about the importance of leaving other people's belongings alone."
The clip comes hot on the heels of similarly adorable footage of a baby having a full-blown conversation...with a cactus. On the flip side, another young tot found themselves branded transphobic on account of a controversial viral video doing the rounds on social media.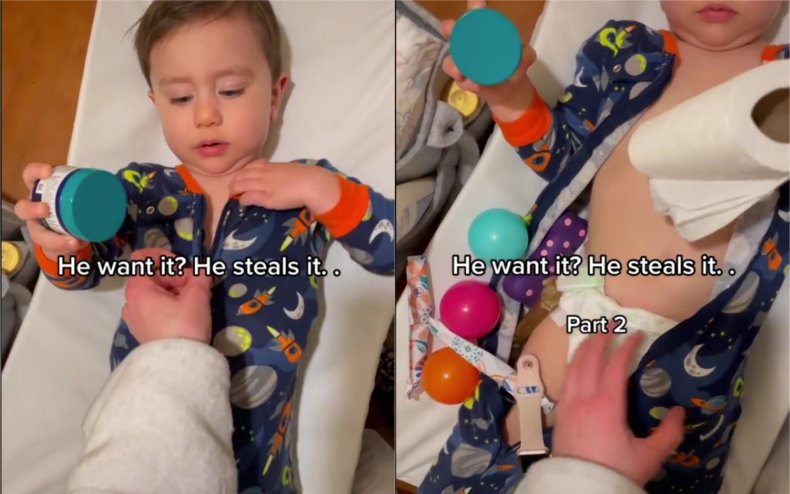 Update 1/13/22, 3:33 a.m. ET: This article was updated with comment, a picture and video from Julie Keagy.