Did Johnny Depp Get Amber Heard 'Aquaman' Role? What We Know
Amber Heard faced questions about how she landed her role in the hit movie Aquaman, as her defamation trial with ex-husband Johnny Depp continued on Tuesday.
Heard, 36, is currently in the midst of a court battle with her ex-husband Depp, 58, who has filed a $50 million lawsuit against her over a 2018 op-ed for The Washington Post in which the actress said she was a domestic abuse survivor.
While Depp was not named in the article, his lawyers have argued that it was clear Heard was referring to him. Heard has countersued for $100 million.
During her continued cross-examination in Virginia's Fairfax County Circuit Court on Tuesday, Depp's attorney, Camille Vasquez, questioned Heard about how she came to land her role in the movie, suggesting that the actor got her the part.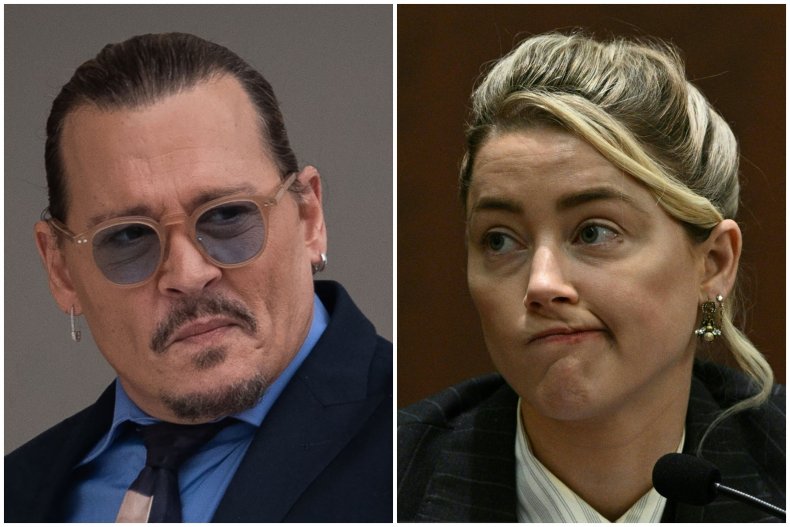 After audio was played to the court of Heard hurling insults at Depp, the actress explained: "I was expressing frustration about his criticism of my career and how many problems that caused within the dynamics of our relationship."
After Vasquez asked Heard if she had called Depp a "sell-out" and a "joke," she responded: "I called him horrible, ugly things, as you can hear. We spoke to each other in a really horrible way."
"I'm pretty sure we just heard you speak to him in a really horrible way," said Vasquez said, before Heard reiterated that she "called him a lot of ugly things."
"You called him a washed up piece of s***," said Vasquez, who which Heard replied: "I think we both called each other that on that occasion, yes."
Bringing up what is arguably one of her most high profile movie roles to date, Vasquez said to Heard: "Mr. Depp mentions Aquaman, doesn't he?"
Following Heard's confirmation, Vasquez enquired: "Mr. Depp got you that role in Aquaman, didn't he?"
"Excuse me?" Heard responded, prompting Vasquez to repeat her question.
"No, Ms. Vasquez. I got myself that role by auditioning. That's how that works," Heard said from the stand.
In the 2018 movie, Heard portrayed Princess Mera opposite Jason Momoa, who played the titular character in a star-studded cast that included Nicole Kidman, Willem Dafoe, Patrick Wilson, Dolph Lundgren, and Yahya Abdul-Mateen II. Heard first played Mera in 2017's Justice League.
While it has yet to be confirmed either way whether Heard landed her role because of Depp, The Hollywood Reporter reported that she had entered negotiations to play Mera back in January 2016, with her casting confirmed two months later.
In a July 2018 interview with Collider, Heard told how she came to sign on for the role, explaining that executive producer Zack Snyder pitched the part to her.
She added, "What really sold me on this project, I was doing my research and was reading the graphic novels, and in one of the first ones I read, there's a scene, some natural disaster in open water, a tsunami hits on the land, and of course Aquaman comes in and saves the day and civilians are like, 'Oh my god, it's Aquaman!'" She goes on to explain how her character, Mera, rebukes the townspeople when they call her "Aquawoman."
Heard filed for divorce from Depp in May 2016, with their union being officially dissolved in January of 2017. The actress accused Depp of domestic abuse during their divorce proceedings.
Amid their ongoing legal battles, a Change.org petition to have Heard removed from the sequel to the 2018 DC Comics movie Aquaman has gathered pace, with the signature count last week soaring past the 4 million mark.
Fans have cited Depp's allegations that Heard was violent toward him during their ill-fated relationship as reason for wanting her ousted from the big-budget project.
On Monday, Heard testified in Virginia's Fairfax County Circuit Court that her role in the Aquaman sequel was almost scrapped amid her controversy with Depp.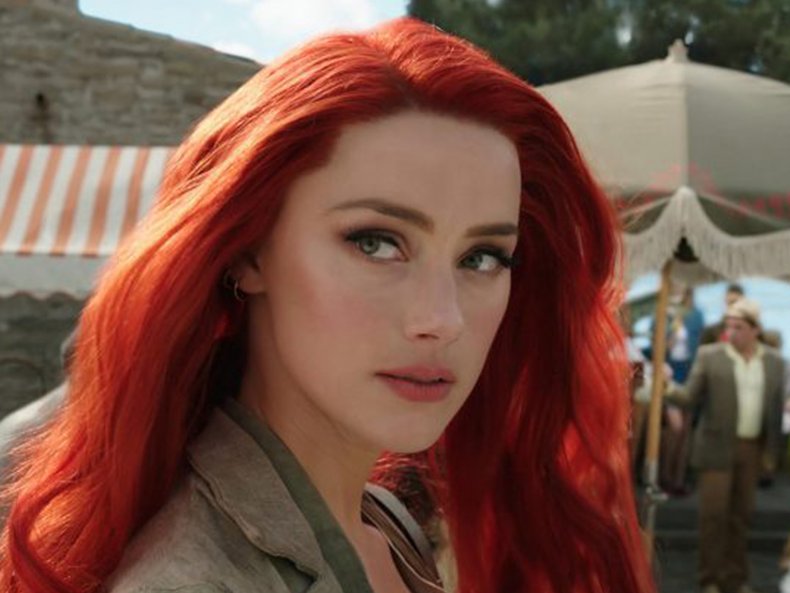 The screen star said that while she ultimately filmed scenes for the movie, it was a "very pared-down version of that role."
"I was given a script and then given new versions of the script that had taken away scenes that had action in it," Heard said. "That depicted my character and another character—without giving any spoilers away, two characters fighting with one another. They basically took a bunch out of my role. They just removed a bunch."
She added: "I fought really hard to stay in the movie. They didn't want to include me in the film."
In November 2020—several months before production had started—Heard denied rumors that she would not be returning for the billion dollar franchise's next movie, whose full title is Aquaman and the Lost Kingdom.
She told Entertainment Weekly: "I'm super excited about the amount of fan love and the amount of fan appreciation that Aquaman has acquired and that it has garnered so much excitement for Aquaman and Mera that it means we'll be coming back. I'm so excited to film that."
"Paid rumors and paid campaigns on social media don't dictate [casting decisions] because they have no basis in reality," Heard added. "Only the fans actually made Aquaman and Aquaman 2 happen. I'm excited to get started next year."
Production on the movie started in June 2021 and concluded in January 2022.
Amid pressure to have Heard removed from the film, Aquaman and the Lost Kingdom producer Peter Safran told Deadline last July that the production was never "going to react to, honestly, pure fan pressure" to oust the actress.
"You gotta do what's best for the movie. We felt that if it's [director] James Wan and Jason Momoa, it should be Amber Heard. That's really what it was," he said.
He added, "One is not unaware of what is going on in the Twitter-verse, but that doesn't mean you have to react to it or take it as gospel or accede to their wishes. You have to do what's right for the film, and that's really where we landed on it."
Newsweek has contacted representatives of DC Entertainment for comment.