Did Lil Wayne's endorsement of President Donald Trump cost him more than the support of some fans? It appears that his girlfriend, model Denise Bidot, allegedly called it quits on their relationship after the rapper publicly endorsed Trump ahead of the 2020 presidential election.
MTO News reported the alleged breakup on Monday, quoting a friend of Bidot's, whose exact identity remains unknown, and who said that Bidot supposedly dumped Wayne because she didn't want to date a Trump supporter. "She broke up with Wayne. It wasn't just his Trump support, but that was a big part," the friend claimed.
The friend also reportedly said: "[Bidot] was shocked when she saw Wayne come out with Trump. She's so disappointed in him." MTO News noted that Bidot recently posted an Instagram video announcing their breakup. Reportedly, the phrase "sometimes love just isn't enough" was superimposed onto the Instagram Story.
Since, it appears that her Instagram account has been deleted. Wayne, on the other hand, has yet to remove any pictures of Bidot from his Instagram account.
TMZ reported on Tuesday that the rapper and model unfollowed each other before Bidot supposedly announced their split.
Lil Wayne and Trump met last Thursday to discuss the president's "Platinum Plan" (which proposes to help Black communities with a $500 billion investment), along with criminal reform.
Wayne posted about their conversation on Twitter on October 29, announcing his support of Trump. "Just had a great meeting with @realdonaldtrump @potus besides what he's done so far with criminal reform, the platinum plan is going to give the community real ownership," Weezy tweeted at the time. "He listened to what we had to say today and assured he will and can get it done."
Trump also talked to reporters about his meeting with the rapper. "[Lil Wayne] wanted a meeting," Trump said on Friday. "He's a really nice guy. Really an activist in a very positive way. And he asked for a meeting and we had the meeting. And, as you saw, the meeting went very well."
Additionally, White House Press Secretary Kayleigh McEnany told reporters about their meeting. She said that the two had been talking for "quite some time."
"You're seeing a number of people come in and support [Trump] because his accomplishments speak for themselves," McEnany said.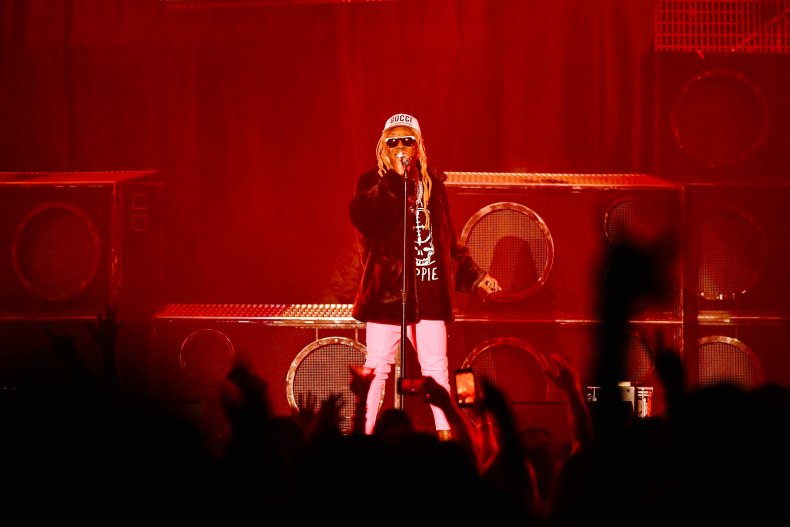 Lil Wayne has yet to confirm the split between him and Bidot. Bidot, however, appears to have denied that she and the rapper broke up—or, at the very least, she appears to have denied that she broke up with him over the Trump endorsement. In a since-deleted tweet, the model said that the reports of their split were "absolutely false."
Newsweek reached out to Lil Wayne and Denise Bidot for comment, and did not hear back at the time of publication.
Updated 11/4/2020 6:05 p.m. EST: This article has been updated to include Denise Bidot's apparent response to the rumors surrounding her and Lil Wayne's breakup.