Did Russia Close Down Airspace Because of 'UFO' Seen in Video?
The war in Ukraine has spilled over into Russian territory in recent days, with what appeared to be numerous drone strikes deep inside the country's territory, including on targets in border towns of Yeysk and Belgorod, as well as in southern Russia and even near Moscow.
Amid reports of explosions and drone sightings, the local authorities briefly closed down airspace over St. Petersburg, with all flights suspended in the city's main airport, Pulkovo. Local media reported that a 'UFO' spotted in the skies over the city was the reason for the unprecedented move.
Later videos emerged purporting to show the mysterious object in the sky over Russia's second-largest city. Newsweek Misinformation Watch looks at the facts underlying this narrative.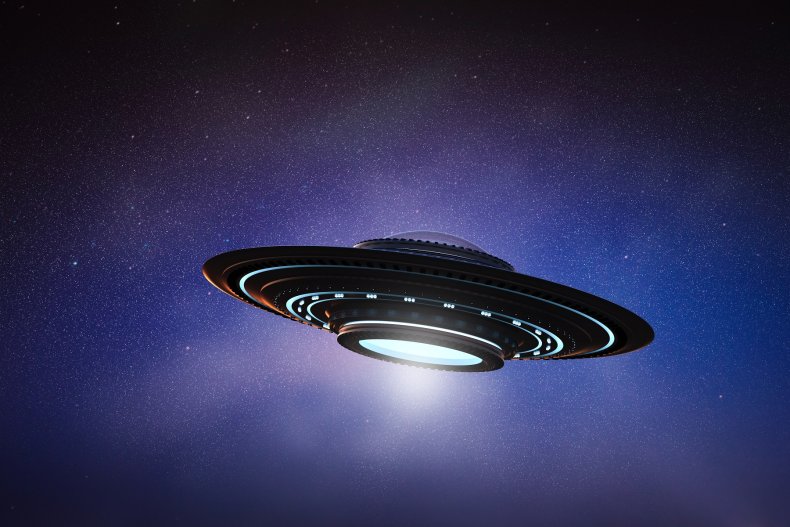 As Newsweek reported on Tuesday, February 27, the decision to close the airspace was announced on the city government's official Telegram channel amid unconfirmed reports that an unidentified object or a drone was spotted above St. Petersburg.
"Pulkovo Airport temporarily does not accept or send aircraft," it said, without elaborating on the suspension. It was later lifted, with an update at 12:30 p.m. local time saying the "sky in St. Petersburg is open: all temporary restrictions have been lifted."
At the time Russian news outlet Baza reported that local authorities had introduced a "Carpet" plan after an unidentified object was seen approaching the city. Fighter jets had been dispatched to investigate, it added.
Other Russian outlets, including St. Petersburg-based newspaper Fontanka, also picked up the 'UFO' claim, as did some English-language publications.
Officials in Kyiv, while denying striking targets in Russia, also fanned the "aliens" narrative, with presidential advisor Mykhailo Podolyak commenting (perhaps tongue-in-cheek) that the strikes were the result of Russia's "internal UFO problems."
Amid these reports, a video emerged on social media purportedly showing the mystery object in the sky, claiming it was filmed in St. Petersburg and was the reason for the scrambling of fighter jets and closure of the airport.
"JUST IN - Air space over St. Petersburg, Russia is closed due to a UFO. Allegedly, it's the object in the video below," the tweet said.
The video was shared by a number of Twitter users and posted (but later deleted) on Reddit, gathering hundreds of thousands of views.
However, in a case that typifies how the accumulation of misleading claims and inaccuracies can form a false narrative, there is no evidence of extra-terrestrial activity involved in the airspace closure, nor is the video relevant to this event.
The footage is in fact more than 10 years old, and has resurfaced (and been debunked) multiple times over the past decade. According to UfoInterest, a group that assesses the authenticity of 'UFO' related content and materials, the clip can be traced to a hoax channel "UFO Today", led by conspiracy theorist Tim Beckers.
As the debunker explained, however, the video does not show an alien spaceship, but rather the launch of cluster flares, as part of an annual military exercise. Similar phenomena, filmed in 2011, had been investigated by Finnish researchers, who shared the explanation given to them by the Russians.
"These are very terrestrial objects – big flares with the parachutes, dropped for the training in aerial shooting by our interceptors. Such cluster of flares called in a Russian military slang 'lustra' ('chandelier'). Place of manoeuvres [sic] – only over big water surfaces (otherwise parts of flare can made a fire on the earth), usually over Ladoga lake," the Russia response stated.
Russian state outlets have reported on these exercises in other years, too, even jokingly referring to them as the "UFO show" over St. Petersburg.
So if the video is not relevant to this incident, what are the UFO claims based on? As in the previous such cases reported by Newsweek, the confusion partly stems from the term itself, which simply denotes an unknown object spotted in the sky or by radar, with no evidence or suggestion that it is of extra-terrestrial origin.
In fact, as Baza and others reported, similar unidentified objects had been spotted in at least five regions of Russia through Tuesday, in what has been termed as a "massive drone attack" on Russian locations.
While damage from these attacks appears to have been limited to a fire at an oil depot in Krasnodar and damaged buildings in Belgorod, they appeared to signal a significant enough threat, including to strategic targets near the capital, for the Russian Defense Ministry to take precautionary measures.
In an official statement on Tuesday, the Ministry of Defense said the airspace closure was due to air defense training exercises being held.
"The issues of detection, interception and identification of the alleged target of the intruder, as well as interaction with emergency services, have been worked out. Fighters from the air defense forces on duty were involved," it said, according to state news agency RIA Novosti.
On Wednesday, Russian officials also confirmed that a large-scale drone strike on targets in Crimea took place overnight, but insisted that all the UAV were shot down by its air defense systems or disabled through other means.
The officials made no reference to any kind of extra-terrestrial involvement in the strikes, and have instead blamed Ukraine, which officially continues to deny that it is striking targets inside Russia.
Newsweek reached out to the Russian and Ukrainian defense ministries for comment.