Russia Said It Shot Down a UFO Just Last Month
A spate of mysterious objects in the sky requiring military intervention has followed on the heels of a similarly unexplained incident in Russia last month.
On Sunday, the U.S. Air Force downed an unidentified flying object (UFO) over Lake Huron in Michigan, near the Canadian border.
The previous day, an object flying over Alaska was shot down. On Friday, a U.S. fighter jet shot downed an object over northern Canada.
Meanwhile, on February 4, a suspected Chinese surveillance balloon was downed over North Carolina after flying across the U.S. earlier that week.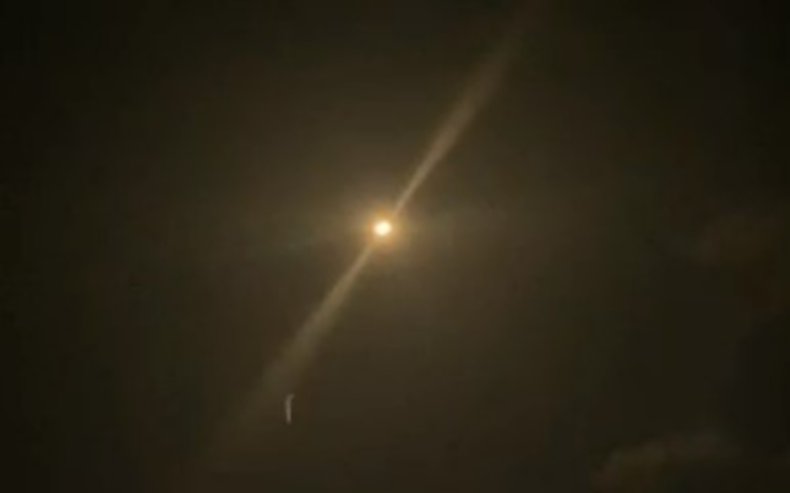 American officials said the object had been used to spy on sensitive sites, although Beijing has denied this and it has increased tensions between China and the U.S.
Regarding Sunday's incident, U.S. Northern Command Commander General Glen VanHerck said there was no sign that the objects posed any threat but would not specify what they were, and would not categorize them as balloons.
"We're calling them objects for a reason," he said. "I haven't ruled out anything," he added when asked if they were aliens or extra-terrestrials.
Fevered speculation also followed the appearance of an object in the Russia's Rostov Oblast.
Vasily Golubev, the regional governor wrote on Telegram that "the decision was taken to liquidate" a ball-shaped object flying at an altitude of around one and a half miles on January 3 above the village of Sultan Sala. "I urge everyone to remain calm," he advised concerned locals.
A headline in the local news outlet Privyet Rostov described how "a UFO in the form of a ball was shot down in the sky" while Telegram social media channels that night described how air Russian air defense systems in Rostov had been operating.
The region is located along the Sea of Azov, a waterway of strategic value for the war in Ukraine. The oblast near Ukraine has faced regular shelling and drone attacks since the start of Vladimir Putin's full-scale invasion.
Meanwhile, a prominent Russian politician responded to the incidents over the U.S. Alexei Pushkov, a senator for the Perm region and a former MP, wrote on his Telegram social media channel how the U.S. was engaged in "a new nationwide occupation" of shooting down UFOs.
"American networks write that this is how Americans are distracted from the scandals around Hunter Biden, the Nord Stream bombing, harmful vaccines from Pfizer, etc." he wrote, "or they are preparing for a conflict with China."
Newsweek has contacted the Pentagon for comment.