Nord Stream Attack: Senator Raises Alarms About Alleged U.S. Involvement
A U.S. senator is concerned that if allegations about the United States sabotaging Russian natural gas pipelines are true, he and his colleagues weren't aware of the plan.
The U.S. continues to deny that it had any involvement in the damage to Russia's Nord Stream 1 and Nord Stream 2 pipelines in September.
On Wednesday, investigative journalist Seymour Hersh published a report on his Substack blog that U.S. Navy divers set bombs that massively damaged the Nord Stream, a natural gas pipeline carrying natural gas from Russia to Europe in the Baltic Sea. After the report published, the White House called the accusation "utterly false" and "complete fiction."
Republican Senator Mike Lee of Utah posted on Twitter on Wednesday afternoon that if the allegations are true, he and many of his colleagues were unaware of the plan.
"I'm troubled that I can't immediately rule out the suggestion that the U.S. blew up Nord Stream," Lee tweeted. "I checked with a bunch of Senate colleagues. Among those I've asked, none were ever briefed on this. If it turns out to be true, we've got a huge problem."
The explosion caused massive damage to the Nord Stream pipelines. After the explosions, Sweden and Denmark investigators both determined the act to be one of sabotage. The U.S. agreed that the attacks were deliberate but didn't take responsibility. President Joe Biden also urged Americans to not listen to "what [Russian President Vladimir] Putin is saying" about the attacks because the information wasn't true.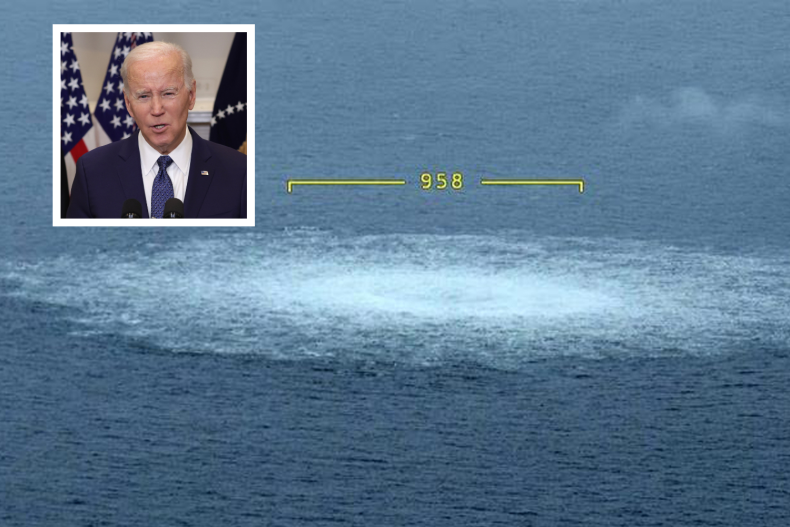 Hersh, who won a Pulitzer Prize for his report revealing that U.S. troops massacred Vietnamese civilians at My Lai in 1968, used an unnamed source in his blog. He reported that Navy divers planted the explosives as part of a Central Intelligence Agency operation under Biden's direction. The explosion damaged pipelines designed to carry natural gas from Russia to other European countries.
The Pentagon continues to deny U.S. involvement, but Russia is demanding "consequences" for whoever is responsible, pointing the finger at the U.S. after Hersh's blog published.
Russian Deputy Foreign Minister Sergei Ryabkov told Russian state news agency RIA Novosti that the Biden administration was at fault in an interview on Thursday. Ryabkov said the Kremlin already formed the conclusion that the U.S. and possibly U.S. allies were responsible for the attack before Hersh's report published.
"By and large, yesterday's publication confirmed a conclusion we made for ourselves—the official representative of the foreign ministry said yesterday that we never had any doubts that the United States, possibly other NATO countries, were involved in this outrageous sabotage," Ryabkov said.
Ryabkov said whoever was responsible for the attacks must be punished.
A week before the report published, Russian Foreign Minister Sergei Lavrov accused the U.S. of its involvement in the Nord Stream explosions. As proof, he cited a Senate hearing in which U.S. Under Secretary of State for Political Affairs Victoria Nuland said the Biden administration was glad the pipeline wasn't being used.
The U.S. has for months been supplying military aid to Ukraine in its ongoing war with Russia that began last February 24, including weapons, tanks and missile systems.
Newsweek reached out to the White House and Putin's press office for comment.