China Turns Tables With Claims of U.S. Balloons
High-altitude balloons from the U.S. have overflown China's airspace "more than 10 times" in the past year, a Chinese official said on Monday.
Wang Wenbin, a spokesperson for the Chinese Foreign Ministry, said the U.S. balloons "illegally overflew Chinese airspace" without the approval of relevant government departments, without elaborating. U.S. dirigibles operating in the airspace of other nations was a "common occurrence," he said.
Wang's comments came nine days after the U.S. military shot down what it determined to be a Chinese surveillance balloon that had flown over parts of Alaska and Canada before traversing the U.S. mainland.
A mission to salvage the craft's sophisticated payload was still ongoing.
In Beijing, Wang repeated the line that the U.S. downed an "unmanned civilian airship" that had been blown off course while conducting meteorological research.
Asked how the Chinese government reacted to the alleged American balloon incursions, he said China's responses were "responsible and professional."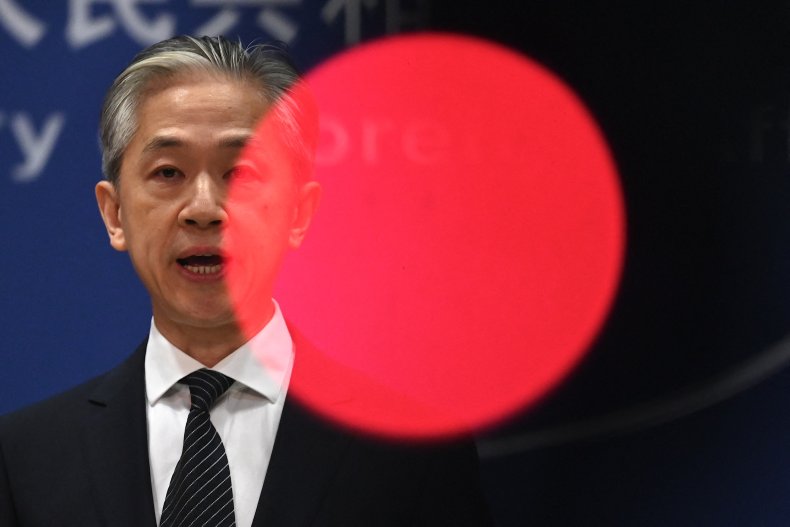 "Any claim that the U.S. government operates surveillance balloons over the [People's Republic of China] is false," a State Department spokesperson told Newsweek.
"It is China that has a high-altitude surveillance balloon program for intelligence collection, connected to the People's Liberation Army, that it has used to violate the sovereignty of the United States and over 40 countries across five continents."
"This is the latest example of China scrambling to do damage control. It has repeatedly and wrongly claimed the surveillance balloon it sent over the United States was a weather balloon and to this day has failed to offer any credible explanations for its intrusion into our airspace and the airspace of others," the spokesperson said.
The U.S. Air Force has downed three additional unidentified objects over North America—two in the U.S. and one in Canada—since the first balloon was shot down on February 4.
Beijing's decision to turn the tables on Washington confirms the balloon incident will remain a sticking point in U.S.-China relations in the near term, but Wang dismissed Chinese involvement in the new objects, the last of which was brought down on Sunday over Lake Huron in Michigan.
The Pentagon said its flight path "raised concerns, including that it could be a hazard to civil aviation," but it has yet to classify any of the new airborne objects as balloons. An F-16 fighter aircraft shot it down from 20,000 feet using an AIM-9X missile, the same munition used in the other operations this month.
"The spy balloon from the PRC was of course different in that we know precisely what it was," said Melissa Dalton, the assistant defense secretary of homeland defense and hemispheric affairs, at a briefing with Gen. Glen VanHerck, commander of NORAD and USNORTHCOM.
Wang told reporters he wasn't aware of the additional flying objects but called the U.S. responses to them "an aggressive overreaction."
"No country can guarantee that similar accidents will not happen," he said. "The U.S. should take an objective and rational view and handle it appropriately in a calm, professional and restrained manner."
The U.S. Commerce Department on Friday sanctioned six Chinese aerospace firms it said were supporting Beijing's high-altitude balloon program. Wang accused the U.S. of "escalating events" and said China would "take necessary measures" to safeguard the interests of its companies.
Do you have a tip on a world news story that Newsweek should be covering? Do you have a question about China? Let us know via worldnews@newsweek.com.