Objects Flying Over U.S. Puzzle Authorities: 'I'm Not Able To Categorize'
A fourth high-altitude object to be shot down over North America in eight days has prompted conflicting accounts from defense sources over its nature.
Fears have been heightened of a barrage of spy balloons passing over the U.S. after President Joe Biden ordered the shooting down of a suspected Chinese aircraft off the coast of South Carolina on February 4.
The administration faced criticism for not taking it out sooner, allowing it to pass over Alaska, western Canada and much of the continental U.S., and three more objects have since been shot down by joint-U.S. and Canadian operations. Objects were shot out of the sky over Alaska on Friday, the Yukon on Saturday and the latest, over Lake Huron between the two countries, on Sunday.
U.S. officials have not identified what the objects are nor their likely source of origin, and recovery of some of the debris is likely to be harder in the colder, icier waters. China has maintained the first aircraft was a wayward weather balloon and said the U.S. had overreacted by shooting it down.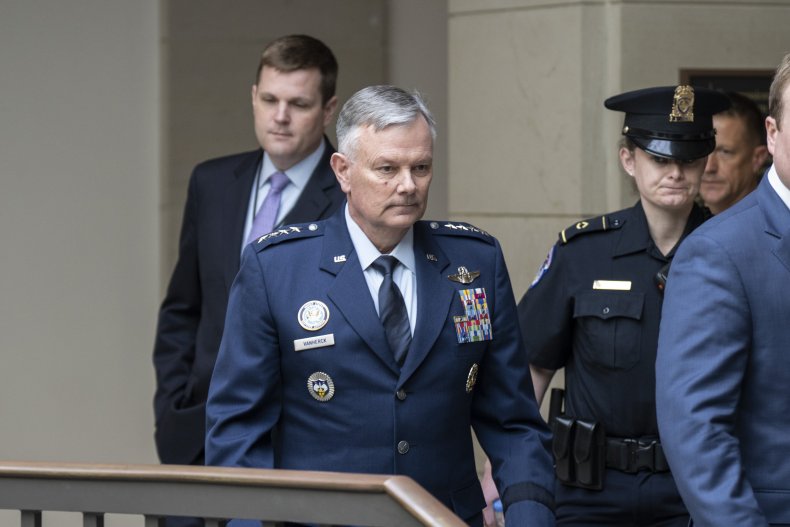 Defense officials have taken a cautious approach to identifying the objects publicly, not describing them as balloons.
Referring to the objects, General Glen VanHerck, head of the North American Aerospace Defense Command (NORAD) and U.S. Northern Command, told reporters on Sunday: "Certainly the event off the South Carolina coast, the Chinese spy balloon, that was clearly a balloon. These are objects. I'm not able to categorize how they stay aloft."
He said he believed it was the first time his defense outfits had taken "kinetic action against an airborne object" within U.S. or Canadian airspace, both of which NORAD protects, according to the Associated Press.
Asked if defense officials had ruled out the presence of extraterrestrials, VanHerck said: "I haven't ruled out anything at this point."
However, a senior unnamed U.S. official told ABC that there was no reason to believe that the three objects shot down over the weekend were anything but meteorological balloons.
The U.S. Department of Defense declined to comment. Newsweek also contacted NORAD for comment.
NORAD has been on "heightened alert" since the first aircraft was identified, VanHerck said, and this, as well as improved radar capability to track slower-moving objects, could explain the number of aircraft brought down in recent days.
"We have been more closely scrutinizing our airspace at these altitudes, including enhancing our radar, which may at least partly explain the increase [in interceptions]," said Melissa Dalton, assistant defense secretary for homeland defense, who appeared at a senate hearing on Thursday concerning the Chinese balloon shot down off South Carolina.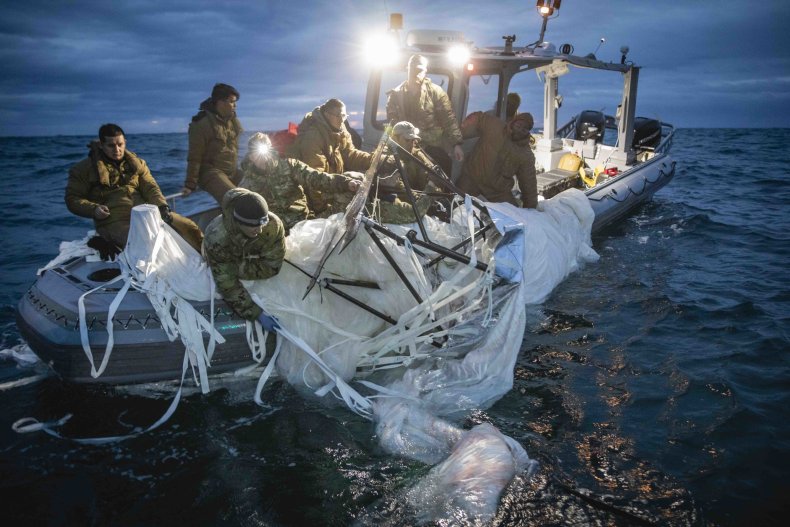 The Pentagon said on Wednesday that China's spy balloon program was part of a global surveillance effort that had been running for several years. Another balloon was tracked passing over south America at the same time as the first, and on Sunday the U.K.'s transport minister said it was "possible" they had been deployed over British airspace.
Also on Sunday, Chuck Schumer, the Senate Majority Leader, told ABC that the objects were balloons, adding that China had a "crew of balloons."
The U.S. blacklisted six Chinese entities it said were linked to the Beijing government's aerospace program in apparent retaliation for the spy balloon shot down on February 4.
Pentagon officials said on Sunday that the latest object had first been detected on Saturday evening over Montana, but was first thought to be an anomaly. It appeared on radar again on Sunday, over Michigan, moving towards Lake Huron, where it was shot down.
Update 02/13/23, 8:30 a.m. ET: This article was updated to include a response from the Department of Defense.