Photos Show U.S. Navy Retrieve Downed China Spy Balloon From Ocean
The U.S. Navy has released photos of the cleanup mission of the Chinese spy balloon that traveled across American and Canadian soil over the weekend prior to being shot down by the U.S. military.
Images showed Navy sailors assigned to Explosive Ordnance Disposal Group 2 recovering the debris from the high-altitude surveillance balloon on February 5. That unit includes highly trained and skilled service personnel well-versed in explosives, diving and parachuting.
The USS Carter Hall, an amphibious landing ship, was collecting debris in the vicinity of the splashdown while the USNS Pathfinder was using sonar to locate debris underwater.
General Glen VanHerck, commander of North American Aerospace Defense Command and U.S. Northern Command (NORAD), said during a Monday briefing that the balloon shot down over the Atlantic and off the coast of Myrtle Beach, South Carolina, was 200 feet tall and carried a payload the size of a regional airliner.
He also said that the magnitude of the debris was likely enormous, extending about 1,500 meters by 1,500 meters—or more than 15 football fields by 15 football fields.
The U.S. Fleet Forces Command, which trains combat-ready Navy forces, reported Monday that an F-22 Raptor fighter from the 1st Fighter Wing at Langley Air Force Base, Virginia, fired one AIM-9X Sidewinder missile on Saturday at the balloon.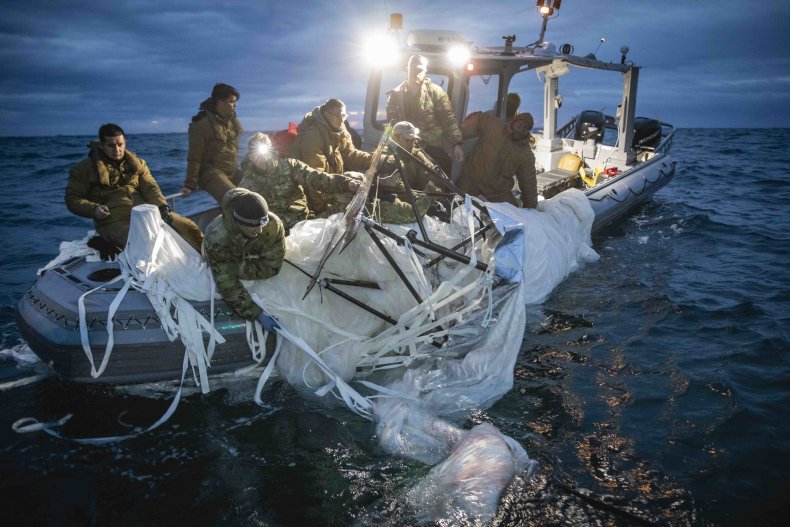 The remnants of the balloon, which had floated southeastward across the U.S. due to President Joe Biden accepting a recommendation not to take it out over land, fell about six miles off the coast of Myrtle Beach into about 50 feet of water. No one was hurt.
The operation included precautions for the potential presence of explosives or toxic substances, VanHerck said. Any remnants floating near shore were told to be left alone by civilians.
He added that the Federal Aviation Administration helped by closing airspace while the balloon was shot down, calling it "an interagency team effort."
"I don't know where the debris' going to go for a final analysis, but I will tell you that certainly the intel community, along with the law enforcement community that works this under counterintelligence, will take a good look at it," VanHerck added Monday during an off-camera, on-the-record briefing at the Pentagon.
A Pentagon official told Newsweek it had no further comment
That same day, a second Chinese spy balloon was spotted above Latin America.
Foreign ministry spokesperson, Mao Ning, said during a press briefing that the balloon had deviated from its planned route and ended up over Latin America and the Caribbean.
"China is a responsible country. We have always strictly abided by international law. We have informed all relevant parties and appropriately handled the situation, which did not pose any threats to any countries," Mao said, according to CNN.
Newsweek reached out to the Navy for further comment.