Russia Closes Airspace After Alleged Drone Attack
Russia temporarily closed airspace over St. Petersburg, and the city's Pulkovo Airport temporarily suspended all flights, the city government said on Tuesday.
The announcement was made on the city government's official Telegram channel amid unconfirmed reports that an unidentified object or a drone was spotted above St. Petersburg.
"Pulkovo Airport temporarily does not accept or send aircraft," it said, without elaborating on the suspension.
Russia's state-run news agency RIA Novosti reported at the time that flights from the airport were delayed until 12 p.m. Moscow time, and that the airport was operating as normal.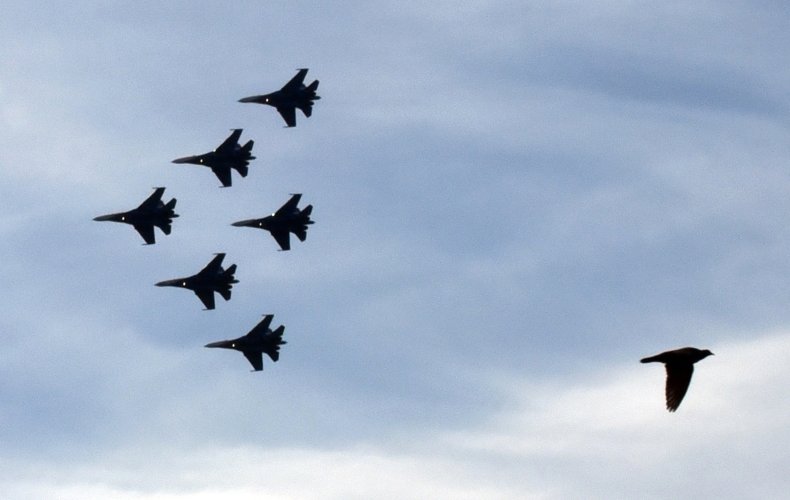 The city's government posted an update at around 12:30 p.m. local time, saying: "The sky in St. Petersburg is open: all temporary restrictions have been lifted."
Data from the Flightradar24 service showed 200 square kilometers (124 miles) of airspace had been closed over St. Petersburg and the Leningrad Region. A Newsweek search found that at least five flights had been diverted from Pulkovo Airport.
The state-run TASS news agency also cited an unnamed source as saying that airspace within a 200-kilometer (124-mile) radius of Pulkovo Airport was ordered closed until 1:20 p.m. local time.
Russian news outlet Baza reported that local authorities had introduced a "Carpet" plan after an unidentified object was seen approaching the city. Fighter jets had been dispatched to investigate, it said.
According to Baza, the fighter jets were sent to intercept an object that was coming from the Gulf of Finland. Newsweek has been unable to independently verify that report, and has contacted Russian authorities for comment.
Russia's Defense Ministry said the airspace closure was due to air defense training exercises being held, RIA Novosti reported.
"The issues of detection, interception and identification of the alleged target of the intruder, as well as interaction with emergency services, have been worked out. Fighters from the air defense forces on duty were involved," it said.
Baza reported that the airspace closure could be linked to an alleged drone attack overnight at a Rosneft oil depot in Krasnodar, which is located near to Russia's border with Ukraine.
And Vyacheslav Gladkov, governor of the Belgorod region, located near the Ukraine border, reported that fragments of three drones were found in Belgorod on Tuesday morning.
There has been a "massive drone attack on Russia," with the unidentified objects spotted in at least five regions in Russia over the past 24 hours, Baza reported.
Anton Gerashchenko, an adviser to Ukraine's minister of internal affairs, told Newsweek on February 17 that his country needs hundreds of thousands of combat drones to assist in its grueling fight against Russia.
"This war is a war of drones. They are the super weapon here," he said. "We will win faster and with fewer losses if we have tens of thousands, hundreds of thousands of reconnaissance and combat drones."
Boris Bondarev, a former Russian diplomat who quit his position over Putin's invasion, told Newsweek that Ukraine must strike legitimate targets inside Russia to win the war.
"You cannot win the war if you don't hit your enemy," he said.
Ukrainian forces shouldn't target power plants or civil infrastructure in Russia, but "military facilities, military bases, like air bases, missile bases, missile launchers and warehouses. I think they are legitimate targets and they must be targeted."
Update 02/28/2023 5:48 a.m.: Additional information was added to this article.