Did Trump Really Call Sexual Misconduct Accuser a C**t? That Would Make President an A**hole, Says Stephen Colbert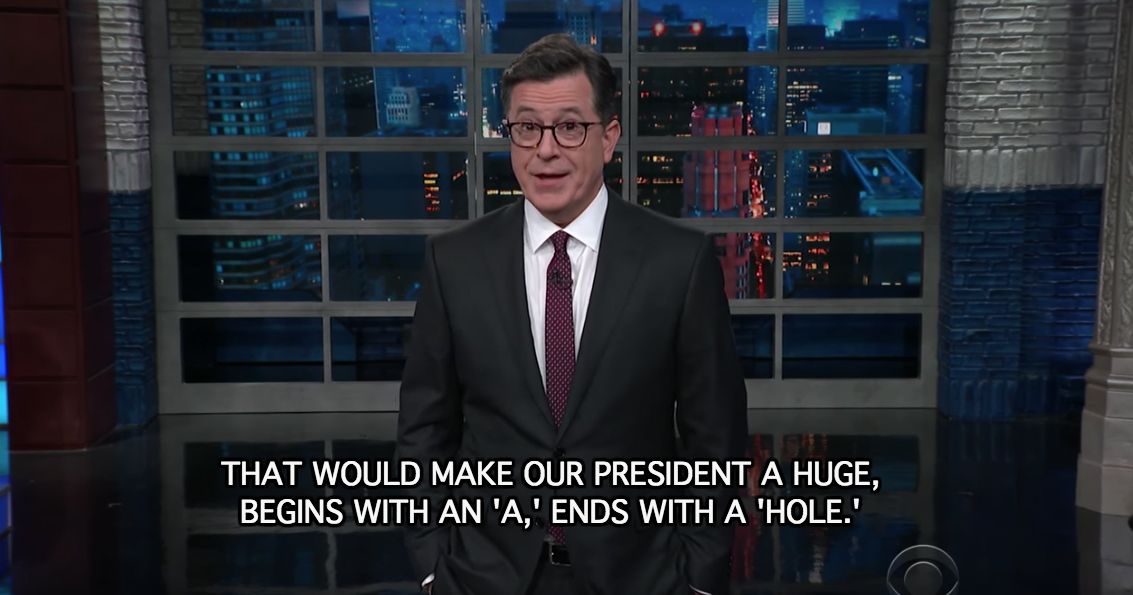 Did President Donald Trump really call one of the women accusing him of sexual misconduct the C-word? If so, that would make him a "huge, begins with an A, ends with a hole," Stephen Colbert said on Monday's The Late Show.
Colbert was reacting to three Trump accusers appearing on NBC's Megyn Kelly Today Monday morning to reveal their stories of alleged abuse and harassment by the president.
One woman, Jessica Leeds, said Trump groped her on a flight some 30 years ago. "After the meal was cleared, all of a sudden, he was all over me, kissing and groping and groping and kissing, and believe me—my memory of it was, nothing was said," Leeds said. "He didn't say, 'Oh, by the way,' and I didn't go, 'Eek,' or 'Help' or whatever. It was just this silent groping going on."
The next time Leeds met Trump at a function two years later, she told Megyn Kelly, the future president called her the C-word.
"Does it begin with a C?" Kelly asked. "Does it end with T?" Leeds confirmed it was the word Kelly was referring to.
Colbert quipped: "He called her a cat? At least, that's what I hope he called her. Because if he called her the other thing, that would make our president a huge, begins with an A, ends with a hole."
Colbert also riffed on a damning New York Times report over the weekend that said Trump is paranoid in the White House and may be nervous about the FBI investigation led by Robert Mueller into potential collusion between Russia and his presidential campaign.
The article said that at least publicly Trump is trying to play down the investigation and telling people, "It's life."
"Yes, it's life. But you could plead that down to 30 years if you rat out Don Jr.,'" Colbert joked, referring to speculation that Mueller's probe may incriminate the president and his eldest son.