Dietician Reveals 'Genius' Tip to Help Picky Eaters Get Their Veggies in
A dietitian's viral video on TikTok gave picky eaters some insight into how they can reach their daily intake of vegetables.
Posted by Steph Grasso, MS, RD to her account @stephgrassodietitian, the video showed a simple and straightforward recipe for a shake that is packed with protein and vegetables.
"Nutrition HACK for picky eaters," read the caption of Grasso's video, which was viewed more than 2 million times.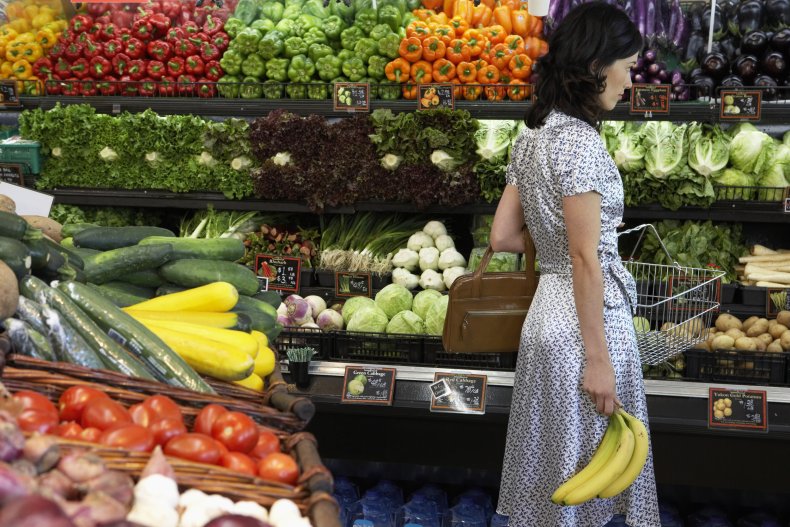 According to the Centers for Disease Control and Prevention, just one in 10 adults in 2015 and 2019 ate enough fruits and vegetables.
To ensure people are getting access to these foods, the CDC recommended that states and communities make sure that fruit and vegetables are affordable and available where children and families live.
They can also partner with a number of stakeholders, including schools, governments and large employers, and develop a relationship with local food systems to support the distribution of produce.
"There are 212 food hubs in the United States that help small and mid-size farmers to market, aggregate and distribute fruits and vegetables to local institutions, such as schools, hospitals, large employers and retailers," the agency reported.
In her video, Grasso showed a large bag of frozen cubed yellow squash and said it can replace ice cubes in a shake as it has no taste.
After the blender cup was filled halfway with the cubed yellow squash, she added spinach, a chocolate protein drink and nut butter before blending it all together.
"You can get half of your daily veggie intake from this," the text over the video read.
Grasso wrote to Newsweek that her boyfriend showed her the hack when they first started dating.
She explained he was looking for a way to add more nutrients to his smoothies because he is often too busy to eat snacks throughout the day.
Though skeptical at first, Grasso said she tried it and was excited to share it with her followers who are picky eaters looking for ways to incorporate more vegetables into their diets.
"For most of my followers, it's a texture issue," she said. "Finding sneaky ways to add more veggies has been very helpful to them."
Grasso said she posted another video on how someone can add disguise vegetables as a meat sauce and plans to continue this series.
Viewers flooded the comments section to applaud Grasso for introducing them to a new recipe.
"Finally! Something that is not a pasta sauce," a TikTok user wrote.
"Never thought to do that," another shared. "My garden just gave 2 huge zucchini and I was trying to figure out what to do with them."
"I'm only picky because I struggle with texture but I want to be healthier," one comment read.
"Genius...I've been trying to add more veggies," a viewer wrote.
In the comments section, Grasso wrote that the video is meant for people who want to add more vegetables into their diet, but struggle with having issues with food texture and a "picky palate."
Other viewers shared that they appreciated seeing a video that addressed texture issues, while some requested tips on how to get more protein.
"Please do more of these!" one commented. "I actually enjoy the taste of a lot of veggies but the textures make me gag. I can only eat like 5 veggies by themselves."
Grasso said her intention is to educate viewers on what they add to their meals to make them more nutritious or satisfying.
"So this series is a hack for adding more vegetables," she said. "I don't recommend sneaking vegetables to kids or to those who truly hate vegetables, because this can create a worse relationship with that food. And if anyone has any food allergies, always be truthful [about] what's in the food."
Other food hacks have previously gone viral, including a trick parents can use to encourage their children to eat more vegetables.
One video showed how someone can cut mandarins without leaving a mess, while another video showed a different way someone can cook broccoli.
Updated 06/14/2022, 2:22 p.m. ET: This story has been updated with comments from Steph Grasso.