Dinesh D'Souza '2000 Mules' Book Suddenly Recalled Over 'Significant Error'
The book 2000 Mules written by conservative author and filmmaker Dinesh D'Souza was supposed to hit book shelves on August 30 but has been recalled because of an unspecified "significant error."
The release of the book comes after the debut of D'Souza's film of the same name, which claims widespread fraud in the 2020 presidential election. Like the film, the book alleges that the Democratic Party and "mules" carrying bags of votes swayed results in President Joe Biden's favor.
D'Souza wrote on Truth Social that early copies of his book had been "recalled."
"There is an elaborate sausage-making process that goes into a book," D'Souza tweeted on August 30. "Somehow a significant error got missed by the publisher. It is now corrected but my book '2000 Mules' is pushed back to October. The book is explosive so I'm glad it's being done right. It will be worth the wait!"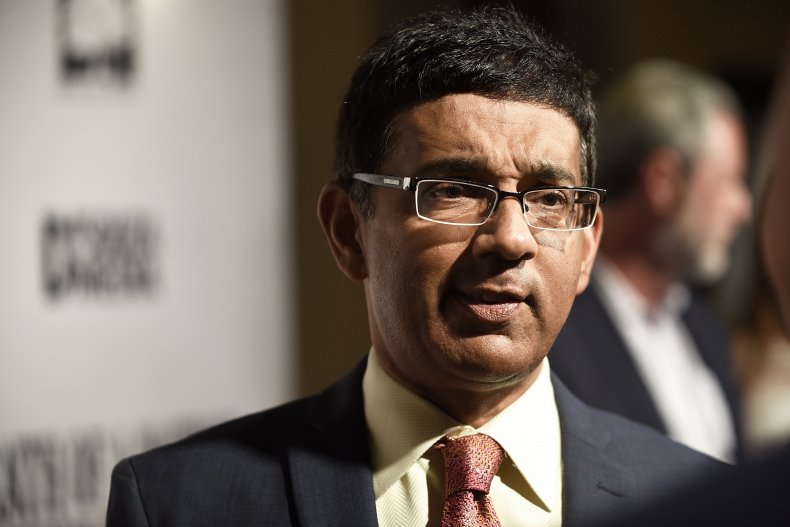 D'Souza's statement mirrors what the book's publisher, Regnery, told Newsweek: "Due to a publishing error, the publication date of 2000 Mules has been postponed to October 25, 2022. We look forward to publishing 2000 Mules this fall."
Newsweek reached out to D'Souza for further comment.
Nancy Levine, an author and freelance reporter, told Newsweek that she received a screenshot of the book's recall from a high school friend who works for a book distribution company and became aware of the delay through their Walmart job site. She requested for the friend to remain anonymous to protect their job.
"I reached out to about 10 people from Regnery on LinkedIn before I received an email from their [spokesperson]," Levine said. "I have asked the publisher: What was the 'publishing error?' And how many copies of the book were recalled?"
She, like Newsweek, has not received further explanation.
Former President Donald Trump championed D'Souza's film, hosting a viewing party at Mar-a-Lago upon its release. Notable attendees, many of whom back the claim that the election was stolen, included Trump's personal attorney Rudy Giuliani, MyPillow CEO Mike Lindell and Georgia Representative Marjorie Taylor Greene.
Kenosha shooter Kyle Rittenhouse, journalist Lara Logan, former Trump campaign legal adviser Jenna Ellis, and former national security adviser Michael Flynn were also present.
Other prominent conservatives weren't as supportive of 2000 Mules, at least in terms of viewership.
"Not to refute me, because if you think of people like Mitch McConnell, [Kevin] McCarthy, Lindsey Graham, Ted Cruz, they haven't said one word critical of 2000 Mules, but neither have they shown any indication of wanting to see the movie—make a decision for themselves," D'Souza told Newsweek.
"And this needs to be explained. This is odd behavior because if I'm right, who's disadvantaged by this? Well, obviously the Republicans. So you'd think the Republicans in power will want to get to the bottom of it right away."
Conservative commentator Ann Coulter called 2000 Mules "Dinesh's Stupid Movie" and accused him of "grifting" off the 2020 election.
The Associated Press, in its review of D'Souza's film, said it "uses a flawed analysis of cellphone location data and ballot drop box surveillance footage to cast doubt on the results of the 2020 presidential election."
FactCheck.org said D'Souza's adherence to True the Vote, which paid $2 million for geo-tracking data of cellphones used in targeted areas of five swing states in the weeks leading up to the presidential election, "is speculative and does not provide the 'definitive' proof that Trump and the filmmakers claim."
Regnery Publishing has published books from other mainstream conservatives, including Coulter, Cruz, Larry Elder, Erick Erickson, Newt Gingrich, Laura Ingraham, Mark Levin, Dana Loesch and Michelle Malkin.
Newsweek reached out to Readerlink, North America's largest book distributor, and Amazon for comment.