Dinesh D'Souza on Bill Barr Dismissal of '2000 Mules': 'Stunning' Ignorance
Conservative filmmaker Dinesh D'Souza blasted former Attorney General Bill Barr for dismissing voter fraud claims made in his film 2000 Mules in testimony showed on Monday by the House select committee investigating the January 6, 2021, Capitol riot.
Following former President Donald Trump's defeat, Trump and his allies claimed the election was stolen from him by widespread voter fraud, though no substantial evidence has been provided to back up these claims. D'Souza's film claims to show evidence that political operatives, referred to as "mules," stuffed ballot boxes in key swing states, using purported geospatial data to document the alleged operatives' actions.
Barr, however, has long maintained that Joe Biden fairly won the 2020 election, dismissing voter fraud claims as "bulls**t." The former attorney general, who met with the committee investigating the January 6 riot earlier in June, has claimed he was let go from his position due to voicing disagreement about the election results.
During a hearing on Monday, lawmakers played a clip from his testimony when he addressed the 2000 Mules film, which he said failed to change his mind about widespread voter fraud allegations before laughing at its claims.
"My opinion then and my opinion now is that the election was not stolen by fraud. And I haven't seen anything since the election that changes my mind on that, including the 2000 Mules movie," he said, followed by laughter.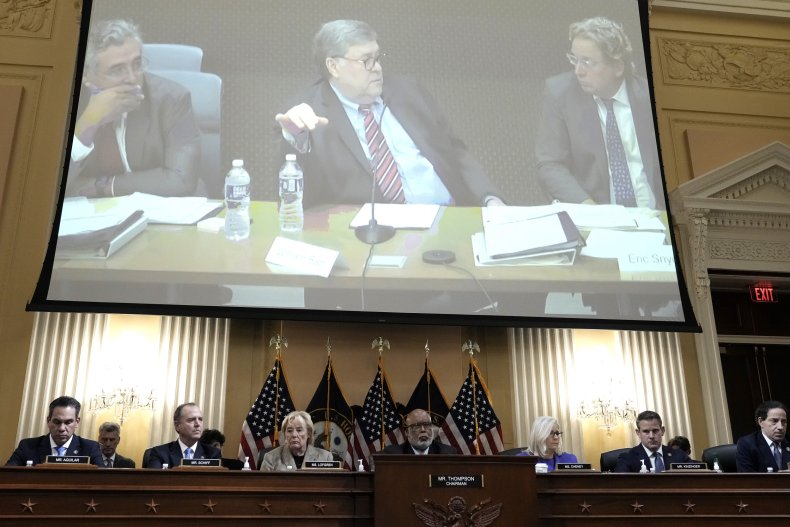 Barr said he kept an open mind while watching the film to see if D'Souza had any convincing photographic evidence, but he ultimately described the evidence presented in the documentary as "unimpressive."
"When the movie came out, I think the photographic evidence was...there was a little bit of it, but it was lacking. It didn't establish widespread illegal harvesting," Barr said.
D'Souza hit back against Barr in a series of tweets on Monday. In one tweet, he wrote: "The level of ignorance displayed by Bill Barr here is truly stunning. He doesn't seem to understand the very concept of geotracking. I'll address this in detail on my podcast tomorrow."
"Bill Barr is the stereotypical small-town sheriff, overweight and largely immobile, whose rank incompetence results in the whole town being robbed from under his nose. Then, asked to explain how it happened, Fatso breaks into laughter and insists the robbery itself is 'bulls**t,'" he wrote in a separate tweet.
Trump's spokesperson Liz Harrington accused Barr of "intentionally spreading misinformation about the film" on the conservative social media site Truth Social, where she blasted him as "totally corrupt."
"Bill Barr is a total coward who put the same effort into investigating widespread election fraud as he did the Lap Top From Hell: NOTHING," she wrote.