Dinesh D'Souza's 'Trump Card' Explores Hunter Biden, Socialism
During the first presidential debate, President Donald Trump accused Joe Biden's son, Hunter, multiple times of shady dealings with foreign governments, prompting the Democratic nominee to tell viewers that the charges have been "totally discredited."
The discussion was music to the ears of Dinesh D'Souza, whose latest documentary, set for release on DVD Tuesday and hitting Amazon, iTunes, Dish Network and other outlets three days later, explores those very allegations and explains why they should matter to voters.
"This might be the most important part of the film," D'Souza tells Newsweek about his movie, dubbed Trump Card: Beating Socialism, Corruption and the Deep State. "Trump doesn't do narratives. He's good with the zingers but he's not an explainer. A classic example is when he asked in the debate why Hunter Biden got $3.5 million from Moscow. He doesn't explain, but we do."
The movie also delves into allegations that Hunter Biden took money from Ukraine and China, the latter of which is explored in a clip from the movie embedded in this story.
"Joe Biden has a habit of taking a family member on foreign trips, and while he's having official meetings the family member is striking side deals with government officials for large amounts of cash," says D'Souza.
D'Souza backs up his claims with 300 pages of government documents, some of which the media has reported on. Fifteen months ago, for example, The New Yorker wrote that, "In June, 2009, five months after Joe Biden became Vice-President, Hunter co-founded a second company, Rosemont Seneca Partners, with Christopher Heinz, Senator John Kerry's stepson," and the Treasury Department says the wife of the former mayor of Moscow wired $3.5 million to that firm for consultancy.
The Biden campaign was not available to respond to Newsweek's request for comment. Last month, however, campaign spokesperson Andrew Bates released a statement in response to an 87-page Senate Republican report on that $3.5 million payment and other transactions that allegedly presented conflicts of interest as the former vice president spearheaded the Obama administration's Ukraine policy. Bates singled out Wisconsin senator Ron Johnson, who he said "wasted months diverting the Senate Homeland Security & Governmental Affairs Committee away from any oversight of the catastrophically botched federal response to the pandemic...to subsidize foreign attacks against the sovereignty of our elections with taxpayer dollars—an attack founded on a long-disproven, hardcore rightwing conspiracy theory that hinges on Sen. Johnson himself being corrupt and that the Senator has now explicitly stated he is attempting to exploit to bail out Donald Trump's reelection campaign."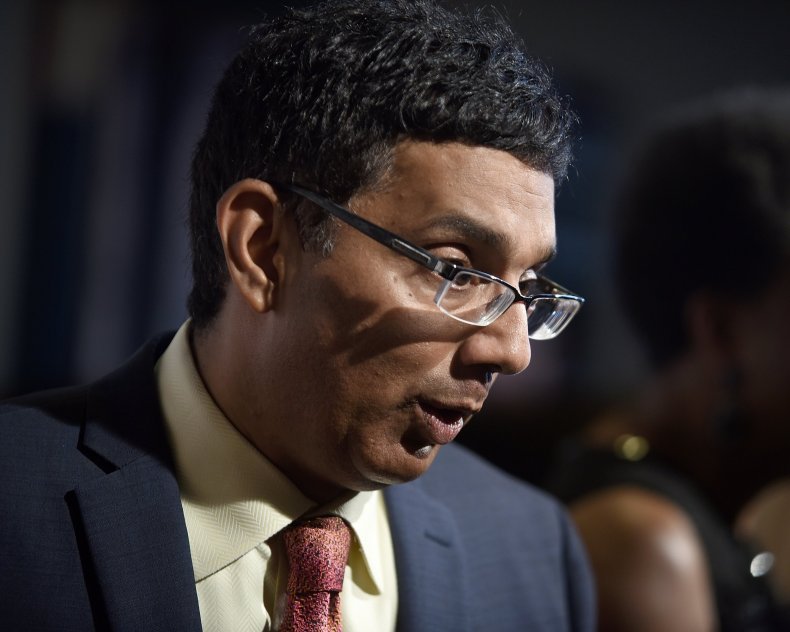 Trump Card is D'Souza's fourth film, and all of them are maligned by critics but adored by his fans. His first, 2016: Obama's America, earned $33 million at the box office in 2012, more than any other political documentary in history except for Michael Moore's Fahrenheit 9/11, which racked up $119 million in 2004.
While Trump Card had been set to open in 1,000 theaters in August, the pandemic forced D'Souza to pivot to DVD and pay-per-view only. The $4 million movie was largely funded by his usual stable of about 20 financiers who he won't name. Some of them also backed his first fictional movie, Infidel, a $9 million thriller starring Jim Caviezel that is one of the few films in theaters now.
While Trump Card touches on Hunter Biden's alleged dealings with foreigners, its primary focus is on "how socialism came to America," which D'Souza says is also timely.
"Socialism seemed to be discredited at the end of the last century, but it's come roaring back and for the first time is in the American mainstream," he tells Newsweek. "It's not the socialism of Mao and Lenin or even of Marx because it is socialism married to identity politics, having more to do with race than class."
He adds: "I could have made a movie on the history of socialism but I didn't do that because I wanted to show what's going on now, so it's 95 percent present and 5 percent history, whereas my other films were 60-40."
Newsweek was shown an advance copy of Trump Card, which veers into several directions with explosive claims that will make Democrats cringe. "I like to make movies that reflect a certain fearlessness," says D'Souza.
Naturally, given the title, Trump looms large in historical clips, but a plan for an original interview with the president was scrapped due to coronavirus, so there are also scenes with a Trump impersonator delivering lines from his books and other sources.
"Capitalists like Trump are builders whereas socialists are basically destroyers," says D'Souza, who has become friendly with the president since he was pardoned two years ago for making illegal campaign contributions in 2012. (He was convicted in 2014, paid a $30,000 fine and spent eight months partially confined.)
D'Souza tells Newsweek that in November he and his family visited Trump without cameras, since he was supposed to return to shoot him later for the movie.
"He showed a side the public doesn't normally see. A kind of vulnerability I did not expect," says D'Souza. "I thought he was indifferent to all the criticism and that he laughed away these people as certified morons, but he said, 'You know, Dinesh, at the end of the day, it does get to me because I am trying to make the country better, and what can I do to satisfy these people? Basically, nothing.' So I was a bit bewildered. It was helpful background for the movie, but we didn't film it."