Disguised Toast Leaves Twitch & Facebook Tells Us Why
Jeremy "Disguised Toast" Wang is the latest streamer to jump from Twitch onto a new platform, making his debut on Facebook. After Fortnite star Tyler "Ninja" Blevins made the move from Amazon's live streaming service to Microsoft's Mixer, other content creators realized that the tactic might also work for them. FPS pro Michael "Shroud" Grzesiek joined his colleague at Mixer in October, while Jack "Courage" Dunlop decided that YouTube seemed like the best choice for him.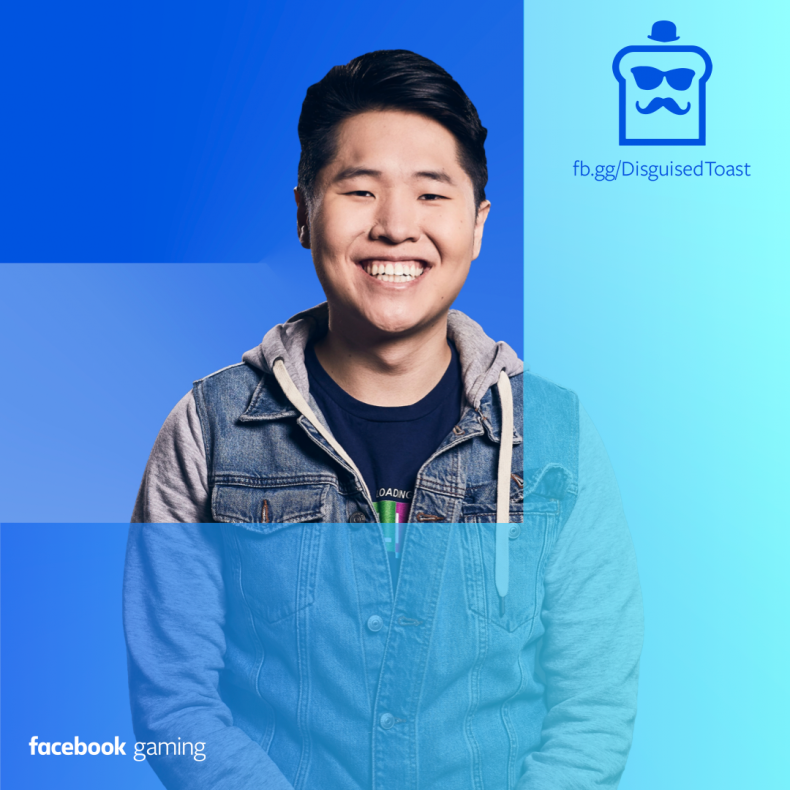 Wang started out as a Hearthstone YouTuber, making videos discussing the game's lore and game-breaking card interactions. His online name stems from a quote from the card SI:7 Agent who says "this guy's toast," which can also sound like "disguised toast." He quickly pulled in a following with his dry sense of humor and methodical analysis, wearing a mask of his bread-based avatar when he moved over to live streaming on Twitch.
As his popularity grew and his guard went down, Wang dropped the mask gag and started showing off his actual personality on stream. Over the years he's managed to maintain a consistent audience, becoming one of the top Teamfight Tactics streamers after the game mode's release in 2019. He's also a member of OfflineTV, a collective of streamers that live in a house together in Los Angeles. Most recently, he spent over 15 hours trying to farm a shiny Wooloo in Pokemon Sword and Shield.
"Toast is an amazing creator and streamer. He has a really unique way of showing his love for the games he plays," Leo Olebe, director of partnerships at Facebook told Newsweek. "It's not about bringing them from other platforms, it's about finding where streamers can thrive with their audience."
Finding success as a streamer isn't necessarily monetary-based on Facebook in the company's eyes. Olebe says that Facebook is a "different sort of platform that's rooted in community" and that looking at "success" through a financial lens is "restrictive."
"It's not just about making money, it's about the community," Olebe said. "There are people who stream that are just trying to connect with others and find a platform where they can have a fun conversation. "
Facebook would not share the monetary or contractual details of Wang's deal. He will still create content on other platforms, like VOD recaps and collaboration with the other members of OfflineTV, but will not be able to host "live gaming content" on other platforms. The streamer does speak fluent Mandarin and plans on streaming in that language for a South East Asian audience.
There are others online skeptical of Wang's move over to Facebook. The LiveStreamFail subreddit, dedicated to discussing streamer news and drama, has overwhelmingly shared a negative stance on the move. "YouTube or Mixer I get, but [Facebook] is literally a worse platform in every way," wrote one user. "There goes one of the streamers I liked to watch... Sorry but I'm not using Facebook," wrote another. Reddit mobs tend to be overly critical of moves and changes in general, but hesitancy amongst fans is otherwise noted.
Facebook has struggled in the past to adapt as a live streaming platform in the gaming space. The lack of clips, emotes and rewind functionality in the player cripples Facebook's viewing experience,but the platform is looking to improve and is taking viewer feedback. "We are always adding new features and functionality to improve the streaming experience," Olebe said.
In 2018, ESL signed an exclusive partnership to stream their Counter-Strike and DOTA 2 esports tournaments on Facebook, which only lasted one year, partially due to lackluster viewership numbers. In that same year, the H1Z1 Pro League streamed its matches on the platform before it went bankrupt and failed to pay owed money to its players.
You can watch Disguised Toast stream on his new Facebook landing page.
Disguised Toast Leaves Twitch & Facebook Tells Us Why | Newsgeek