Disney's LGBTQ-Friendly Content Prompts New Challenge from GOP Senators
On the heels of the passing of the controversial so-called "Don't Say Gay" law in Florida, a group of Republican Senators this week requested updates to the nation's TV rating systems in an effort to help parents become aware of and prevent exposing their children to gender-identity related content they find objectionable.
On Thursday, a letter was sent to Charles Rivkin, CEO of the Motion Picture Association and Board Chairman of the TV Parental Guidelines Monitoring Board, noting the immediate need to amend the Board's current guidelines based on what they described as the "promotion of gender dysphoria." The phrase "gender dysphoria" is a concept designated in the DSM-5 (Diagnostic and Statistical Manual of Mental Health) considered to be "clinically significant distress or impairment related to a strong desire to be of another gender."
"...To the detriment of children, gender dysphoria has become sensationalized in the popular media and television with radical activists and entertainment companies," read the letter backed by Republican Senators Roger Marshall of Kansas, Mike Lee of Utah, Mike Braun of Indiana, Steve Daines of Montana and Kevin Cramer of North Dakota. "This radical and sexual sensation not only harms children, but also destabilizes and damages parental rights."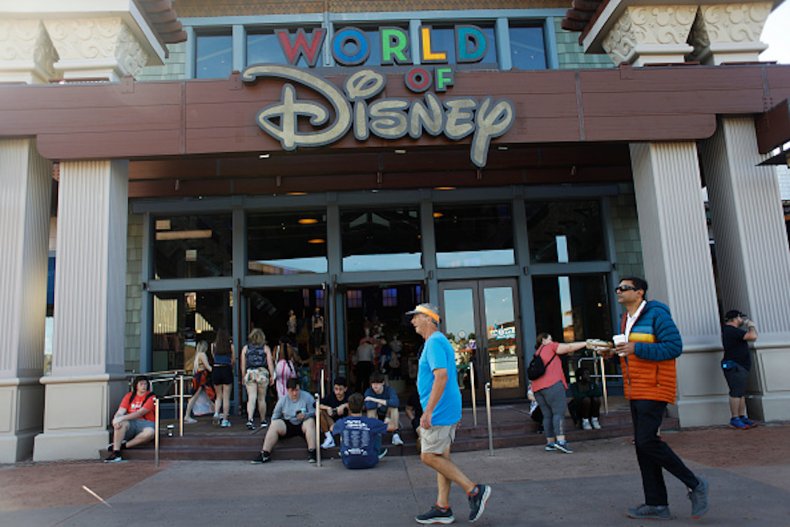 For its part, the TV Parental Guidelines is a voluntary system of guidelines used by American families to determine whether or not a particular program is age-appropriate for children. Initially created in 1996, the rating system is overseen by a board made up of representatives from both the broadcast and creative industries along with members of third-party public interest groups.
The Senators' written request cited a recent video that has gone viral where Disney's president of general entertainment content Karey Burke said in a company-wide video call that she wants "many, many, many LGBTQIA+ characters in our stories."
It also comes after the recent passage of the Florida parental rights law —dubbed the "Don't Say Gay" law—that bans classroom instruction on sexual orientation or gender identity in kindergarten through third grade, which the senators also noted in the letter.
Since its passage, Disney has vowed to repeal the legislation. That's while the clash between the entertainment conglomerate and Florida's Governor Ron DeSantis has cost the Mouse House the special tax status it's held for over a half-century.
Citing the Board's obligation to ensure that the TV rating criteria help parents to be informed of "mature" content, the letter noted how topics of a sexual nature have become "aggressively politicized and promoted in children's programming, including irreversible and harmful experimental treatments for mental disorders like gender dysphoria."
Also of note, but not mentioned in the letter, was a recent incident involving Disney Executive Producer Latoya Raveneau admitting during an internal meeting that she was advancing a "not-at-all-secret gay agenda" for children's animation.
"...That sense of 'I don't have to be afraid to like—let's have these two characters kiss in the background—like I was just wherever I could just basically adding queerness ... no one would stop me and no one was trying to stop me," said Raveneau in the video first obtained by conservative activist and Manhattan Institute senior fellow Christopher Rufo. Raveneau is the director of Disney+'s new animated series The Proud Family: Louder and Prouder, a reboot of Disney Channel's The Proud Family, which aired from 2001-05.
For now, the senators are asking for a reply regarding a plan from the Board by May 18th along with an in-person briefing with Board members.
"The motivations of hyper-sexualized entertainment producers striving to push this content on young audiences are suspect at best and predatory at worst," the letter continued. "...In light of parents raising legitimate concerns on sexual orientation and gender identity content on children's TV shows, we expect the Board to fulfill its responsibility in updating the TV Parental Guidelines to reflect these concerns."
Meanwhile, Brian K. Bond, executive director of PFLAG (Parents, Families, and Friends of Lesbians and Gays) National responded to Newsweek concerning the letter.
"Using censorship to erase the existence of transgender and nonbinary people harms kids—especially kids who are trans and non-binary or who have family members who are," said Bond. "PFLAG National strongly advocates for books and programming that help children see themselves, their families and cultures represented."
Newsweek reached out to Senator Marshall's office but was directed back to the letter, with a spokesperson noting it "speaks for itself."
Newsweek also reached out to Rivkin through the TV Parental Guidelines Monitoring Board, with the Board confirming receipt of the letter.
Update: 05/06/22 3:42 p.m. ET: This article was updated with comment from PFLAG.