Disney Heir Comes Out As Trans, Regrets Silence on 'Don't Say Gay' Bill
A Disney heir has come out as transgender, while also expressing regret for not having publicly spoken out sooner in opposition of Florida's Parental Rights in Education legislation.
Dubbed the "Don't Say Gay" bill by critics, the legislation—which was recently signed by Florida Governor Ron DeSantis—prohibits teachers from discussing LGBTQ+ issues with students from kindergarten up to third grade.
Disney had faced much criticism in the weeks leading up to the bill being signed into law, amid claims that the entertainment giant's CEO, Bob Chapek, had taken too long to speak out in condemnation of the legislation.
Showing their personal stance on the matter, the Disney family pledged $500,000 to the Human Rights Campaign (HRC), with Roy P. Disney, the great nephew of Walt Disney and grandson of a Walt Disney Co. co-founder, revealing news of Charlee's gender identity in an appeal.
Writing to the advocacy group, Roy P. Disney said, per the Los Angeles Times: "Equality matters deeply to us especially because our child, Charlee, is transgender and a proud member of the LGBTQ+ community."
Charlee Corra Disney, who works as a high school biology and environmental science teacher, told the Times of their own advocacy: "I feel like I don't do very much to help. I don't call senators or take action. I felt like I could be doing more."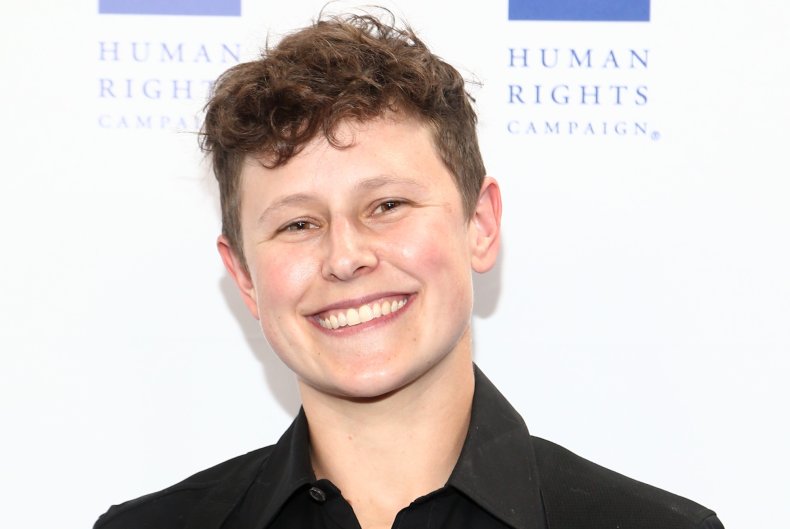 Charlee Corra Disney, 30, came out as transgender four years ago and uses the pronouns they/them. Their mother, Sheri Disney, told the Times that she was disappointed in Disney Co. for initially refusing to speak out against the Florida law.
"I have a trans kid, and I love my kid no matter what," said Sheri Disney, who added that she had hoped the $500,000 donation would have served as something of a "bridge" in demonstrating their commitment to gay and trans rights.
For Charlee Cora Disney, the issue is a personal one, after having grown up without any role models that they could see themselves in.
"I had very few openly gay role models," they said. "And I certainly didn't have any trans or nonbinary role models. I didn't see myself reflected in anyone, and that made me feel like there was something wrong with me."
They noted the challenges facing LGBTQ+ youth, including depression. "Then to put something like this law on top of that? They can't learn about their community and their history at school, or play sports or use the bathroom they want to use?"
While Disney had faced criticism for its initial lack of reaction to the legislation—and mass walkouts by a number of the company's employees—Chapek spoke out and announced a $5 million donation to the HRC. The company hopes to help revoke the bill.
"Florida's HB 1557, also known as the 'Don't Say Gay' bill, should never have passed and should never have been signed into law," a Disney spokesperson. However, the company's opposition could cost it its self-governing rights.
After the corporation's stance was made clear, it was revealed that it might be at risk of losing the Reedy Creek Improvement District (RCID), which acts as the company's own government with land in Florida's Orange and Osceola counties.
"Disney has alienated a lot of people now," Governor DeSantis said last month during a press conference in West Palm Beach, per CNN. "And so the political influence they're used to wielding, I think has dissipated. And so the question is, why would you want to have special privileges in the law at all? And I don't think that we should."
The RCID was created in 1967 by Florida lawmakers under former Republican Governor Claude Kirk Jr. and gave Disney self-governing authority in which the RCID has its own fire protection, utilities and planning, and security services, according to Florida Politics.
Disney is able to appoint the government responsible for regulating its property that spans across 38.5 square miles since the landowners select the RCID's Board of Supervisors. The district is also able to impose taxes on the land and run its government services with the revenue it gains from those taxes.
A spokesperson for Osceola County previously told Newsweek that they "don't have a comment at this time," while Orange County's media office said that they "are not able to comment on speculation or hypothetical situations."