The Walt Disney World Resort in Florida is scheduled to host what has been billed as the "largest LGBTQ+ conference in the world" later this year, in a move that could trigger conflict with Governor Ron DeSantis who has already clashed with the entertainment behemoth over LGBTQ rights.
Out & Equal, a group that campaigns for gay, lesbian and transgender rights in the workplace, is due to hold its 2023 workplace summit at the resort, from September 11-14.
In February, DeSantis signed into law a bill appointing a five-person board to oversee Reedy Creek Improvement District, which Disney has managed as a largely self-governing authority over the past 50 years.
The move followed a statement from Disney criticizing DeSantis's Parental Rights in Education legislation, dubbed the "Don't Say Gay Bill" by critics. Under this legislation, any discussion of sexual orientation or gender identity is banned in Florida's schools, up until the fourth grade.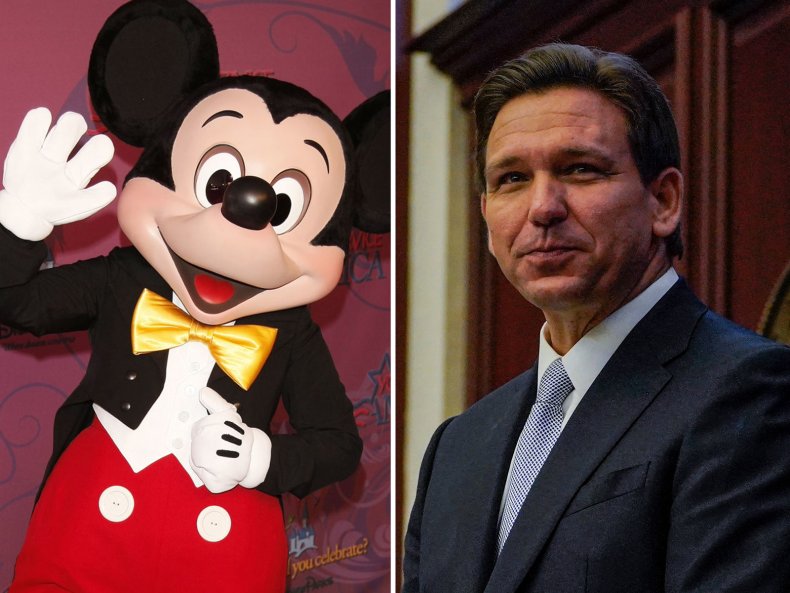 According to Out & Equal's website, around 5,000 people are expected to attend its workplace summit in September, which it describes as "the preferred place to network and share strategies that create inclusive workplaces, where everyone belongs and where LGBTQ+ employees can be out and thrive."
Out & Equal lists the Walt Disney Company as a top-tier "titanium" supporter, along with other major brands including Apple, Uber and Bank of America.
Other companies listed as supporters at lower tiers include Mcdonald's, IBM, Walmart, Google and Visa. Government bodies, including the Central Intelligence Agency and the U.S. Department of State, are also included in the list with the Miami Herald reporting they will have booths at the conference.
Newsweek reached out to the Walt Disney Company and Governor DeSantis via email for comment.
The conflict between Disney and DeSantis began in March 2022, when the corporation issued a statement saying Florida bill HB 1557, dubbed "Don't Say Gay," "should never have passed and should never have been signed into law."
"Our goal as a company is for this law to be repealed by the legislature or struck down in the courts, and we remain committed to supporting the national and state organizations working to achieve that," Disney said.
In response, DeSantis moved to restrict Disney's control over the Reedy Creek Improvement District. Initially, he wanted to strip the company of its special tax status, but this was dropped and DeSantis instead took full control over appointments to an oversight board last month.
Announcing the change the Florida governor said: "The corporate kingdom finally comes to an end. There's a new sheriff in town, and accountability will be the order of the day."
DeSantis is widely regarded as Donald Trump's most dangerous opponent in his bid for the 2024 Republican presidential nomination, though he has yet to formally announce his candidacy.
Walt Disney World Resort president Jeff Vahle said the company was "ready to work within this new framework."